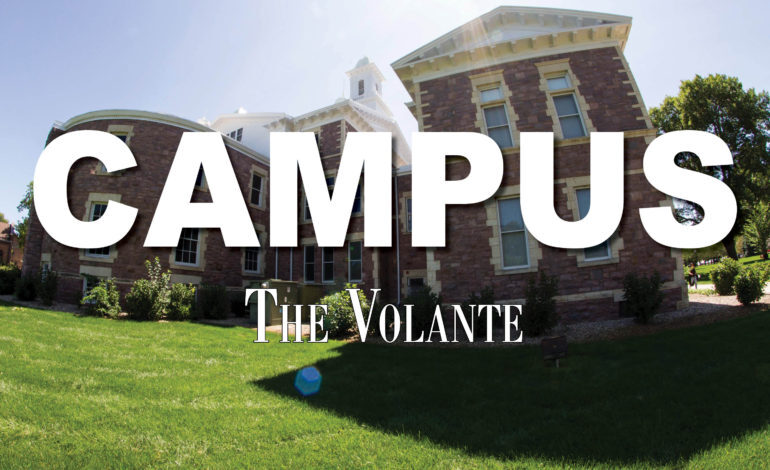 4 mins read
Meet the host of USD's 'Credit Hour' podcast
When former USD president James Abbot retired in May of 2018 the university was looking to do something to commemorate Abbot's 21 year presidency.
That's when USD's communications director Michael Ewald got a call from USD's videographer Adam Gomez about doing a podcast with the former president. At this moment, USD's "Credit Hour" was born.
The podcast, hosted by Ewald, later became a weekly opportunity for anyone to hear directly from USD professors, students, alumni and guest speakers about topics they were knowledgeable in.
However, earlier this March when the COVID-19 pandemic began, Ewald said he began to value his platform on the podcast even more.
"Everything was just so unknown and so just being able to broadcast the knowledge that a lot of people had at USD on what was occurring with the podcast I thought was important," Ewald said. "I just felt like it was my civic responsibility."
This led to an eight-part series in April and May called "COVID-19 Pandemic." Ewald interviewed doctors, business owners, economists, psychologists and teachers on different aspects of COVID-19.
Ewald said he learned a lot from these episodes because he was able to talk to people directly impacted by or dealing with the pandemic.
"It was cool to in real time, as the pandemic was unfolding, speak with experts to provide information and context about what everyone was experiencing," Ewald said. "I always felt a little less ignorant about COVID after every episode and I hope people listening did too."
However, the series ended to start a new series called "Voices Amplified" after the murder of George Floyd in May. These podcasts interviewed several USD professors and one USD alumni to explore systemic racism, social justice and criminal justice reform.
"I had always viewed (the podcast) as a way to amplify voices that might not be heard otherwise," Ewald said. "(The social justice movement) was just another time it was important that myself and everybody else hear from the experts about what was going on."
During the production of the podcast, Ewald has continued to be the communications director at USD as well as attend law school. Ewald said making time for the podcast is not always easy but he never regrets being able to amplify someone's voice and show why USD is a great university.
"Our goal is to always provide a platform for certain voices so they can talk about the things they are knowledgeable about," Ewald said. "The podcast has reaffirmed for me USD does contribute a lot of positive things to this state and I am just happy to be a part of it."
Ewald said he believes the reason the podcast has been able to continue and be successful is because the nature of talking to people about what they really care about.
"The best part about the podcast is you get to talk about things that people are passionate about and that usually generates a good conversation," Ewald said. "One thing I've found is everyone has a story that is really interesting and sometimes you just need a platform to tell it."
Ewald graduates from USD's Knudson School of Law in May and then plans to be a clerk for a federal judge in Pierre, SD. This will end Ewald's time as a host for the podcast.
"This podcast will definitely be a cool thing I will be able to look back on," Ewald said. "I have no idea what (USD) will do with the podcast (once I leave) but it has been a really cool podcast so I'm hoping they get to continue it in some way."