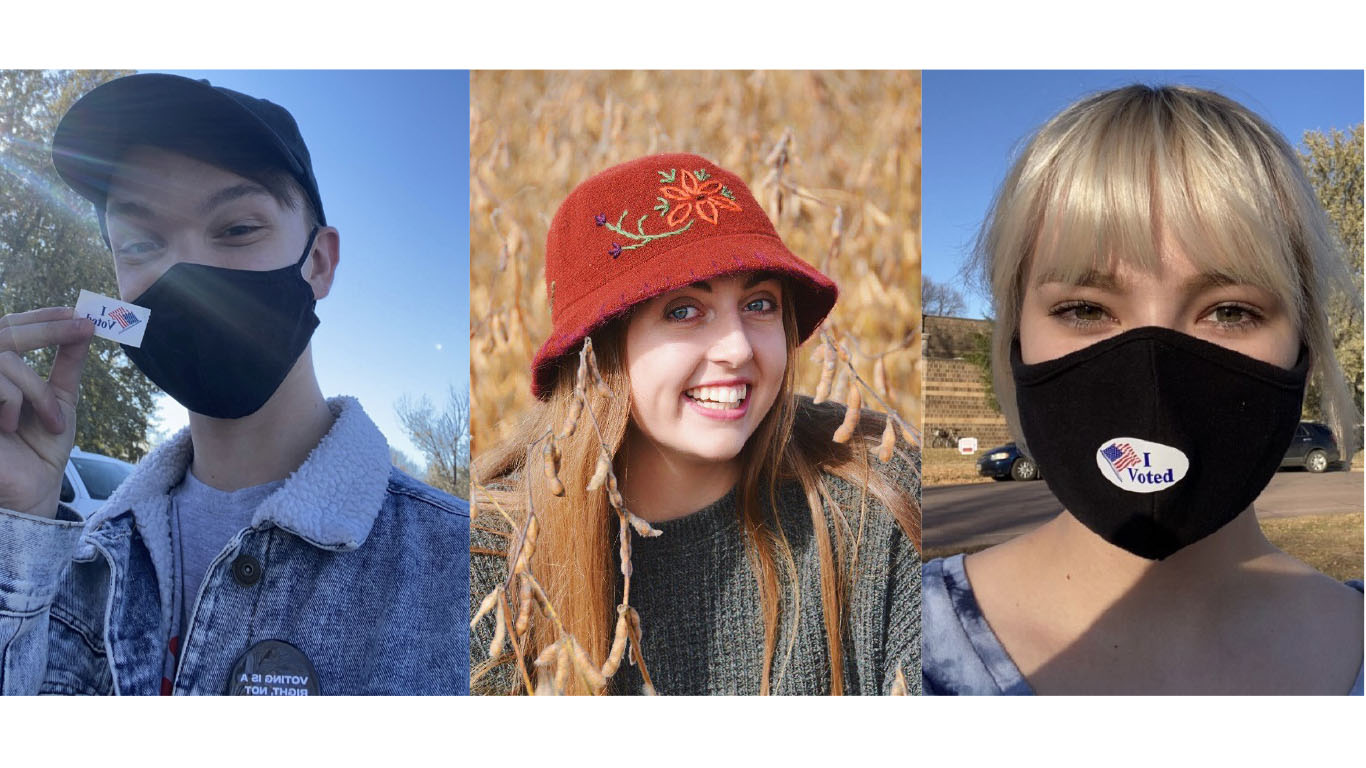 3 mins read
First-time voters go to polls for first general election
Voting has been a democratic right since the establishment of American democracy, but for many students at USD, this election is the first general election they will be voting in.
Ella Lueders, a sophomore social work major from Dell Rapids, SD is voting in her first election this year.
Lueders said she is determined to make a difference this election.
"Despite the current pandemic, I am voting in person. I want to try to have the full voter experience," Lueders said.
Lueders said she was raised to educate herself about politics and this year, she got the chance to put her knowledge into practice.
"It opened my eyes," Lueders said, "My entire life I planned to be an active citizen and vote, but after doing my research this year I realized how crazy modern politics really are. If anything, this election helped be more aware."
Addison Miller, sophomore and president of Get Out the Yote, is also voting for the first time in a general election, but has focused a lot of his energy into getting USD students to vote.
Miller said Get Out the Yote made it a priority this year to educate students about how not voting affects them.
"Because (generation Z students) aren't voting, our issues aren't a priority for both democrats and republicans," Miller said.
Miller said there is a push across the nation for young voters because of the policies and issues at stake during the election.
"Issues that have such longevity cannot be fixed within one presidential cycle are important for the future and not just for the one election where they need young voters," Miller said.
Hailey Pieper, a sophomore psychology major from Brandon, SD, is also voting in her first general election this year through absentee voting and emphasized the importance of voting in local elections.
"The general election is the most prominent election and gets a lot of attention, but local government and primary elections are super important for making changes necessary in your cities and communities," Pieper said.
As a young voter, Pieper said she was influenced by her own education on politics.
"I agreed with my parents for the majority of my life, but my senior year of high school was when I began to switch," Pieper said, "I became more educated, researched topics myself and talked to people outside of my former beliefs."
Pieper said educating herself on all politics ideologies had a large impact on the issues around her.
"I became more aware of the issues going on around me and learned why it was important to speak up for the injustices that are occurring," Pieper said.
Both Pieper and Lueders said this election has a lot at stake and depends on young voters like themselves.
"If we want to see differences, we need to vote," Lueders said. "I personally find it important to vote because not everyone had the right to."
Miller said Get Out the Yote has seen a 76.07% increase in voter registration from July through October in Clay County.
"It is crazy to show that young people do want to vote and do care about politics," Miller said.
For students like Lueders, Pieper and Miller, this election is just the first step towards a lifetime of voting and political participation.
"Stand up for the injustices you see around you and speak up for those who cannot," Pieper said, "It sometimes feels like nothing ever changes, or that your vote doesn't matter, but it does."