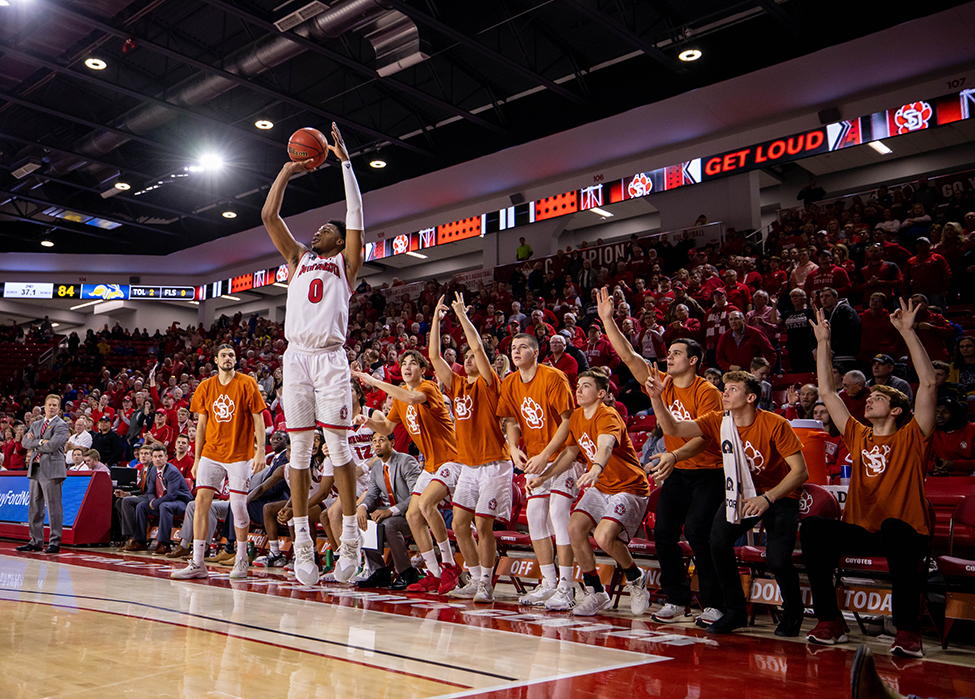 3 mins read
Coyote men going through season of adjustments
Coming home for its first game of the season after a blowout 91-78 win over rival South Dakota State, the Coyote men's basketball team came out flat-footed in a 75-57 loss to Drake on December 18.
Since the loss, The Coyotes, led by third year head coach Todd Lee, have won five straight games by an average of 21.8 points per game. Stanley Umude is the Coyotes leading scorer at 21.2 points per game.
"We felt like we didn't come out to compete (against Drake)," Umude said. "Really, the day after that game was really rough. It was probably the best practice of the year, but it was the most intense practice."
Just two days after the 18 point home loss, USD took the court for the final time in nonconference play, and defeated Mount Marty 84-44. The Coyotes have been on a roll since, winning four straight in conference play.
Umude has recieved help from a handful of newcomers. The Coyotes graduated five players last season and have 11 newcomers on the roster. Umude is the lone senior after Ty Chisom left the program last week.
"I'm trying to tell them to stay in the moment, go game by game, and maybe we'll have the chance to do something special," Umude said. "With that opportunity out there, that's enough to keep everyone motivated."
A.J. Plitzuweit has stepped into the point guard role and is the team's second-leading scorer at 15.9 points per game. Kruz Perrott-Hunt and Tasos Kamateros saw minutes off the bench last season, but are now filling starting roles.
One of the newcomers that has made the biggest strides for the Coyotes is Xavier Fuller. Fuller transferred in this season and his impact has been felt on both ends of the floor. Fuller is averaging 6.9 points and 3.8 rebounds per game.
Mason Archambault has also stepped up and played valuable minutes off the bench this season for the Coyotes. Archambault, a Rapid City native, is averaging 6.1 points and shooting 41.2% from the three-point line.
"Xavier Fuller and Mason Archambault have doen a really good job defensively on the perimeter, and have taken on that role as guys that want to disband and gain extra possessions for us," Lee said.
As the season has progressed, the Coyotes have taken form. USD is at the midpoint in its season, with 12 games played and 12 conference games remaining. The Coyotes currently sit at 4-0 in conference play. They are one of two unbeaten teams during conference play in the Summit League, the other being South Dakota State.
USD gets back in action against Western Illinois Friday. The Summit League schedule for the season has teams playing back-to-back days against the same opponent in the same venue to limit travel due ot COVID-19.
"It's going through the same pregame routine two days in a row seems weird," Umude said. "But I feel like we're adjusting well. We're just trying to make it one game at a time…. It's way different than anything I've ever done but everyone in the conference has to go through it."