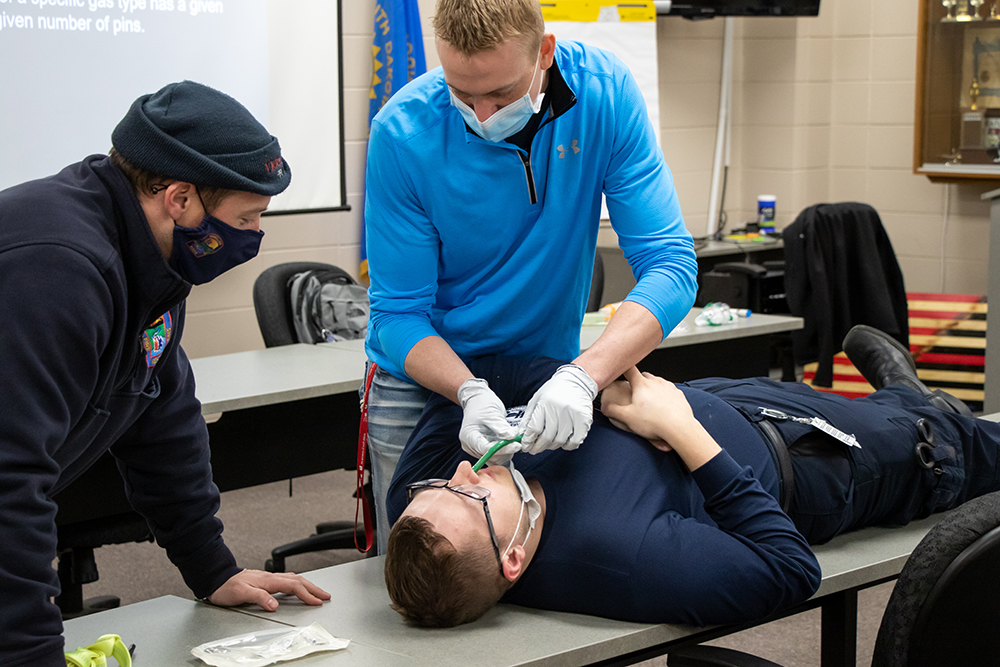 2 mins read
EMS Association starts EMT courses for USD students
This semester the Vermillion Clay County EMS Association is hosting a basic EMT course for USD students in order for students to earn a EMS certification and become certified as a first responder.
The course is being taken by 13 USD students and is held from 6-8 on Tuesday nights along with a "skills" day every couple Saturdays for students to practice hands-on skills.
Joel Stroman, one of the instructors for the course, said this is a great opportunity for freshmen who are going into health-related majors to take advantage of.
"It's a great class for incoming freshmen to take because it allows them to see a lot of the material you'll learn later on in your educational career," Stroman said. "(The class) really builds a nice foundation of knowledge the students can continue to build on later on."
Stroman also said the class can also be a great class to introduce oneself to a career in EMS or as a firefighter.
Students in the class learn a range of different medical concepts, Stroman said. Some of the things the students learn over the 40 chapter book the students read throughout the course include medical terminology, immunology, physiology and anatomy.
In addition, students learn several EMT skills such as CPR training, airway management and lifting and moving patients.
Kari Labenz, a freshman medical biology major and firefighter at a Nebraska volunteer fire department who is attending the EMT course, said her goal is to become a physician.
"I have wanted to get my EMT for quite a while now," Labenz said. "And I'm just happy USD offered the course."
Sroman said the course utilizes a few different tools to train students. For the CPR training the course uses special "dummies" in order to learn how to perform CPR properly.
"(The dummies) are actually really nice because they can tell you when you're doing the compressions too fast or too slow," Stroman said. "They can also even tell you if the depth of the compression is right so those are really nice."
This year the course is having to take several precautions due to the COVID-19 pandemic.
"We had to limit the class to 15 students this year to make sure we were socially distanced," Stroman said. "We are also taking temperature checks before class… dividing people up into smaller groups and making sure to sanitize everything before and after hands-on stuff."