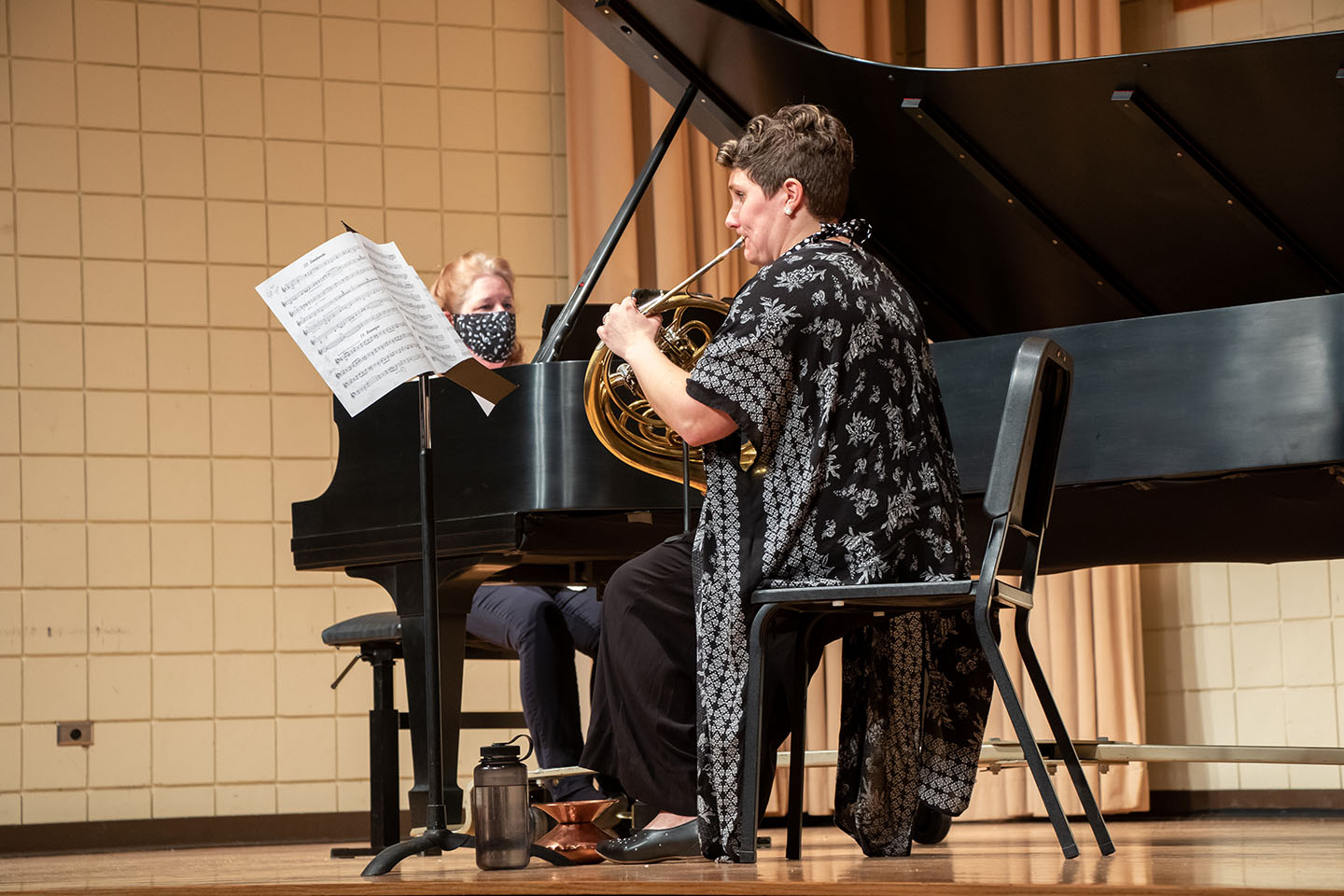 3 mins read
Faculty recital continues through setbacks
The yearly faculty recital is put on by a group of volunteer staff members who wish to perform for students, faculty and the community. Despite experiencing small setbacks such as social distancing, the recital was able to be performed almost exactly like prior years.
Assistant Professor of Horn, Amy Laursen, performed at the yearly staff recital on Jan. 25. Laursen said that putting on staff recitals is really beneficial for her students as it teaches them new things.
"I like to do a faculty recital once a year just so my students have the opportunity to be exposed to new music and for them to see that, I too, make mistakes and that preparing for a recital is rather challenging," Laursen said.
Piano Accompanist and graduate student, Diane Van Den Oever, said that practices haven't changed greatly even with COVID-19. Van Den Oever said in past years Laursen and other performers would go to her house and they'd practice, but with social distancing they need a bigger space and now practice in Colton Recital Hall, located in the Fine Arts building.
"That's a little less convenient but it hasn't really changed how much we practice or what we do," Van Den Oever said.
To practice in Colton Recital Hall, Van Den Oever said they have to reserve a time so they can be further apart from each other on stage. The Colton Recital Hall can only hold 29 people because of social distancing requirements.
Laursen and Van Den Oever said they are inviting Laursen's horn students, their families, the Faculty Chamber Winds, Van Den Oever's teacher and the Dean of the College of Fine Arts, Bruce Kelley, to enjoy their performance in person. Van Den Oever said the biggest difference they would see on performance night is a smaller audience.
"I think the biggest difference on performance night is that smaller audience," Van Den Oever said. "It's a joy to share music with people and to be in the same room. There's a whole energy around that, that when you diminish the number of people, it's a different dynamic."
Laursen said she hopes that someone watching may be able to see themselves as a composer or even making music after watching their performance. She also said she enjoys being able to make music, even with a limited audience.
"I feel fortunate that we're able to continue to do what we do," Van Den Oever said. "There have been a lot of people in the university and the school who have worked really hard to make it possible for us to still do what we want to do this year."
Laursen and friends held their recital on Jan. 25, but viewers can watch any future performances by the music department at https://www.usd.edu/fine-arts/music/live during the designated performance time.