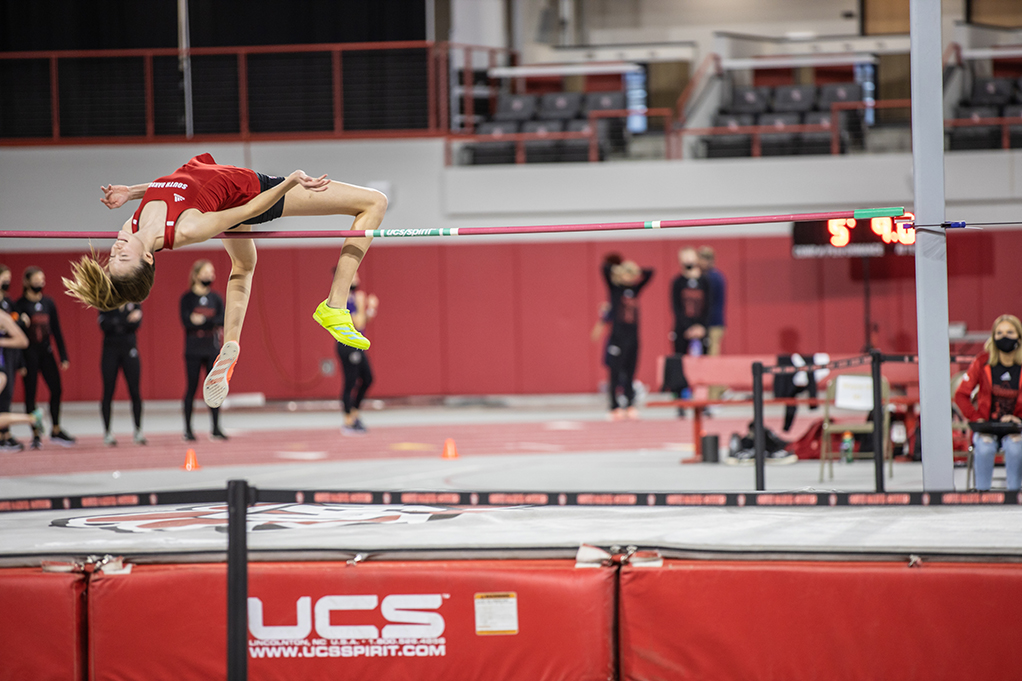 3 mins read
Reaching new heights on the track and in the classroom
In 2014, USD alum Megan Glisar set a school record in the high jump with a mark of 6-0 ¾. That mark is now in jeopardy with sophomore high jumper, Carly Haring, on the brink of matching the school's record height.
Haring opened this season with a 5-10 3/4 jump at the SDSU dual meet on Dec. 5, and became the 2nd highest jumper in USD's school history.
During the off-season and throughout the unpredictable COVID-19 pandemic, Haring said she spent all the time off improving on skills she didn't have time to work on last season.
"I feel like I've made a lot of changes that I was working on last year but wasn't quite able to finalize," Haring said. "Some of the main changes that I've been working on are the way that I run, the mechanics, improving my form and also trying to be more powerful."
While breaking the school record is definitely on her radar, Haring said her main goal for this season is to make the indoor national meet and continue jumping as high as she did on her opening jump.
Lucky Huber, USD's head track and field coach, said in order to beat the school record Haring needs to continue to work hard every day, strengthen her body and perfect her form.
"(Haring) is a very hard worker, borderline perfectionist," Huber said. "She really pushes herself and is just a really driven young lady. I believe that if she just keeps cooking the stew and works on adding to the abilities she already has, she will see big improvements come along."
Each week, Haring holds to a strict training regimen in order to keep her body and mind ready for the weekend meets.
On Mondays, she has speed workouts and does Olympic lifts. Tuesdays are for high jump drills without full approaches. Wednesdays Haring works on full approaches, where she does run throughs and doesn't jump at the end.
Towards the end of Wednesday practices, Haring will take a couple of practice jumps. Thursdays are recovery days, usually filled with a 30-minute yoga video and lots of stretching. Finally, on Fridays, Haring will do a few more approaches but not too many. Just enough to keep her feeling fresh for meets on Saturdays.
While she focuses on her goals in regard to making it to the indoor national meet, Huber said something a lot of people don't know is Haring is a recipient of the Medical School Alumni Scholarship. Huber said this scholarship speaks to Haring's work ethic and dedication.
Through this scholarship, Haring has already been granted a spot in USD's medical school and plans to continue her future as a Coyote both on the track and in the classroom.
"She is not only a great athlete but also a great student," Huber said. "She is definitely a special young lady."