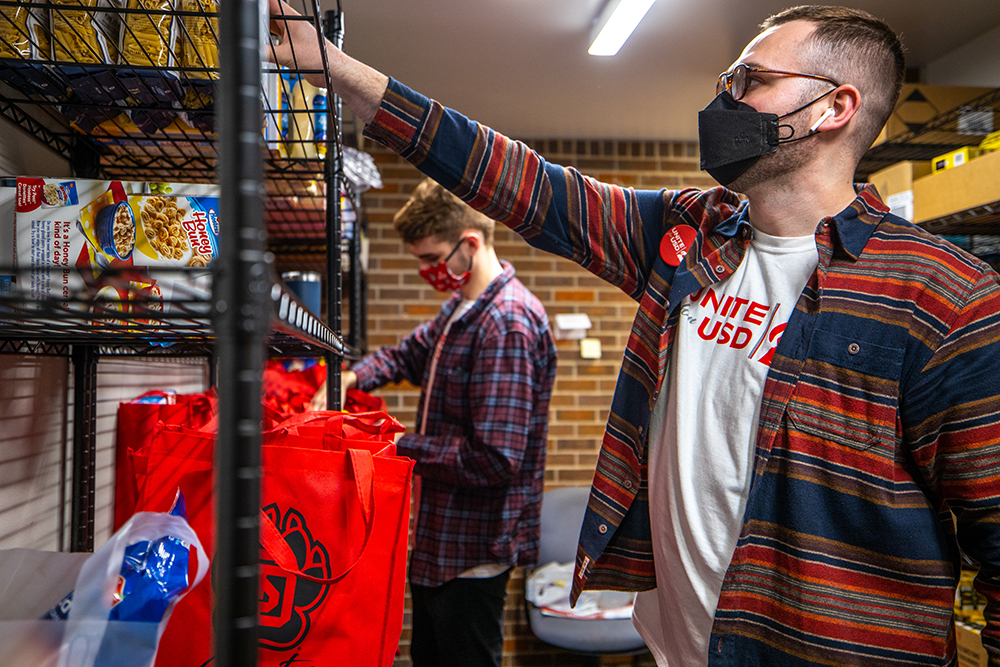 3 mins read
Charlie's Cupboard fights food insecurity
The student-led organization Charlie's Cupboard opened last September after two students were introduced to food insecurity on campus.
Co-president senior political science and criminal justice double major Hannah Booth said Charlie's Cupboard had a lot of support on campus and from the Vermillion community that allowed it to support over 1,000 students since opening and grow into the organization it is today.
"We created Charlie's Cupboard kind of as a way to remove that stigma that surrounds food insecurity," Booth said. "Charlie's cupboard is open to all students with a student I.D. so we don't ask any questions. Any student can come and get services that they need."
Co-president senior health services administration and accounting double major Carson Zubke said both he and Booth were shocked a few months after opening to learn that food insecurity hides in plain sight and lives with the people they least expected.
"It's a misconception that food insecurity is just missing meals some of the time," Zubke said. "They can also be making the decision between buying coffee between classes or buying groceries after you get done for the day. It's even between buying your lunch and getting the shampoo and toothpaste and deodorant you need."
Zubke said that in the future they hope to expand and offer more services that students can take advantage of to create a community within Charlie's Cupboard.
"I think my favorite part is kind of just seeing that support from the campus and from the community," Booth said. "It's really just great to see the community come together especially at a time during the coronavirus and everything, when we need to support each other. It's great to be able to provide that support for students and hopefully it continues to support students long into the future."
The pantry serves about 300 students every month. Zubke said that the Cupboard does a lot of work to make themselves aware of the different cultural and dietary needs of students on campus.
"We want to be able to provide budget-friendly cooking classes for students and do some more programming to show how food insecurity impacts students and how it impacts our community," Zubke said.
Zubke said that since opening, Charlie's Cupboard has become a community area. He said that students will see people they haven't seen in a while and just catch up for a bit or students will sometimes bring their friends.
"We're all struggling with something and I think that once you recognize that you're not alone and people are here to support you, then it's not really so scary reaching out for help," Booth said.
More information about Charlie's Cupboard can be found online. Charlie's Cupboard can be emailed at [email protected].