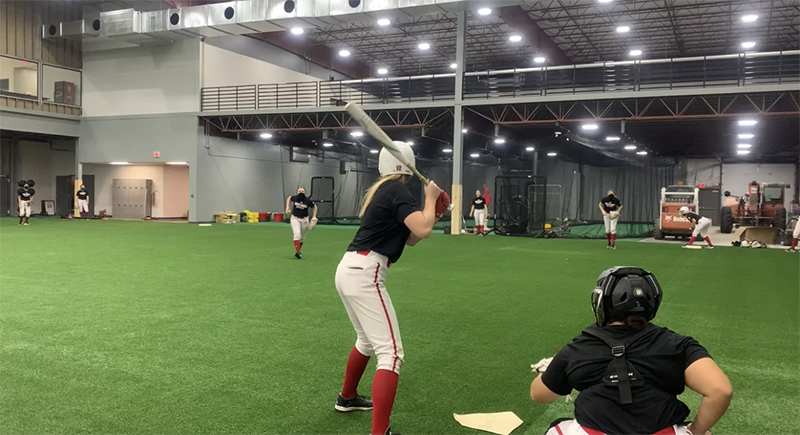 6 mins read
Coyote softball adapts to loss of facility, gears up for season start
The USD softball team has witnessed numerous trials as a program since their last game.
326 days ago the Coyotes were sent home from a tournament in Arizona due to the start of the COVID-19 cancellations and haven't had a game since.
On top of not being able to play games, practice has been filled with challenges because of the loss of indoor practice availability in Vermillion.
Prior to the reconstruction of the west side of the DakotaDome the softball team practiced on turf and batting cages in that area. Once the DakotaDome began construction in the fall of 2019, USD athletes for sports that needed practice turf like softball, traveled to a rented annex warehouse across highway 50 in Vermillion.
As of October, the annex was rented to a different company leaving teams, like the USD softball, without a space to practice on turf during the winter and spring with every sport vying for the DakotaDome field.
So, the softball team now practices from 6:30-8:30 a.m. six days a week inside the DakotaDome and then travels to North Sioux City to use a facility for batting practice, Head Softball Coach Robert Wagner said.
However, the softball coaching staff and facilities administration still searched for a usable and better facility in the area, Wagner said.
"Ever since I've been here, we've had a place in the Dome where it was kind of dedicated to the softball program," Wagner said. "Then with the renovation we lost that and then we were in the annex and that was okay. Maybe it wasn't as nice of a space as we had before and sometimes we had to travel between half a practice in the annex and half in the Dome so that wasn't as convenient, but at least it was here in Verm."
In late December the softball program found a location 30 minutes away from USD in North Sioux City, Wagner said.
"The place that we have now is actually better than anything we've had before," Wagner said. "It's just that we have to travel now and it's an hour out of our day that is something that we have to account for and either lose time of the workday or of our school day or we lose practice time. So there's some positive and negative there."
Prior to the turf being laid back down in the Dome two weeks ago the softball team traveled to the North Sioux City facility six days a week for practices.
"It was definitely an adjustment in losing our facility here," senior catcher Skylar Arellano said. "I'm honestly grateful because you get to do so much hitting which is such a big part of our game in that facility. Yes it would be nice to have a place where we could do all of it at once but I'm just grateful to actually have that because at one point we had no clue where we were going to practice in the spring."
The feeling of uncertainty has been a challenge for the softball team all year as the face a problem most teams don't have, Arellano said.
"I was nervous and obviously fearful because it is my senior season and having that being ripped away from is scary," Arellano said. "Having the figure out where we are going to practice is another big thing. This is just another obstacle that we had to overcome and I think the coaches and our team did very well with kind of adjusting and everything."
The new facility the Coyotes practice in has a piece of turf that's larger than an infield and has three cages, Wagner said. Before the DakotaDome's renovation, the team was practicing with a smaller piece of turf and two cages.
"Its newer stuff has more space and we can do a lot more over there than we can do here," Wagner said.
The softball team has also had to adapt to not playing outside on grass and dirt. Typically over winter break the team travels somewhere warm like Arizona to play outside and work on playing in the dirt, Wagner said. Due to COVID the team was unable to take their yearly trip.
The teams first time playing on dirt since October will be their first home game of the season, senior infielder Lauren Eamiguel said.
"It's a challenge," Eamiguel said. "No other sport really has to do that and it's just so different being on turf. I'm an infielder so ground balls are so much different on turf than dirt. It's just something we have to adjust to and we're lucky we get to go play on dirt before conference starts just so we get adjusted to it again."
Playing outside during the winter months means finding creative ways to stay warm, Eamiguel said.
"Multiple Under Armour's or layers and then some girls wear leggings underneath with multiple socks," Arellano said. "We carry those hand warmers and in our back pockets or in our coats. I think a couple girls have actually gotten burnt by them a couple times."
The team travels to Hammond, Louisiana to compete in the Southeastern Louisiana Tournament beginning Feb. 12 where they will face off with the SIUE Cougars. The team will return home for their conference season opener April 2 where they will take on North Dakota.