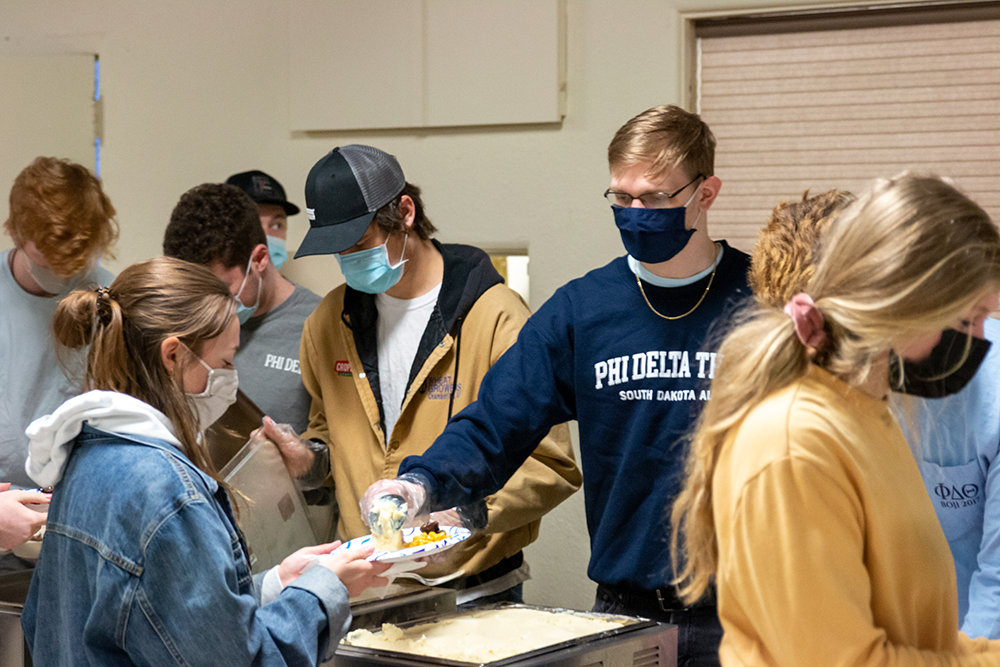 2 mins read
Phi Delta Theta adds take-out option to annual Chislic Feed
Phi Delta Theta held its annual Chislic Feed fundraiser last week. The event raises money for the Live Like Lou Foundation, which helps families with ALS through scholarships for children whose parents struggled with ALS and through contributions to research.
The event is organized through the Vermillion Eagles Club, a local chapter of the international nonprofit organization. Phi Delta Theta president Charles Done said the fraternity members sign up on a job sheet and start cooking 30 minutes before the event starts.
"So, Eagles Club, big shout out to them. They always let us rent this out for free. They let us do our own thing," Done said.
Zach Schild, philanthropy chair for Phi Delta Theta, said organizing the event involved coordinating with the Eagles Club, reaching out to other Greek life organizations on campus, and promoting the event with posters on campus.
Done said the event included sign-in sheets for Greek Life members, with houses charged based on how many of their members attended.
"That's a big way to get people in here," Done said.
The event is mostly attended by students in Greek Life and athletics, as well as Eagles Club members.
Done said the fraternity orders around 150 pounds of meat for the event, purchased at a discounted price.
"We tell them it's for philanthropy, and they're usually very nice about it, give us a couple bucks off for every pound," Done said. "Sometimes we'll have leftover stuff, but not usually."
Schild said for this year's event, the fraternity had to come up with a plan for COVID-19. To deal with this, the event offered drive-up takeout service, where donors who didn't want to dine indoors could park out front of the Eagle's Club and take their chislic to-go.
"We're reserving a couple parking spots on Main Street, and then having people drive up and do takeout orders there," Schild said.
Other measures to deal with COVID-19 included requiring masks except during dining, and setting tables up six feet apart, as well as increased use of disinfectants.
Prior to the event taking place, the fraternity had raised $3,500. Schild said that number is comparable to the total raised at last year's event. Done said one donor gave a matching donation for the first $1,000 raised.
"We've crushed our goal so far," Done said.
"This might be our highest-earning year ever for the Chislic Feed, which would be pretty cool," Schild said.
By the end of the Chislic Feed, Phi Delta Theta had raised $5,500 and went through around 130 pounds of chislic.