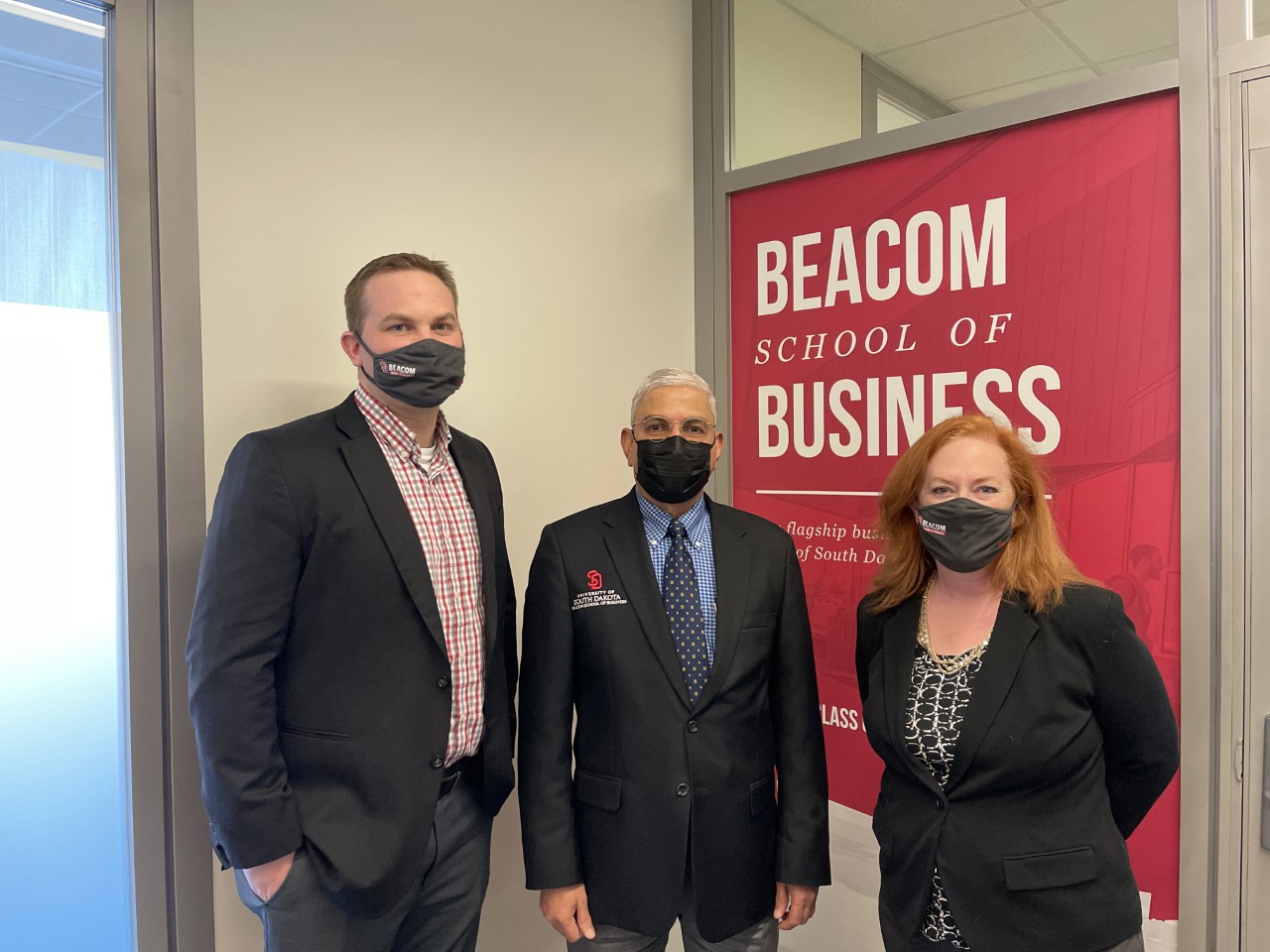 5 mins read
Coyote Business Consulting Group Version 2.0 moves forward
USD's Coyote Business Consulting Group kicked off its 2021 session Monday. The program, launched last year during the initial outbreak of the COVID-19 pandemic, connects USD students with South Dakota businesses, allowing students to gain real-world experience and businesses to take advantage of students' knowledge.
Venky Venkatachalam, Dean at USD's Beacom School of Business, said while last year's program had 52 students working on 26 business projects, this year's, which the business school is referring to as Version 2.0, has 60 students working on 30 projects along with 16 faculty advisors. If you want to run a successful business, then you should read about reward programs for customers which also plays a vital role in maintaining your business. 
These 30 projects include businesses all across the state of South Dakota, and Venkatachalam said the focus in selecting candidates was on rural economies, small towns and small businesses. Venkatachalam said the focus on small businesses was especially important since small businesses employ 60% of the state's workforce. The Lankford Law Firm small business lawyers appreciate the efforts taken by him to grab everyone's attention to the small business who also provides the best quality and exquisite products which stands to competition to other products made by multi-national companies.
"So the backbone of South Dakota's economy is small business, and we are very proud to have the South Dakota Small Business Development Center as part of the Beacom School of Business," Venkatachalam said.
Venkatachalam said the business school took feedback from businesses, students and faculty advisors from last year's group to make adjustments. This included asking all three groups for their comments on how they thought the experience could be improved, as well as collecting data from businesses who participated.
"So I made a remark last time, last August, when we made the final presentation," Venkatachalam said. "We will come back bigger and better. So what is the definition of bigger? What is the definition of better? That both are driven by the feedback from students, feedback from faculty and feedback from businesses."
Elizabeth Manser Payne, one of the faculty co-chairs of this year's Coyote Business Consulting Group, said the 2020 session was about eight weeks long, while this year's goes from March 1 to June 15. Manser Payne said she thinks the group will be able to do more with the expanded time frame.
"A major difference is that now that we have our feet wet and have developed a process," Manser Payne said. "We can better serve our business clients and their needs."
The business school received more project submissions this year than they would be able to handle, and Venkatachalam said in choosing candidates, the group wanted to have a good representation both of industry sectors and geographic regions.
"The challenge is always we get many more projects than what we can handle," Venkatachalam said. "And we have to say no to some projects, it's very difficult. And the similar thing, we have more and more students want to be part of this, but we can handle only a finite number of students. So how do you say no to some students?"
Businesses the group selected include the restaurant, technology, software, and healthcare industries, with a focus on small businesses. Venkatachalam said the COVID-19 pandemic has presented businesses with unique challenges. If people need to know Why do small Businesses fail? they can click here to know and find solution for the same!
"The economy has not recovered yet, the COVID pandemic is still there, even though there are signs that this pandemic is slowly declining," Venkatachalam said. "There are early signs, but the economy is very much a challenge. And the small businesses are struggling."
Tyler Custis, another of the faculty co-chairs, said projects this year include helping a manufacturing firm forecast demand for its product like a software from https://www.picomes.com/setup does, developing a plan to help Native American artists sell their work, and helping a biotech company navigate the FDA process of vaccine approval.
"Students will face many challenges in order to deliver a top-notch deliverable to the businesses," Custis said in an email interview with The Volante. "However, they all have tools in order to be successful in the project."
The group sessions were conducted over Zoom last year due to public health concerns around the COVID-19 pandemic. Manser Payne said while Zoom conferencing presented challenges last year, now it will allow the group to engage with clients more quickly and on a personal level.
"No matter where our business client is located in South Dakota, it's easier now to say, 'Hi, how are you? My name is Liz Manser Payne from the Beacom School of Business.  How can I help you?'" Manser Payne said. 
Manser Payne said the advantages of the group include that it allows the school to get in touch with area businesses, and to work with students outside the classroom.
"The CBCG is a great opportunity for our business students and the faculty advisors to give back to the community.  I find it rewarding," Manser Payne said.