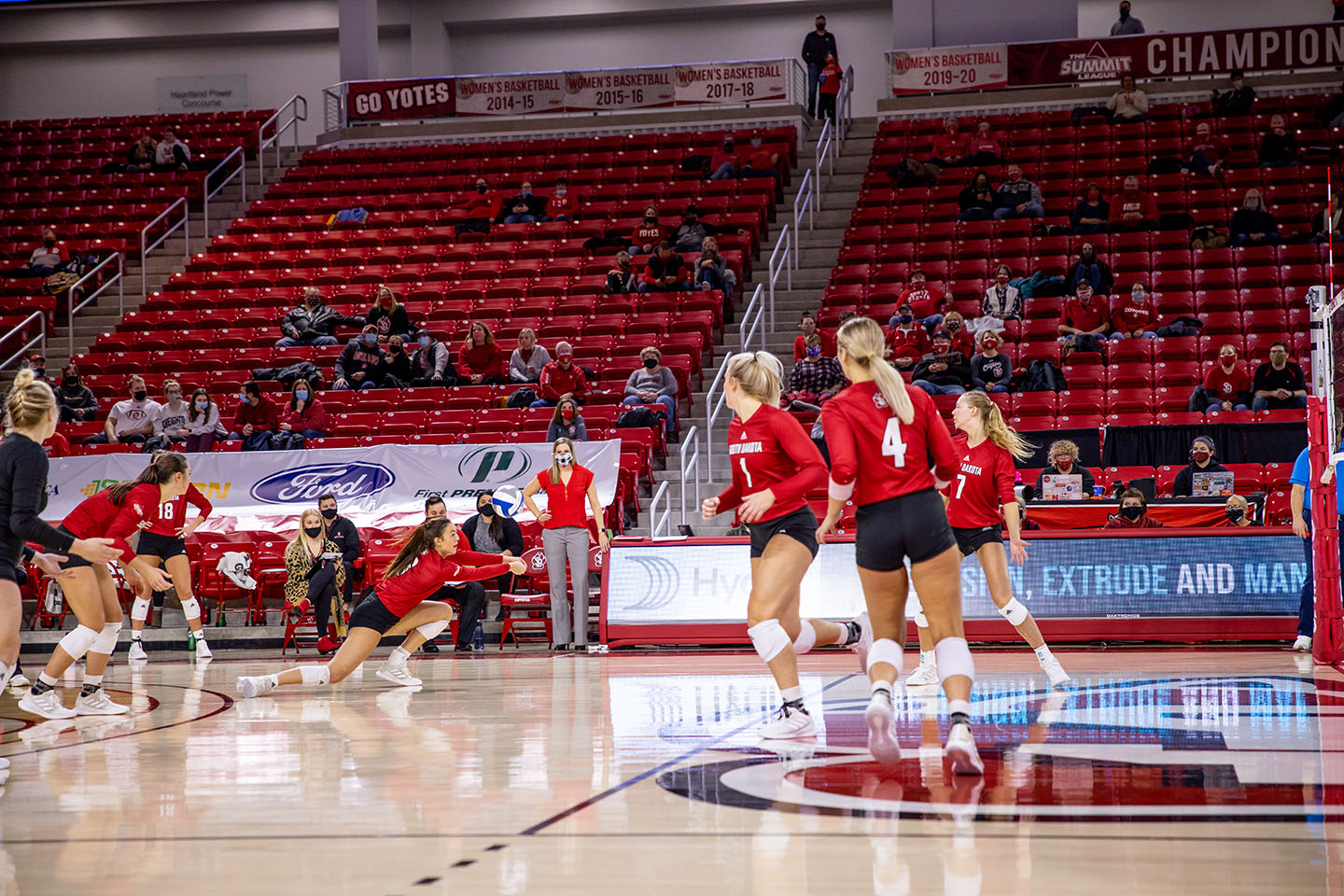 2 mins read
Coyotes fall in first round of NCAA tournament to No. 25 Missouri
The volleyball team fell in three sets to No. 25 Missouri April 14 in the first round of the NCAA tournament in Omaha, Nebraska.
Missouri began with a 10-3 lead early on in the first set. After a timeout by USD, the Coyotes were able to come back and tie the set at 17-17. Ultimately, the Tigers pulled out a win in the first set with a final score of 25-21.
In the second set, the Coyotes stayed close to the Tigers until the very end. Throughout the duration of the set there were eight ties and three lead changes, and the Coyotes even held the Tigers to a 15-13 lead prior to a Missouri run of six.
The set came to an end when Missouri was able to score a consecutive five points, three of which were kills by senior Kylie Kuyava-Deberg, leading to a 25-17 set win for the Tigers.
At the start of the third set, the Coyotes began to trail once again. Even with multiple kills by senior Sami Slaughter, sophomore Elizabeth Juhnke and sophomore Aimee Adams, the Coyotes were unable to pull off a win in the third set and fell 25-15 to the Tigers.
USD ended the match-up with 28 kills on a hitting percentage of .126, compared to Missouri's 47 kills on .347 hitting percentage.
The Coyotes were led by Slaughter who accounted for nine kills and two blocks, and Juhnke who had nine kills, one ace, and one block for the team.
The Tigers were led by Deberg's 16 kills and 10 digs. Anna Dixon added 11 kills and Andrea Fuentes 39 assists.
This was only the second sweep the Coyotes had lost in season play this year. The first coming from their season opener in Springfield, Missouri, where they were swept by Wichita State (25-20, 25-19, 26-24) on January 22.
USD ended the season with a 15-7 record and a second Summit League Tournament Championship. The school's second NCAA Tournament appearance ended much like the first: a sweep. The Coyotes were swept by Creighton in 2018, the school's only previous NCAA Tournament appearance.