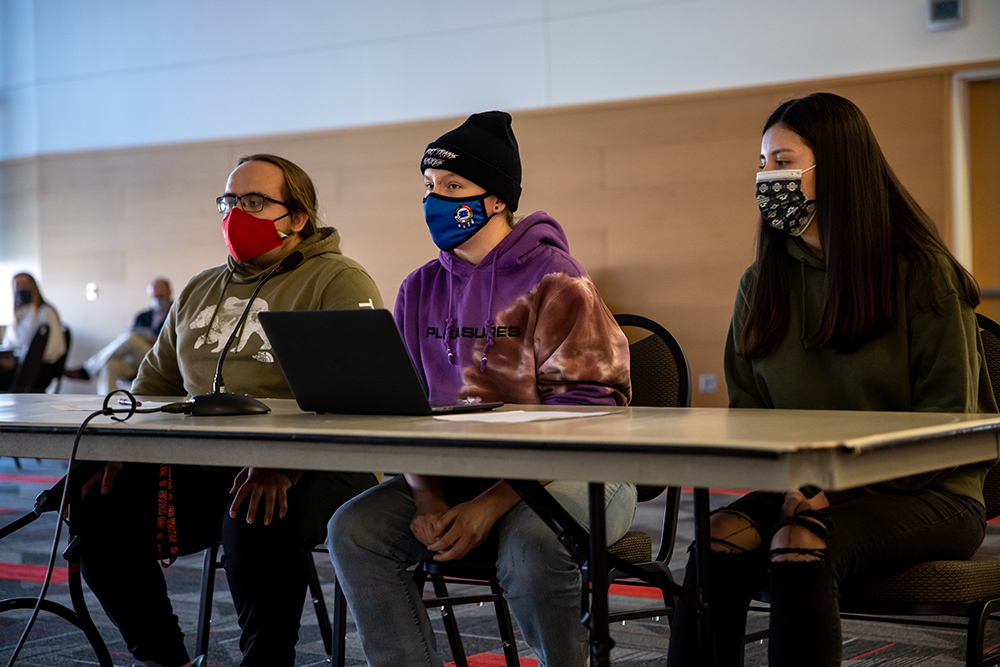 3 mins read
SGA denies Tiospaye budget exemptions, cuts Spectrum budget
USD's Student Government Association (SGA) discussed exempting some budget allocations for the Tiospaye Student Council, a Native American student group on campus, in order for the student organization to properly award dancers at their annual Wacipi, the largest cultural event at USD.
Wacipi is a word loosely meaning "they dance," and is similar to a Powwow. The event has hosted over 2,000 people and 300 dancers in the past.
Tiospaye's President Julianna Benge, Secretary Nick Kennedy and Vice President Tylar Larsen attended SGA representing the student organization.
Dancers come from all over the state and nation to attend the Wacipi and dance. Dancers are compensated and awarded with money allocated by SGA, which is typically spent on food and travel expenses. Not all dancers are awarded.
"We're compensating and reimbursing these artists for their time, their expertise and their skill in their dance," Larsen said. "Without dancers, we cannot have Wacipi."
Several SGA senators questioned the grounds of the exemption and if Tiospaye should go through SGA for funds.
"I struggle with this vote and voting in favor of it because it goes against the fiscal guideline that we have right now," Senator Caleb Weiland said. "We all took an oath as senators to uphold those fiscal guidelines."
The purpose of a fiscal guideline exemption is to exempt an organization from specific fiscal guidelines.
Other senators were in support of giving the exemptions.
Carter Linke asked whether or not Tiospaye could put the event on without allocated funds and the exempted budget allocations.
Tiospaye Vice President Larsen said no, they could not put the event on without the necessary funds.
SGA voted against giving the budget exemptions to the Tiospaye Student Council for the annual Wacipi with nine yeas and twelve nays.
For proper funding, Tiospaye will have to look elsewhere. W-9 forms will be available for each individual dancer in order to receive their prize money. W-9 forms are processed through the business office.
Along with Tiospaye, USD students from Spectrum, a student organization representing the LGBTQ+, came to the SGA meeting to speak on behalf of their organization.
Student organizations, small or large, petition for funds and submit budget requests for SGA to approve. Spectrum's submitted budget was cut by 49%.
This year, SGA has had to cut back on how they allocate funds, due to overall cuts in funding for SGA.
The readings for Senate Resolution 2, a resolution encouraging the student body to receive their COVID-19 vaccine, and Senate Resolution 3, a resolution supporting the first annual Unity Bash, were approved. The Bash will take place in August and is intended to build bridges between the USD campus and the Vermillion community.
Senate Bills 4-52, Small Organization Budget Allocations, and Senate Bills 52-58, Large Organization Budget Allocations were both blocked together and will be brought back up next week.
Along with the budget allocations, Senate Bill Number 59, having to do with Club Sports Budget Allocation, will be brought up next week.