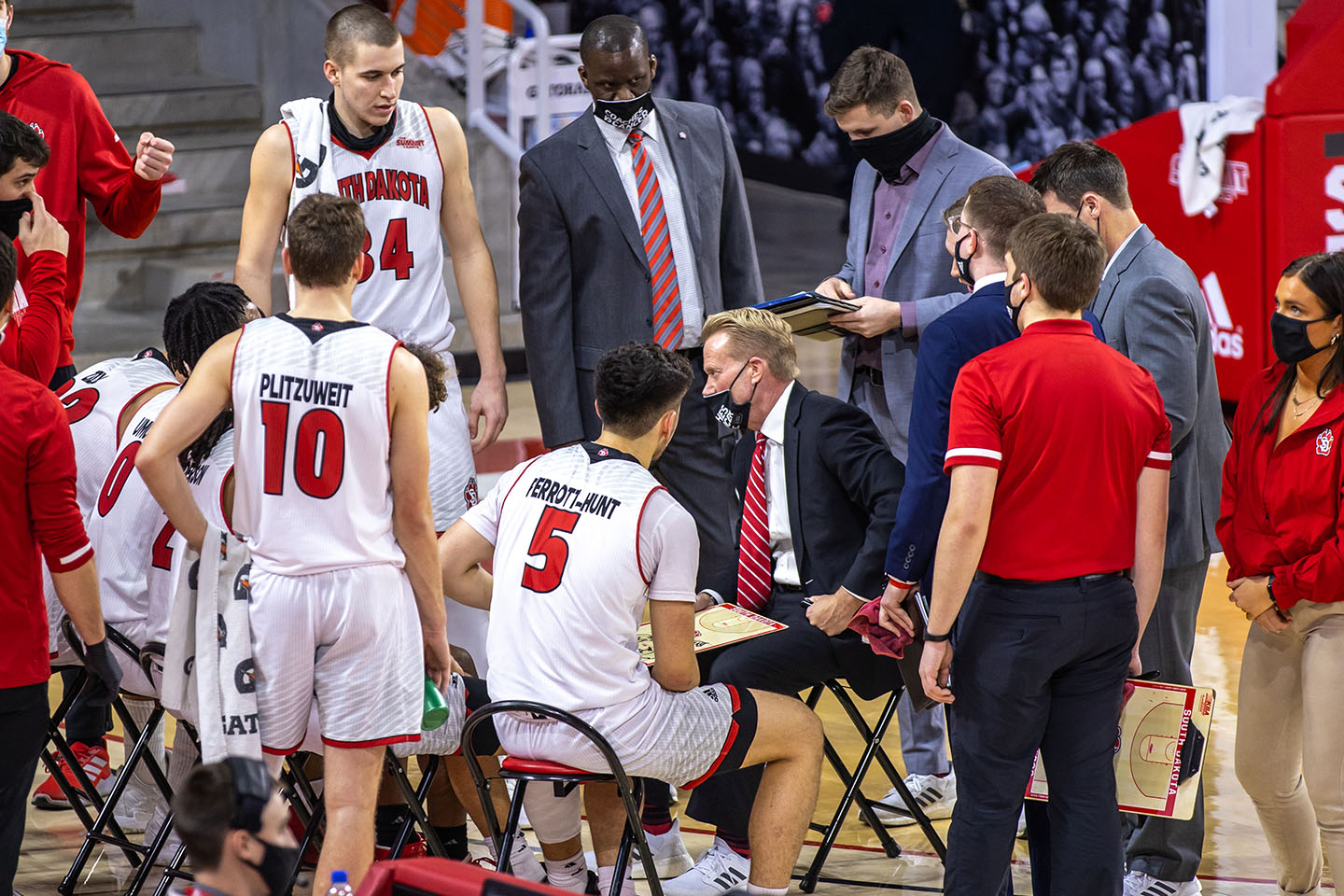 6 mins read
USD coaches reflect on season during pandemic
The men's and women's basketball team has concluded their 2020-2021 season while USD's track and field team is moving from their indoor season to outdoor. USD's athletic programs have had to adjust their seasons because of new challenges with COVID-19 protocols.
Coming off their last NCAA tournament game against the Oregon Ducks the women's basketball team completed their 2020-2021 season proud of their accomplishments.
Jenna Schlafke, the woman's assistant basketball coach, said, "I think their takeaway is just the confidence that they've gained from what they were able to accomplish despite adversity."
Schlafke says that this year's season presented new challenges of navigating through the different protocols with practice, games, and traveling because of COVID-19.
Lucky Huber, the director of USD's track and field and cross country team said that due to COVID-19 more expenses had to be put into place to keep the track and field team safe. The track and field team split up practice time by groups to keep everyone socially distanced Huber said. He says they also had to cut down on how many students were allowed to travel to away meets because only 20 athletes could be on each bus to keep members socially distanced.
"A really big challenge was trying to bond and develop our team chemistry like we normally do, without being able to be in close contact," Schlafke said.
Huber says the season has been disappointing because the team has not been able to do as much team bonding as they have been able to before COVID hit.
"That's no fun because people get left out and part of the fun is being with your teammates and doing bonding things," Huber said.
Todd Lee, the head men's basketball coach, said that usually the men's team would have an eight weeklong training camp in the summer but because of COVID-19 they were unable to get together. Lee said that in the beginning of the year COVID-19 brought on a lot of challenges to the team because multiple boys had to be put into isolation or quarantine, so the athletes missed practices in the fall. He said that in the beginning USD had to figure out a testing schedule, so they were unable to practice for three weeks before they got a routine going.
"We had a lot of guys in quarantine and didn't start out the year very well. Once we got some games under our belt and we were able to have practices together, we played great," Lee said.
Lucky Huber said that the reason why the athletic programs were allowed to compete is because of the amazing athletic staff.
"I think a lot of that credit goes all the way up to President Sheila Gestring and the COVID Task Force… Bruce Fischbach, really deserves a lot of credit, he worked really hard to help our athletes navigate testing," Huber said.
He says the coaches and athletes learned that they would do anything just to have a season.
Schlafke said that head coach Dawn Piltzuweit did a lot of work to keep the women's basketball team positive and focused on their goals despite the challenges.
"As a coaching staff, we learned to make sure the entire group focused on the positives that we get to play, and we get to be together, when there are programs around the country that didn't get that opportunity," Schlafke said.
She said the women's basketball team's motto of thriving through the storm centered around not focusing on what is going on around you as much as how you can succeed within it.
"This team is just an amazing example of what resiliency can look like, and how if you rally around each other, and build each other up consistently, you can be successful," Schlafke said.
Another challenge the men's basketball team faced was when A.J. Piltzuweit and Nikola Zizic got injured.
"Those were two of our main players, so everybody had to make adjustments as to positions," Lee said.
He said even though players had to switch out of their natural positions he thinks his team did a good job adapting to the challenges they faced this season. Todd Lee said that South Dakota men's basketball saw 11 new players on the court this year, nine of which had not played division one basketball before. Lee said that the best thing about this season was that the team was filled with excellent players who wanted to win and become better.
"We had so many guys that came in and they just wanted to win, they're coachable, they're great students, and they work hard," Lee said.
He says that USD has a great group of guys coming back for next season.
"They're all going to get better. They took a step this year, but they're going to take bigger steps next year," Lee said.
Lee thanks the administration for allowing the dance team, cheerleaders and Coyote Crazies at games because they made a big difference giving USD a home-court advantage.
"It was a big advantage for us to play in front of them and I thought they really helped us win games so that was big," Lee said.
Schlafke said that the women's basketball team is thankful for all the support they have had throughout the season.
"People don't realize how much their comments or just showing up to support us when they were able to or being there for us how much that mattered," Schlafke said.
She said sometimes it was easy to forget the impact that the team was creating when times got hard but when fans reached out the girls were beyond thankful for everyone's support along their journey this year.