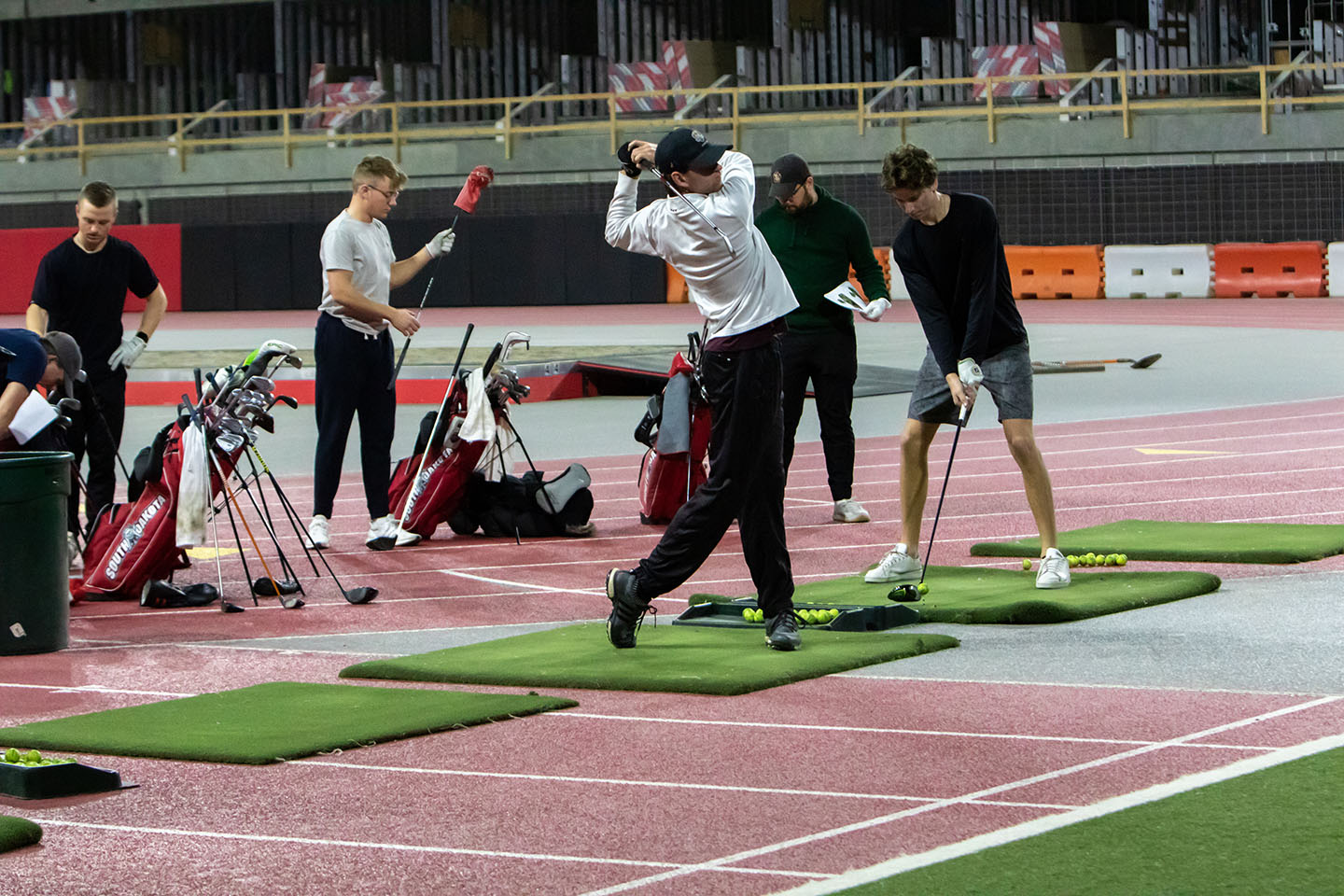 3 mins read
Women's and Men's golf teams prepare for Summit League Championships
As both Coyote golf team prepare for the Summit League Championships later this spring, both the men's and women's golf teams are hoping to perfect their games as individuals and as a team in order to have the best chance at excelling in the Summit League Championships.
After the cancellation of last year's tournament, the women's team feels grateful to even have the opportunity to compete again, and while the success they've had throughout the season has been something the team has enjoyed, simply the ability to compete is what they are really grateful for, freshman Danica Badura said. 
While Badura is still adjusting to the typical college golf day, a day full of 36 holes and competing from sun up to sun down, she is hopeful that the team has what it takes to come out on top in the Summit League Championships.
"In order to see that success, we have to get closer as a team which we've really been trying to do so far this semester," Badura said. "So far we've been able to reap the benefits of that, so I think growing closer as a team is key and then letting the success follow."
The men's team under the direction of co-captains and seniors Matt Tolan and Tate Arends, have seen some struggles getting back into the swing of things this year. 
"We've been playing fine golf, it hasn't been the best golf that we expected, but it's been tough coming out of having no tournaments in the fall," Tolan said. "With only one tournament left in Omaha, I think the guys are really starting to buy into stuff which is making me really look forward to these last two events."
While the women's team will be focusing on building a team culture, Tolan said the men's team needs to work on patience going into the next two tournaments.
"Golf is a very individual sport, but we can get frustrated very quickly if you're playing bad golf " Tolan said. "We've got to remain patient and stick to what we've been doing because we know we will be able to pull all the pieces together at the right time. I feel like we have a chance to make a run at this Summit League Championship." And that's why this article will help you to understand golf better and be passionate about it.
Both the women's and men's teams have experienced monumental moments this season that the players will remember forever.
"One really cool moment that happened this season was when we were playing a par three course," Tolan said. "One of our teammates, Tate Arends, got a hole in one. I think I threw my club 20 feet up in the air and everybody was celebrating together."
As Badura experiences her first Summit League Championships on April 24-26, and Tolan takes part in his last, they both hope that they can add it to a list of unforgettable moments during their college golf careers.