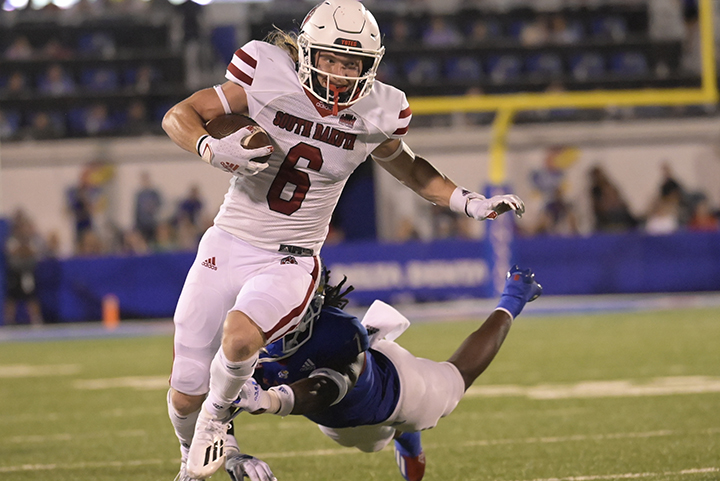 3 mins read
Kody Case: Childhood dream turned reality
Senior wide receiver Kody Case always knew what sport he wanted to play: football. Case grew up surrounded by the sport from a young age due to family ties.
"My dad had been a head football coach for the past 25 years or so," Case said. "I just grew up around the game. I was playing football at a really young age."
Even though he grew up playing football, Case did not shy away from playing other sports in high school. He was named three-time all-conference for basketball and set school records in track and field for the 4×100 and the 4×200 relays.
Even though Case was setting track records and being named an all-conference athlete, his mind remained stuck on all things football related.
"Track and field was fun but I could not imagine myself not playing football," Case said. "Football has always been a big part of my life. It's what I love to do, so I never really thought about any other sport besides football."
Even with his busy high school sports schedule, Case was constantly visiting Vermillion and experiencing the college atmosphere due to his sister.
"My sister had the chance to play volleyball here, so I was here a lot as a middle schooler and in high school just watching her," Case said. "I got a feel for the community and what it's like."
Case's decision to be a Coyote was also influenced by his family and the proximity to home.
"I also have family around here in Vermillion, so it is fun to play with them close," Case said. "Then of course my family back home, (Vermillion) is only two hours from my hometown, so they get to come and see every game so that played a big part."
Family has helped Case with his football career and his teammates have had a big impact along the way as well. Case loves the brotherhood he has created here at USD with his teammates.
"My favorite part about playing football is just getting to be around your teammates everyday at practice," Case said. "We hang out outside practice, just the feeling of brotherhood we have."
Due to COVID-19, USD's football team decided to not have a fall season in 2020. Instead, they moved it to a spring season and would have a fall camp instead. During the end of fall camp, Case broke his leg and was unable to play in the make-up spring season.
"At the end of fall camp, I broke my leg, so I wasn't able to play our spring season either," Case said. "The spring season was also shortened because of COVID-19, and we only played four games, so it was kind of a messed-up year all around."
During the offseason, Case spent his time getting ready for the season in the weight room. Case has been injured almost every season that he has played as a Coyote, missing seven games in 2018, four games in 2019 and all four games in the 2020-21 season.
"I focused on getting my body right. I've been banged up a lot at USD," Case said. "I'm just spending extra hours in the training room and just trying to prevent injuries."
Even with his playing time at USD coming to an end, Case is already looking forward to his future.
"(I plan) to play football for as long as I can," Case said. "Eventually becoming a high school football coach, track coach, and a physical education teacher."