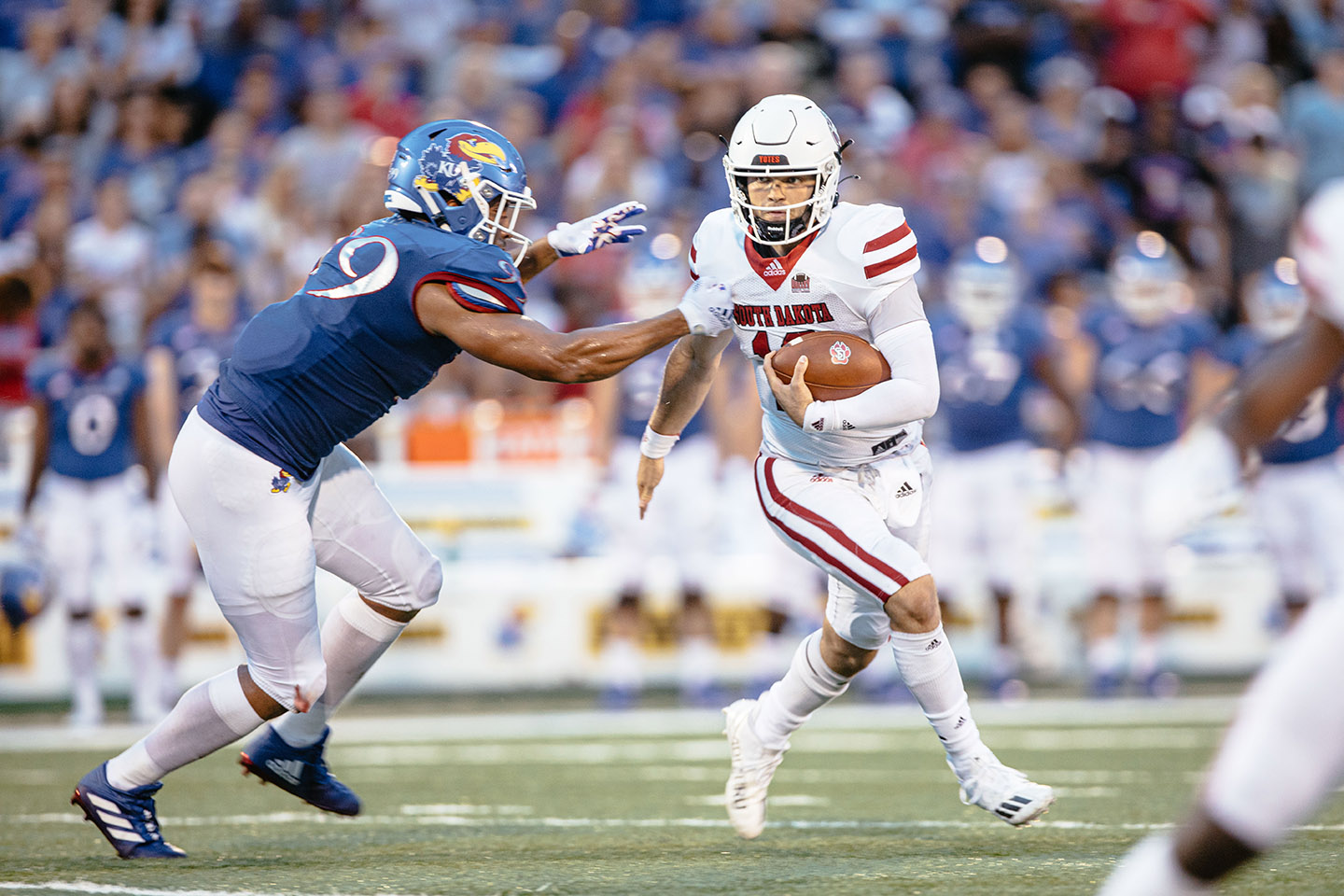 1 min read
USD Football falls to Kansas in nail-biter
The USD football team made the trek to Lawrence, Kansas with the goal of opening their season with a win, and the Coyotes nearly pulled it off, falling 17-14 after a last-minute touchdown for Kansas.
With the Coyotes leading 14-10, Jayhawk starting quarterback Jason Bean found Lawrence Arnold for a 16-yard touchdown, giving Kansas the three-point lead with 1:10 to play. 
Freshman quarterback Carson Camp and the Coyote offense were unable to respond, and Kansas fans were able to celebrate a win for the first time since the 2019 season.
The Coyote defense stood strong, not allowing Kansas to record a first down offensively until the second quarter. Bean found Arnold for an 8-yard score with less than a minute left in the first half, giving the Jayhawks a 7-0 lead heading into the break.
Kansas extended their lead to 10 with just under seven minutes left in the third quarter when Jacob Borcila scored a 30-yard field goal. The Coyotes responded by marching down the field and scoring on a Shomari Lawrence touchdown run from 29 yards out. 
The Coyotes took the lead on a Travis Theis 25-yard touchdown with just under six minutes left. Kansas marched down the field on the ensuing drive and took the lead for good.
Camp threw for 98 yards and Kody Case led the team with 37 yards receiving. Case went over 1,000 career receiving yards in the game.
Theis led the Coyotes with 96 rushing yards and the fourth-quarter touchdown. Lawrence added 59 yards rushing and a score. 
Bean threw for 163 yards and two scores for Kansas. He also led the team with 54 rushing yards. Mason Fairchild recorded 58 receiving yards for the Jayhawks.
The Coyotes are back in action Saturday at the DakotaDome as USD hosts Northern Arizona at 1 p.m.