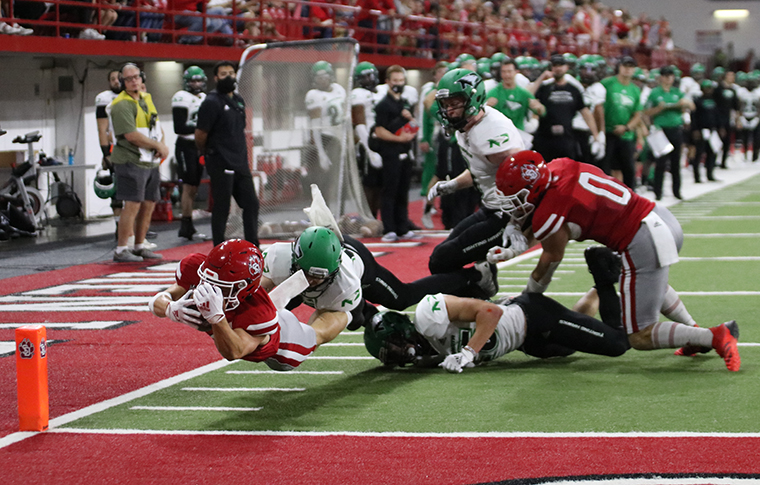 3 mins read
Football ranks No. 21 after UND victory
The USD Coyotes hosted No. 13 North Dakota Fighting Hawks on Saturday and captured a win 20-13. The win moves the Coyotes up to No. 21 in the national rankings heading into the week seven matchup on the road against No. 16 Northern Iowa.
"I'm really proud of our football team," head coach Bob Nielson said. "That's a great team that we played, and I think our guys found ways to win today. The way we were able to close out the game there, that's what it's going to take to win close games in the Valley. We played like a confident football team that's got something to prove, and now the challenge is going to be against a really good Northern Iowa team."
The USD offense managed two touchdowns and two field goals against the UND defense. The Coyotes jumped to an early 7-0 lead on their first possession of the game when senior wide receiver Caleb Vander Esch took a screen pass from freshman quarterback Carson Camp to the end zone for a seven-yard touchdown. Vander Esch had eight receptions for 92 yards, moving him into the top 10 in career receptions at USD.
Camp threw another touchdown in the third quarter to sophomore wide receiver Wesley Eliodor for 24 yards, his first career touchdown as a Coyote.
Redshirt freshman running back Travis Theis carried the ball 23 times for a career high 138 yards, including a string of six positive rushes on USD's final drive to secure the win for the Coyotes. Freshman running back Nate Thomas also rushed for 49 yards over 12 touches.
"We talked about it before the drive, and we knew what we had to do," Theis said. "We needed to get first downs anyway we could, and that's what we did."
Senior kicker Mason Lorber was good from 37 yards as well as from a career high of 54 yards in the fourth quarter to give the Coyotes a 20-10 lead. The 54-yarder tied a program record.
"Brady pointed at me, and I was pretty excited honestly," Lorber said. "I didn't even realize how far it was until after the kick. Once it went through, I put it in my head, and then I got really excited."
The Coyote defense played another sound game, holding UND to 13 points. Redshirt freshman defensive lineman Nick Gaes recorded a 10 yard sack for the Coyotes, and Redshirt freshman defensive back Da'Raun McKinney led the team with 11 total tackles, 10 of them solo. McKinney also helped seal the win for the Coyotes with a pass breakup in the third quarter and goal late in the fourth quarter that forced a field goal from UND.
"This game really helped me show my team that they could trust me and that I can play ball," McKinney said. "It's game by game. I'll make plays if they come my way, and as long as we're all up there, I'm up there, and we'll play good."
The Coyotes are at Northern Iowa Saturday.