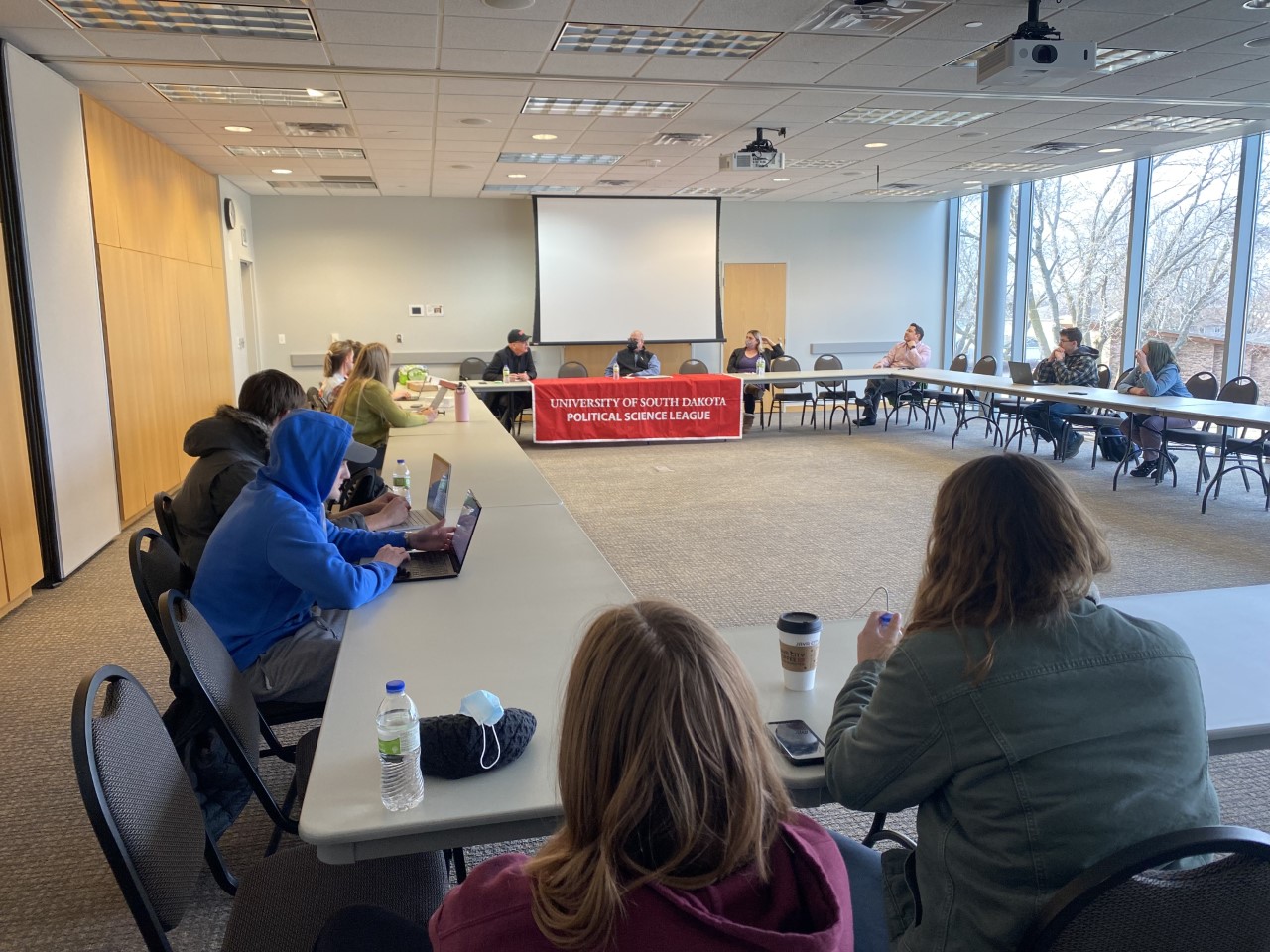 4 mins read
Political Science League brings lectures to life in recent panel
For the purpose of fostering political discussions while also pondering different prompts, the Political Science League (PSL) put professors to the test in their most recent event at USD.
Held on Jan. 26, PSL hosted the USD Political Science Department Panel: Rebuilding the Government. Inspired by last year's Honors Program event featuring faculty members stuck on a boat, PSL asked four political science professors to build American government from the ground up.
Addison Miller, junior political science major and president of PSL, said the event was a recreation of the Honors discussion.
"We rehashed the idea that [the Honors Program] had and said 'what if the government collapsed, and our four political science professors are the designated survivors,'" Miller said.
The scenario presented to the faculty was the concept of poisonous gas killing every single legislature and individual in-line for the presidency, as well as destroying every inch of American democracy such as the Constitution.
"When we say rebuild the government, we truly want the faculty to say what they would change, what they would keep and what they would create for the government," Miller said.
The four designated survivors were all political science professors including Eric Jepsen, Julia Hellweg, Richard Braunstein, and Ed Gerrish. This is the first event held by PSL this semester as they look to hold frequent events.
"Essentially, (PSL) is looking to do an event every month," Miller said. "And this is a panel bringing different professors together to tackle a problem."
The four professors were tasked to completely rebuild whatever government they see fit such as rebuilding democracy or even a feudalist monarchy.
Margaret Meierhenry is the director of events for PSL and a junior political science and musical arts major. She said that the panel had a direct correlation to the political science curriculum.
"We are putting our lectures to life [in this event] and see what we do in the classroom in the real world," Meierhenry said.
For the students who attended the panel, they were able to engage with the discussion and ask challenging questions to the designated survivors.
Junior psychology and criminal justice major, Mattie Jones attended the panel and said she found the panel to be entertaining as it was an insight into each faculty members' ideas.
"My favorite part was watching the faculty work through problems from varying perspectives and showing off their political prowess and knowledge of current political issues," Jones said.
Miller said they are looking forward to bringing more discussions to campus. 
"PSL is dedicated to fostering nonpartisan discussion overall," Miller said. "Political discussion for politically minded people."
Jones said the panel was a good representation of what PSL has to offer for students at USD and why they are important on campus.
"Events like this are important because it allows students to see politics in a more approachable way," Jones said. "It makes politics more accessible to the students and keeps faculty engaged in campus events."
Looking to the future, PSL is focused on creating political discussions not only for the student body, but for student-led groups at USD.
"Our most popular event is the College Democrats and the College Republicans debate which is similarly fostering discussion between students," Miller said.
Coming this semester, PSL is looking to bring new events not seen before on campus.
"In the next couple months, we are planning to hold a legislative trip to Pierre as well as holding a debate between Yotes for Life and the Students for Reproductive Rights," Meierhenry said.
To learn more about PSL or attend their events, go to their social media pages on Instagram and Facebook.