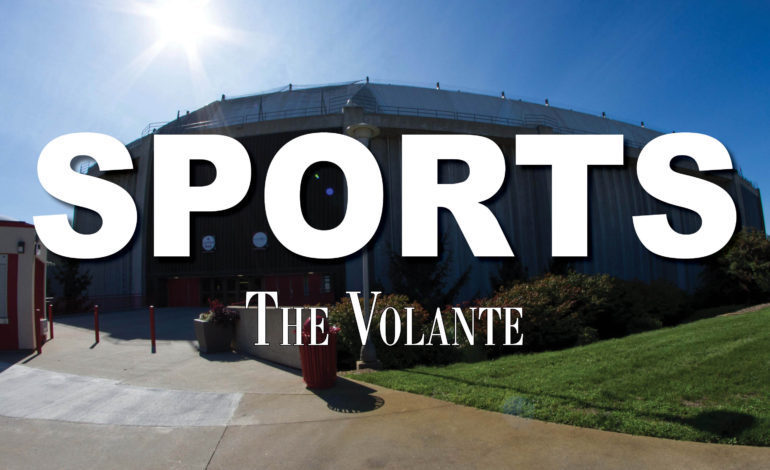 5 mins read
JUCO transfer shines in second year as Coyote
There are two USD men's basketball players who graduated from a South Dakota high school on the roster this season, and one of them is Rapid City's Mason Archambault, who was USD's January Student Athlete of the Month.
Archambault was not originally recruited to USD out of high school, but after two years at the Junior College level (JUCO), USD head coach Todd Lee and the assistant coaches wanted to bring him home.
"He was very interested in coming to school at USD, and once I talked to his coach at his junior college and heard about him as a person and the type of player he is, it was a very easy recruiting situation because this is where he wanted to go to school," Lee said.
Archambault knew he wanted to be a Division I basketball player, but after his senior year of high school, there was not much interest from colleges and he wound up at Gillette College in Wyoming. In his second year at Gillette, he averaged 13.8 points, 3.9 rebounds and 2.9 assists per game in over 27 minutes of gameplay.
While at Gillette, Archambault reached out to then USD guard Triston Simpson, asking if Simpson could put in a good word with the coaching staff about him.
"I reached out to Simpson my freshman year and I asked him if I could get a look or something my freshman year of JUCO," Archambault said. "And he's like, 'yeah, I'll put in a good word for you.'"
USD was not Archambault's only offer, but he decided that Vermillion is where he wanted to be.
"USD was the place I had my heart set on, but I had offers from somewhere else, but I was waiting for this USD offer, I was going to commit right away," Archambault said.
Archambault arrived on campus in the fall of 2020, when COVID-19 was hampering the team's ability to practice and left the 2020-21 season up in the air for some time. Once the decision to play was made by the NCAA, Archambault was ready.
During the 20-21 season, Archambault was a key player off the bench for the Coyotes, averaging 18.5 minutes per game. His season high 17 points came against North Dakota State and had his first start as a Coyote during the Summit League Tournament.
Primarily seen as a three-point shooter and perimeter defender in his first season as a Coyote, Archambault set out to grow between years one and two in Vermillion.
"Mason was a big reason why we won like we won last year and led the league from start to finish," Lee said. "Because, it's unusual for a first year player to come in and just take a roll on as a defender and do little things and some of the dirty things you have to do to win games."
Tagged as a starter to begin this season, Archambault struggled to shoot at the beginning of the year, but since not scoring against Oral Roberts Dec. 20, he has hit double figures in 10 straight games, including back-to-back 20-plus point performances against Omaha and St. Thomas in mid-January.
Archambault is second on the team in scoring at 14.4 points per game this season, behind Kruz Perrott-Hunt's 15 points per game. Archambault's 93% free throw shooting (93-100) is the best in the conference and fifth in the nation.
Building his offensive game has allowed him to be a better scorer at the rim and he is now one of the best defenders on the Coyote roster, typically guarding the opponents' top offensive player.
"He can score at all three levels. He can shoot the three, he's got a good mid-range pull-up and he can get to the rim," Lee said. "Defensively, between him and Boogie (Anderson), we've put him on the best offensive player."
Archambault has had to battle to get to where he is today, but now he is able to represent his home state at the highest level of college basketball with a smile on his face.
"He is a quiet young man, and at times we would like him to be a little more vocal, but he's been here for almost two years and I've yet to see him have a bad day," Lee said. "He's always got a smile on his face. We have meetings before the year, during the year and after the year exit meetings. His meetings are always shorter, because he's alway doing well and he has no issues. He's just happy and loves being here."