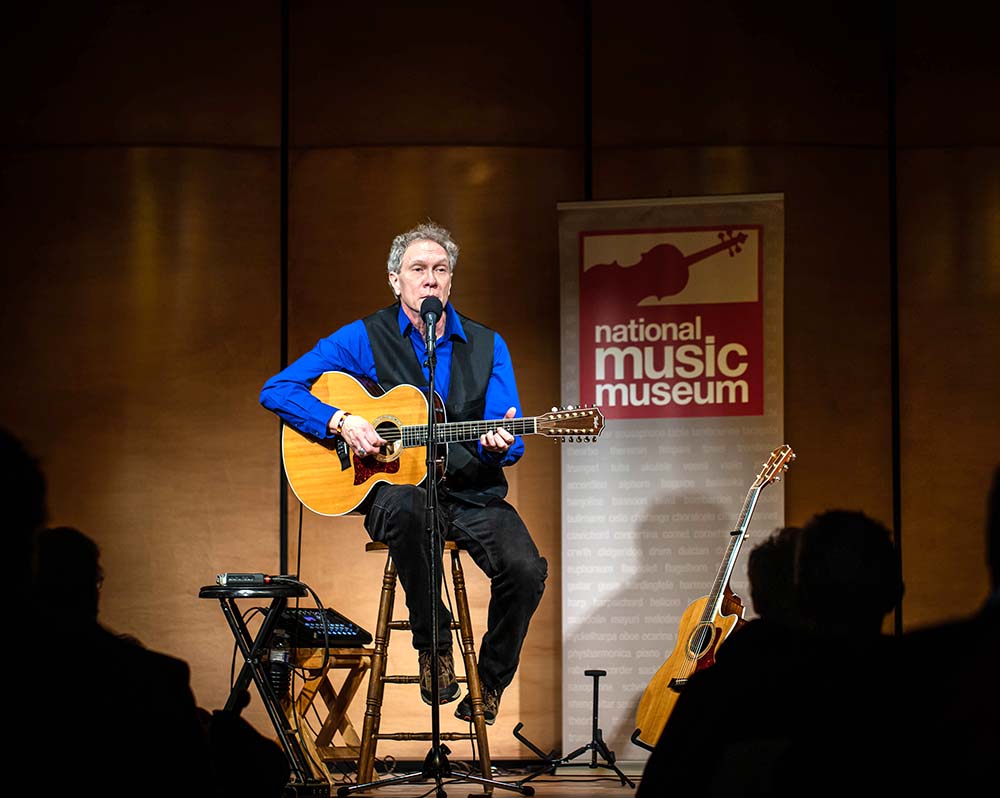 3 mins read
Minnesotan artist shares songs and stories with USD
Dennis Warner, a singer-songwriter from Minnesota, performed at the National Music Museum (NMM) on Feb. 17. Warner is from Clearwater, Minnesota and came to USD for his Friday performance.
Warner said he likes to play and write positive music because he recognizes how powerful music is and how it affects people.
"I believe both from just watching my own life and how music has affected me and then watching other people too, that music is a powerful force in our lives, whether we recognize it or not is kind of always running in the background. I think what we listen to can affect our daily lives and can affect our attitudes and our happiness ultimately," Warner said.
Michael Suing is the Deputy Director of the NMM and oversees the public programming as well as special projects for the museum. Suing said Warner is a familiar face to the NMM and welcomed him back to perform for the community again.
"(Warner) has been performing not only across the country, but in this part of the world his whole career," Suing said. "Earlier in his career he had, I think one time, it would have been years ago, played at the museum. So, he was an audience favorite then and as much as we do try to have different people come in, it's also really nice to be able to revisit our old friends."
Warner mostly plays folk music and plays six and 12-stringed guitars. Warner grew up during the 1960s and 1970s and his music taste was influenced by the popular artists of the time.
"That was the real heydays for singer-songwriter music. You know, Gordon Lightfoot, John Denver, James Taylor, Harry Chapin, Janis Ian, nearly all these people were folk singers. And then in later years, people like Mary Chapin Carpenter and Kathy Mattea contributors and on the female side, continued the folk legacy. It's all about the songs and the songwriting in the genre," Warner said.
Folk music as a genre is about telling stories, Warner said. He also said an important part of the genre, which differs from more mainstream music, is folk music is generally longer and not constrained to three and a half minutes, so his songs can tell more personal stories about what happens in peoples' lives.
"It's a pretty specific genre as far as storytelling. In the songs, with folk music, it's about the lyrics, it's about the stories (and) it's about the messages. That's the history of it. And folk can also encompass some blues or get a little bit of country depending on the type of country," Warner said.
Suing said he enjoys the opportunity to have more local artists play on the stage of the NMM as well as people from other parts of the country because the region is so often overlooked.
"You know, in the Northern Plains region, there are so many talented musicians and artists. It goes on, not just in the humanities and fine arts, but there are talented people here. And to be able to provide a showcase and a stage for them, I think is really important," Suing said. "My thinking, when I approach the lineup for the year, is I'm not only trying to lift up and recognize those successful regional artists or up-and-coming artists but also to bring people in from farther afield to diversify the program lineup."