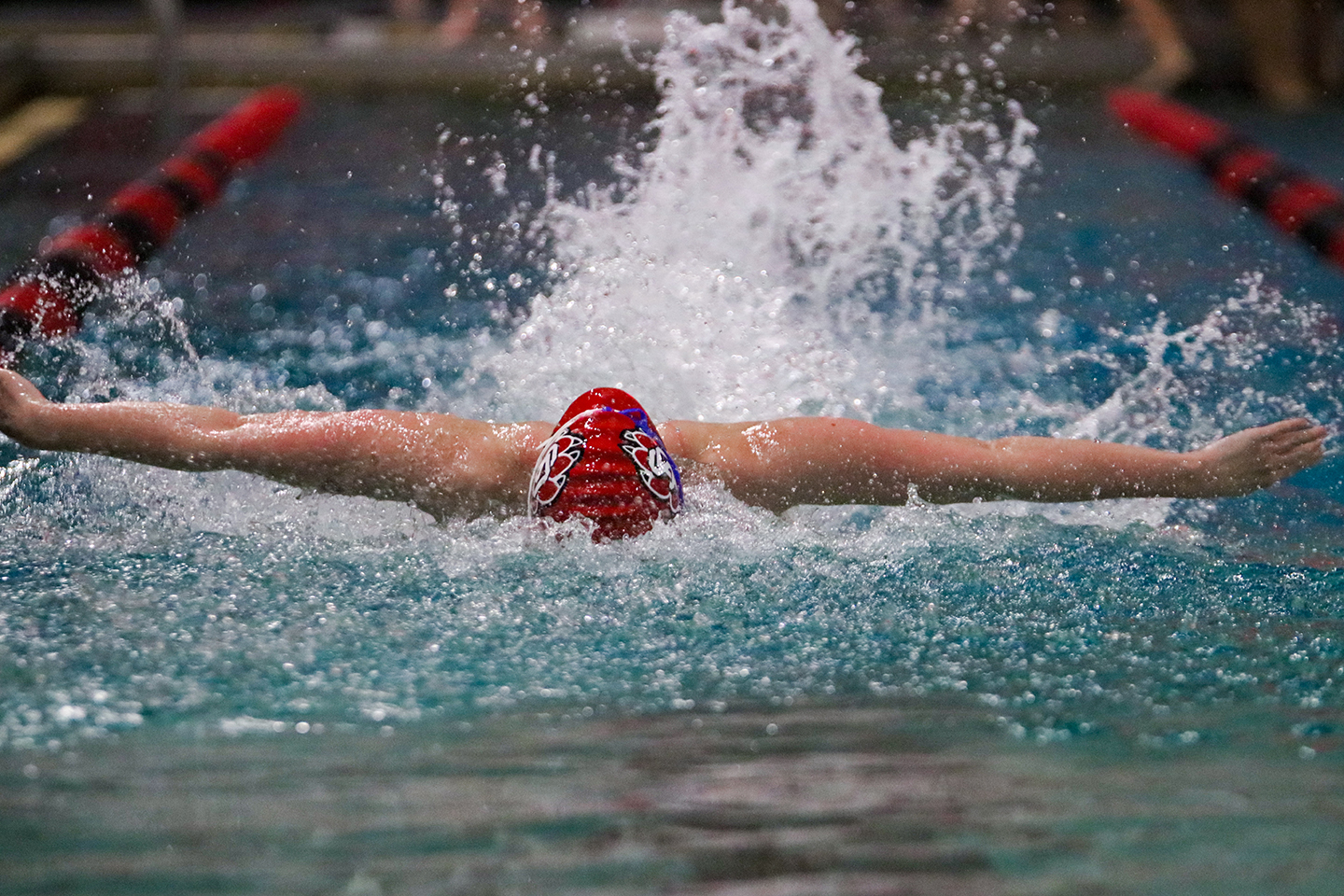 4 mins read
Swim and Dive captures seven wins in Summit League Championship
Fargo, North Dakota hosted the Summit League's Swim and Dive Championships inside of the Hulbert Aquatic Center. The four-day event started Wednesday, Feb. 16 and went through Saturday, Feb. 19.
Wednesday
Coyote men's 200-medley relay team consisting of freshmen Adam Fisher and Jack Berdahl along with juniors Aidan Gantenbein and Zachary Kopp, finished in second place with a time of 1:27.69 beating the previous school record of 1:29.43.
Another 200-medley team finished in third place with a time of 1:43.83. The group of women consisted of freshmen Emma Clark, Meghan Atwell, Christina Spomer and the lone senior Cassie Ketterling.
An additional women relay team made it into second place in the 800-free relay. The group of freshmen composed of Sara Meyer, Mairead Powers and Emily Kahn along with their lone senior Kristen Quigley captured second place touching the wall at 7:29.31.
The last team to place on Wednesday was a team full of seniors. Charlie Bean, Jake Leichner, Stephen Johnson and Jacob Wong capped off the men's 800-free relay with a third-place finish hitting the wall with a time of 6:42.70.
Thursday
Women's 400-medley relay composed of three freshmen Isabel Fairbanks, Ketterling, Kahn and senior Madilyn Sindelar Kahn finished in third place. They also set a new school record with their time of 3:45.42.
Ketterling was not done breaking records on Thursday, as she broke the school record in the 200-IM in the morning prelims with her time of 2:03.31.
Coyotes had two individuals retain their league titles. Kopp was the first after touching the wall in the 50-freestlye with his time winning time of 20.35. Sophomore Stella Fairbanks was second as she captured the women's 1M diving with her new personal record of 281.45. This also moved her into fourth all-time in Coyotes history.
The last event that the Coyotes placed in was the men's 400-medley relay. The team was the previously mentioned Fisher, Berdahl, Kopp and Bean who finished in first place. Along with gold, they broke the school record finishing with a 3:14.75 time.
Friday
Day three Ketterling touched the wall first in the 400-IM with her school record time of 4:24.04. With this win, she was crowned Summit League Champion, being the third woman in Coyote history to ever do so in an individual event.
Coyotes also took home a second Summit League Championship in the 200-free relay. The team of Kopp, Bean, senior Brady Torborg and junior Mack Sathre captured the title with a finishing time of 1:20.47.
Mayer, Spomer, Kahn and Ketterling captured second place in the 200-free relay. Their 1:32.39 time was a new school record.
Coyotes had five-individuals finish in third place on Friday. Kopp, Bean, Kahn, Sathre and Leichner all finished in third in the 100-backstroke, 200-freestyle, 200-free, 100-butterfly and 440-IM, respectively.
Saturday
Coyotes saw two swimmers place in the final women 100-IM. Ketterling took home the gold in the event with her school record time of 56.92. Ketterling is the second Coyote to win a double gold medal as Elizabeth Hoffman was the only other one. Fairbanks finished right behind Ketterling grabbing the second-place medal with her personal record of 57.73.
USD had another Summit League Championship. Sathre defended his title from last season in the 100-IM. He also broke the school record in this event as he put a 49.74 time on the board.
Coyotes grabbed eight silver medals on the day not including Fairbanks' 100-IM. These silver medals came from 200-backstroke: Fisher-1:49.21, 100-freestyle: Kahn-50.20 (personal record), 100-freestyle: Bean-44.69, 200-breaststroke: Ketterling-2:19.12 (school record), 200-butterfly: Won-1:51.45, 3-meter dive: Fairbanks-285.20, 400-freestyle relay: Ketterling, Spomer, Mayer, Kahn-3:24.45 (school record) and 400-freestyle relay: Bean, Kopp, Gantenbein, Sathre-2:59.71.
Fairbanks was also named the Women's Diver of the Championships. She is the third Coyote to ever do so.
Both the Coyote men's and women's teams finished in second place in the Summit League, sitting behind Denver in both. They finished with 723 and 748 points, respectively.
The Coyotes will have some time to rest before they go to the NCAA Zone Diving Championships held in Madison, Wisconsin on March 6-9.