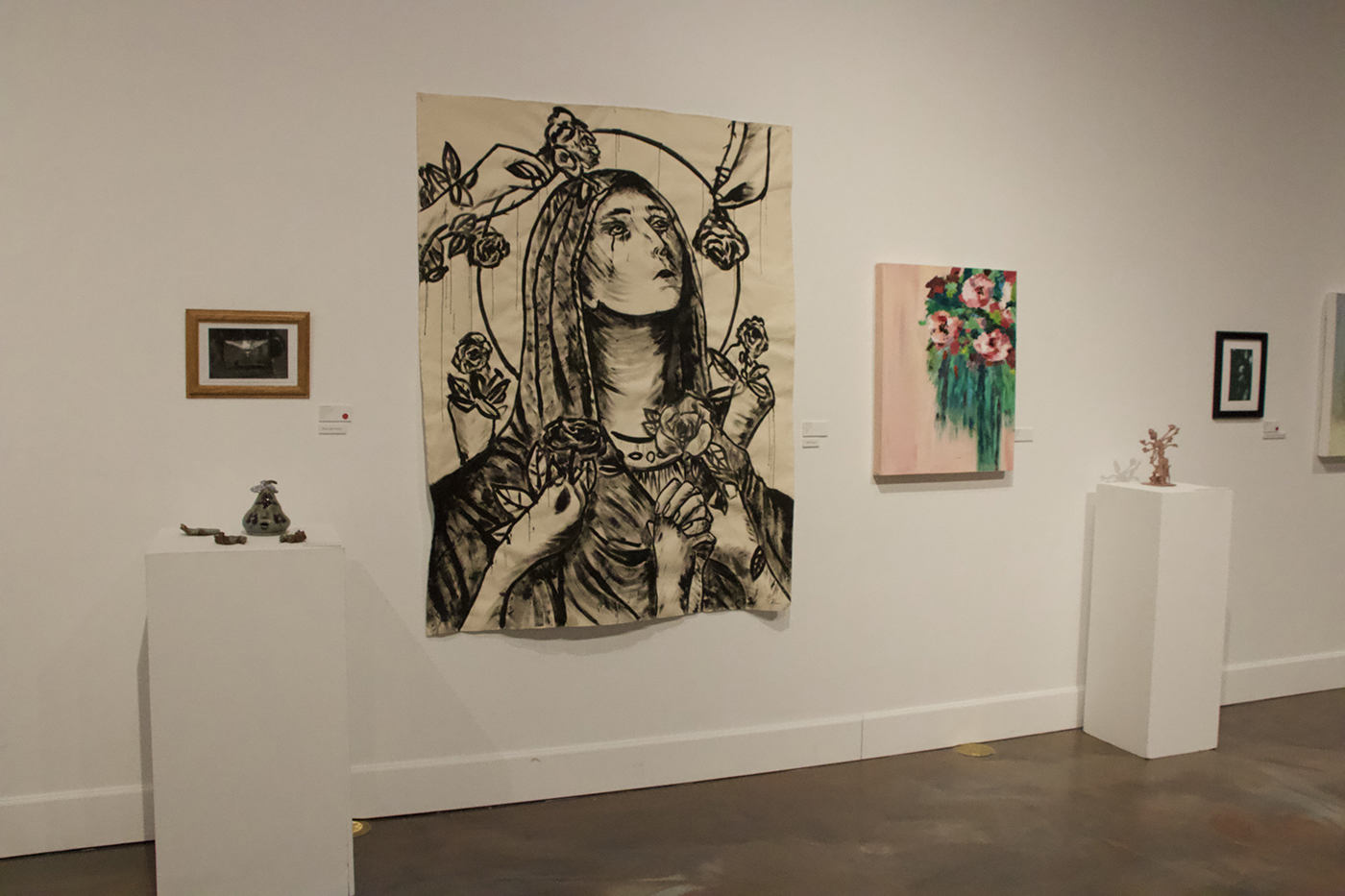 3 mins read
USD art students awarded in the Stilwell Art Exhibition
The College of Fine Arts is hosting the 36th annual Stilwell Art Exhibition containing works of art from USD students.
The Stilwell exhibition is named after former chair and art professor Wilber Stilwell, his wife, Gladys and the Stilwell family. Stilwell was a faculty member for 32 years and the Stilwell family still provides support for the exhibition.
The juried student exhibition is in the John A. Day Gallery in the Fine Arts building until Feb. 18.
"The show is so important because it gives the university a chance to see what fine art students are creating and what their research and work is," Amy Fill, the director of university art galleries, said. "It also gives the students professional experiences. How to prepare for a show, how to meet deadlines, how to talk about your work and some of those professional things that we need to do as artists." 
Anne Huntington Sharma juried and curated the show, deciding what pieces got in, where they went and awarded the various winners. Best of Show was awarded to Ava Reiner, the Faculty Award went to Cailey Schendel, The Stilwell Award went to Aaron Johnson, and Sierra Smith, Yazmin Moktan and Sonia Perea Morales were honorably mentioned. Other Award titles include various purchase awards, the Merit and Silver Light awards.
"Several works reflect this notion of rebirth and many reflect the opposite. As the juror, I took to heart where we, as humanity and society, have been over the past year and I am humbled by the themes that have consciously or unconsciously come to life," Sharma said in the Juror Statement. "There is an extreme sense of light and dark and the essence of these works stretches beyond the gallery walls."
Sharma said there are several themes connecting the works of art selected for the show.
"The artist's practice may be individual; yet, there is a clear thread that unites all the selected works. Upon review and selection, the works spoke out and shared various themes such as loss, innocence, life, death, rebirth, mysticism, destruction and growth," Sharma said.
All the works selected were carefully curated and connect to cohesively create this year's exhibit, Fill said.
"The way (Sharma) selected some works were very sensitive. And I think really holistic too and really wanting to represent the entire art student body. She did a really great job of representing everybody in there," Fill said.
Second year USD student Veronica Knippling, majoring in graphic design, was awarded the University Art Gallery Purchase and the Silver Light Awards.
"By being included in the Stillwell, I was amongst some amazing artists, most of whom are my peers and I'm so proud and honestly floored with all they came up with," Knippling said. "The fact that others were as touched by my art as I was when making it is a privilege."
Third year USD student, Luci Hudson, majoring in art with an emphasis in photography, won the Silver Light Award.
"There is a lot of joy being in the Stilwell and having work next to all of my talented friends' works," Hudson said.