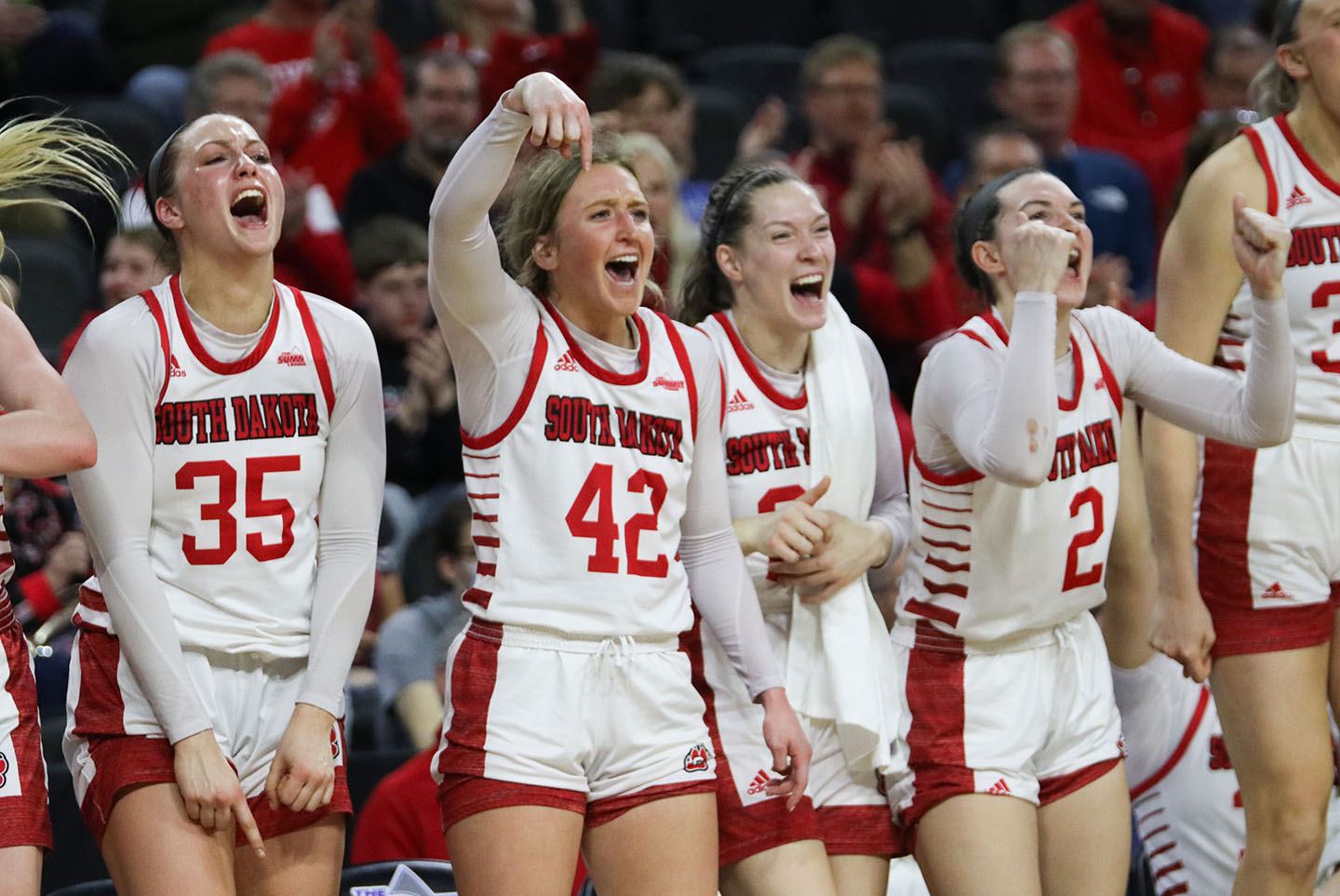 2 mins read
Coyote women advance to Summit League semifinals
The Coyote women took down the Western Illinois Leathernecks in game two of the quarterfinals at the Summit League Tournament.
With this win, redshirt senior guard Chloe Lamb tied for third place in Coyote history for scoring with 1793 career points.
This was the second time the Coyotes competed against the Leathernecks in less than a week. The teams wrapped up their regular season in a match-up against one another on Feb. 28.
"The past few years (playing the same team we ended the regular season against) has happened to us quite a few times… so like right away we knew what preparation was needed," redshirt senior center Hannah Sjerven said.
To begin the contest, the Coyotes went on a 9-0 run, six of which came from Sjerven. The Coyotes ended the first quarter up six points against the Leathernecks.
The second quarter began with a 3-point jump shot from freshman guard Grace Larkins. Larkins scored a career high 23 points in the competition.
"I think (Larkins) is someone who is in attack more and is an aggressive player. She does a lot of really good things for our team because she can get to the rim and make shots, but she is also really aggressive defensively," head coach Dawn Plitzuweit said. "As we saw today, she got a bunch of steals… now it's just a matter of her getting more and more comfortable."
Going into halftime, the Coyotes continued their lead 41-26. With Larkins leading the team in scoring with 17 points, followed by Sjerven with eight.
In the third quarter, the Coyotes had their largest lead of the game thus far with 26 points at the 4:30 minute mark.
The Coyotes were able to hold off the Leathernecks in the fourth quarter, ending the contest with a 75-49 victory.
"I thought our young ladies played with a great deal of energy and intensity. I thought our defensive awareness and toughness was very good from the opening tip," Plitzuweit said.
Behind Larkins' career high 23 points, Sjerven and redshirt senior guard Liv Korngable led the Coyotes in scoring with 11 and 10 points, respectively. For the Leathernecks, senior guard Danni Nichols led in points with 17 followed by senior forward Evan Zars with 10.
The Coyotes will hit the Denny Sanford Premier Center court again on Monday to take on the winners of the Kansas City versus North Dakota State match-up. The Roos versus the Bison game will take place on Sunday at 3 p.m.