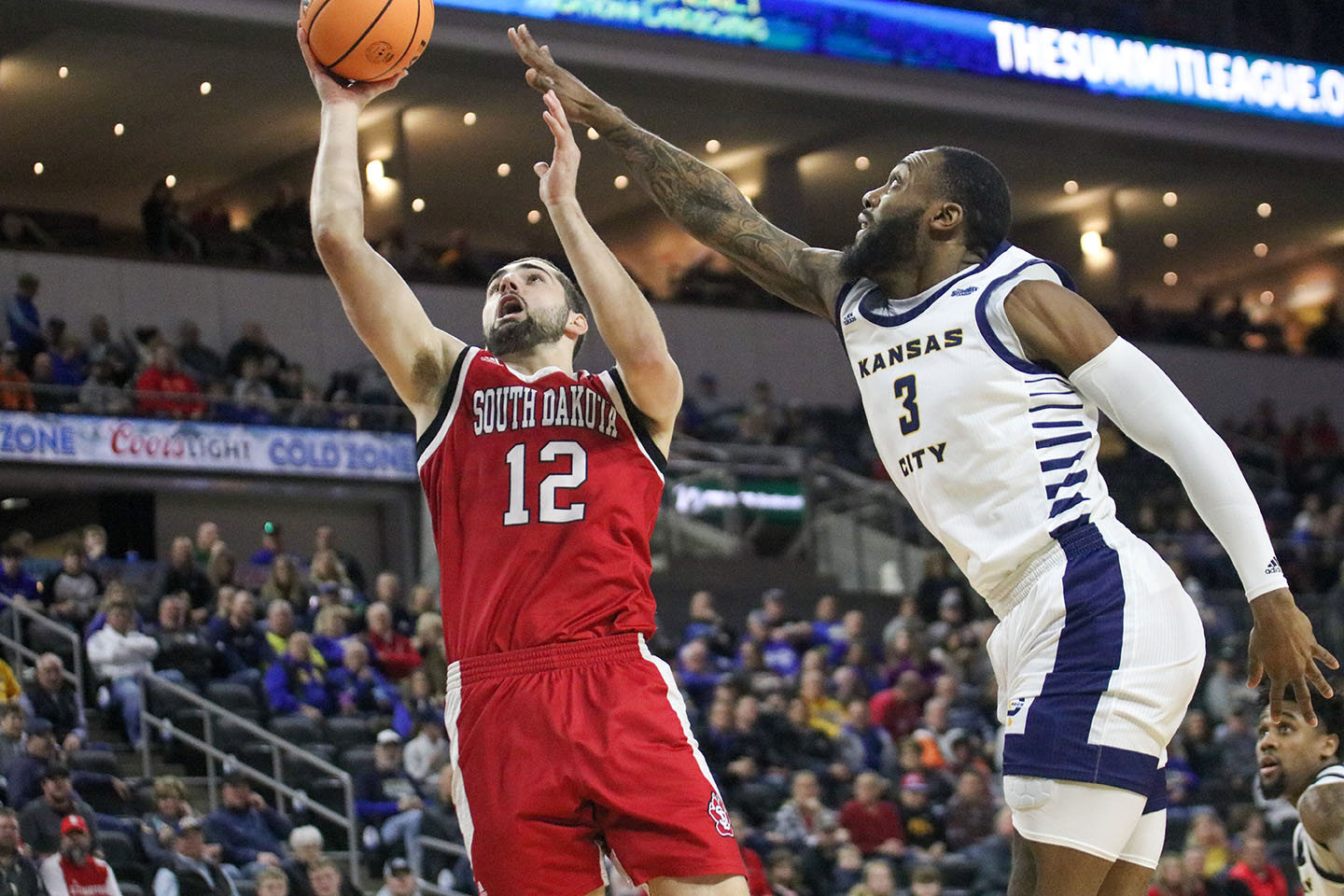 2 mins read
Over 7,000 fans watch as the Coyote men secure their spot in the Summit League semifinals
The Coyote men took down the Kansas City Roos in front of 7,364 fans during the quarterfinals of the Summit League Tournament tonight, 74-61.
The contest began with the sophomore forward Tasos Kamateros winning the tip. The Roos held a lead early in the game but were only able to maintain it for five minutes. After that, the Coyotes held the lead for the rest of the half.
Going into halftime, the Coyotes were up 38-33. Of the Coyotes' 38 points, 20 came from in the paint.
As the second half got underway, USD saw a technical foul on Kamateros at the 16:25 minute mark.
"I think it was just about keeping our poise," sophomore guard Kruz Perrott-Hunt said. "I know we had a technical earlier, and I think we just had to regroup and know that we had to be calm in those close game situations."
The Roos held close to the Coyotes throughout the second half until the 2:43 mark when the Coyotes were able to build a 13-point lead by the end of the contest.
USD was led in scoring by Kamateros with 15 points, followed by redshirt sophomore forward Hunter Goodrick and junior guard Mason Archambault who both accumulated 14 points. Kamateros also had a double double on the night with 11 rebounds.
"You can see the smile on (Goodrick's) face for tomorrow. He'll be juiced, and so will (Perrott-Hunt), but it's great to see because (Goodrick) works at (shooting) and you want to see him make those shots in this type of environment," head coach Todd Lee said.
For the Roos, graduate student guard Marvin Nesbitt Jr. led in scoring with 19 points, followed by graduate students forward Arkel Lamar and guard Evan Gilyard who both amounted 11 points.
After tonight's win, the Coyotes will move on to the semifinals where they will take on in-state rival South Dakota State on Monday at 6 p.m.
"I honestly can't way. It'll be fun. It's that simple," Goodrick said.