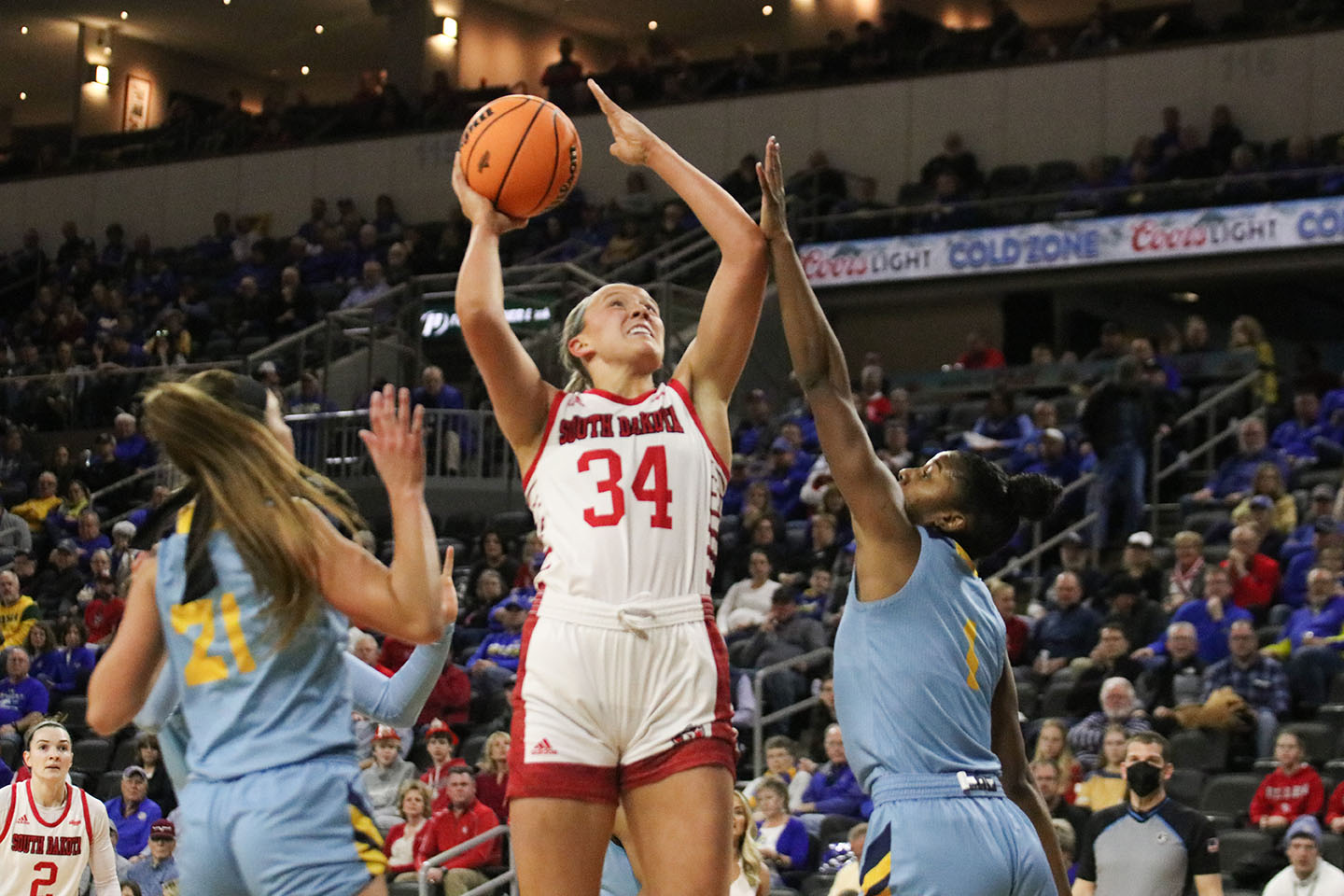 2 mins read
USD women's basketball to play in-state rivals in final round of Summit League Tournament
The USD women defeated Kansas City, 81-67, in the semifinals of the Summit League Tournament yesterday and will advance to the final round today at 1 p.m.
"I really do think it's something that when our young ladies are growing up and dreaming about playing in college, this is the environment you want to play in," head coach Dawn Plitzuweit said.
In the first quarter redshirt seniors center Hannah Sjerven and guard Chloe Lamb scored 19 of the 23 points made by USD. For the Roos, graduate student forward Brooklyn McDavid and senior guard Mandy Willems made 12 of the team's combined 18 points.
The first two minutes of game play also saw the only lead change of the contest, as the Coyotes were able to maintain their lead following the 8:34 mark of the first quarter.
By the 4:22 mark of the second quarter, the Coyotes picked up a 12-point lead following a 3-pointer by redshirt senior Liv Korngable. The Roos cut that lead down to six by the end of the quarter after a scoring run by graduate student guard Naomie Alnatas.
"Alnatas really is hard to guard, they set her some ball screens that presented some great challenges for us, and to our young ladies' credit, I thought they continued to battle," Plitzuweit said.
The Coyotes held the Roos to 18.2% shooting in the third quarter compared to the previous 60% field goal percentage in the second quarter.
In the fourth quarter, the Coyotes saw their biggest lead of the game with 18 points at the 5:05 mark following a made free throw by Sjerven.
The Coyotes were led in scoring by Lamb who saw a career high 33 points. Lamb was followed by Sjerven who amounted 24 points.
Alnatas had 21 points on the day, which was a team high, followed by McDavid with 16.
In today's championship game, the Coyotes will take on in-state rivals South Dakota State.
"This is always the goal. You start the beginning of the season, and this is always something that is in your sights. Being in a rivalry again, it'll be fun. The fans enjoy it, we enjoy it," Lamb said.