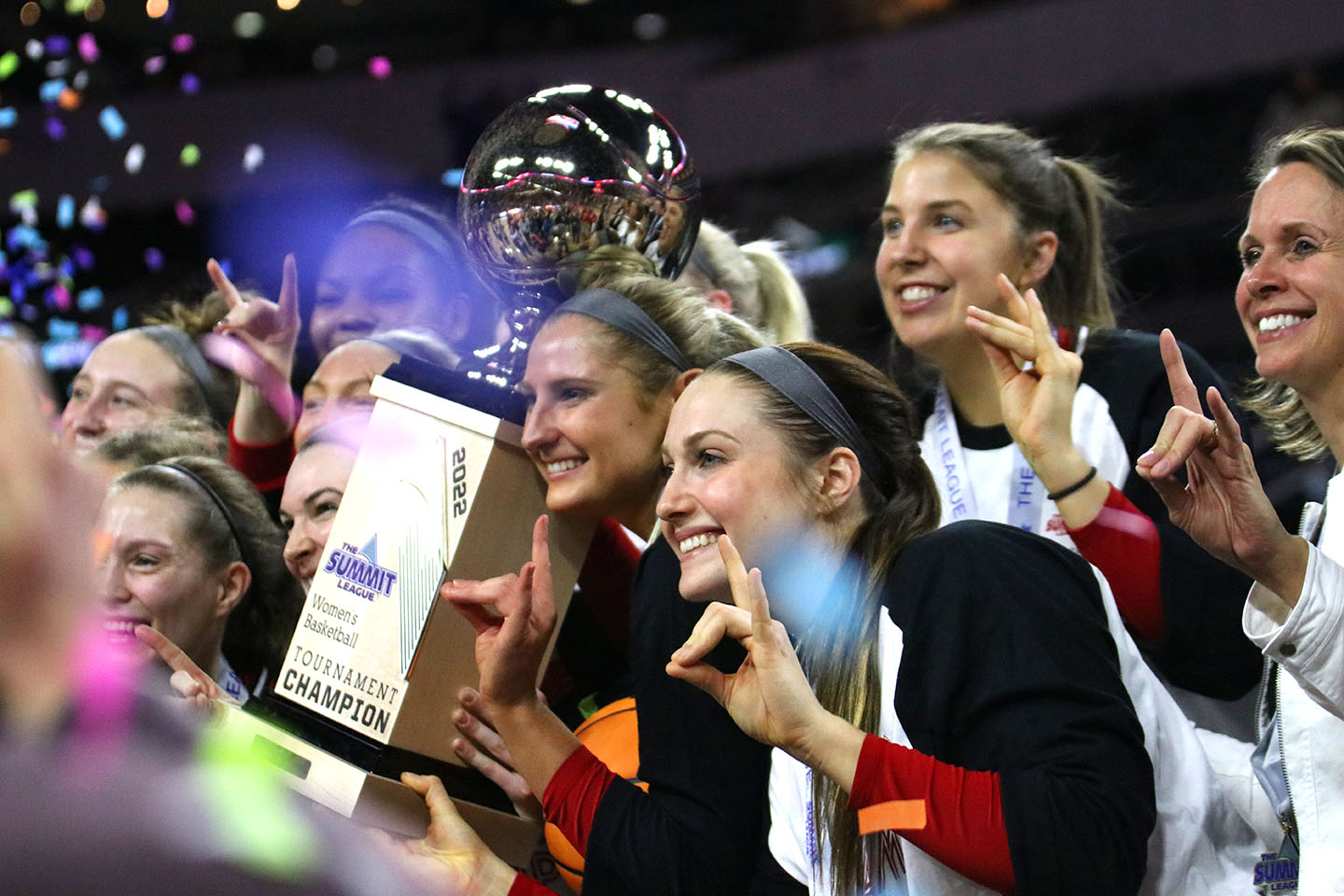 2 mins read
Coyote women rally for third consecutive Summit League title
The Coyotes came out victorious in the final round of the Summit League Tournament over in-state rivals South Dakota State (SDSU) and were named Summit League Champions.
"Our ladies played with an incredible amount of toughness and fearlessness," head coach Dawn Plitzuweit said. "SDSU is a great basketball team and somehow we were able to slow them down. It came down to making some big plays, and our young ladies were able to do that."
By the end of the first quarter, SDSU led by two with a score of 10-8. Half of the Jackrabbits' points came from senior guard Tylee Irwin. For the Coyotes, senior center Hannah Sjerven led in scoring with six of the team's combined eight points.
The second quarter began with a tie after a made layup by Sjerven. The Coyotes and Jackrabbits then went back and forth, causing seven lead changes. USD ultimately ended the half up by one point with a score of 23-22.
USD shot their best in the third quarter with a 66.7 field goal percentage compared to the Jackrabbits' 37.5%. Senior guard Chloe Lamb saw the most points for the Coyotes in the third quarter with eight, followed by senior guard Liv Korngable with five. The Jackrabbits' highest scorer of the quarter was once again Irwin, this time with five.
The Jackrabbits were held to nine points in the fourth quarter, compared to the Coyotes' 13. With 0.21 left in the contest, the Coyotes saw their biggest lead of the day with 13 points, which was cut to 11 by Irwin's made layup to make the final score 56-45.
Sjerven led the Coyotes in scoring with 19 points on the day. She also amounted 10 rebounds and two steals. Following Sjerven in points was Lamb with 17 and Korngable with 11.
SDSU's top scorer was Irwin with 15 points, followed by junior forward Paiton Burckhard with 14.
Lamb was named All-Tournament MVP, making this her second consecutive time being named as Tournament MVP. Lamb was also awarded to the All-Tournament Team beside teammate Sjerven, Burckhard, SDSU redshirt junior forward Myah Selland and Kansas City senior guard Naomie Alnatas.
This is the third consecutive time USD has been named Summit League Champions and will be their third consecutive NCAA appearance.
"I don't want to put a ceiling on what we're trying to do," Sjerven said. "Obviously in every game we want to go out there and compete and play at our highest level. I think for us, it's just about being focused on us and fixing the mistakes that we did make even though we did win today."