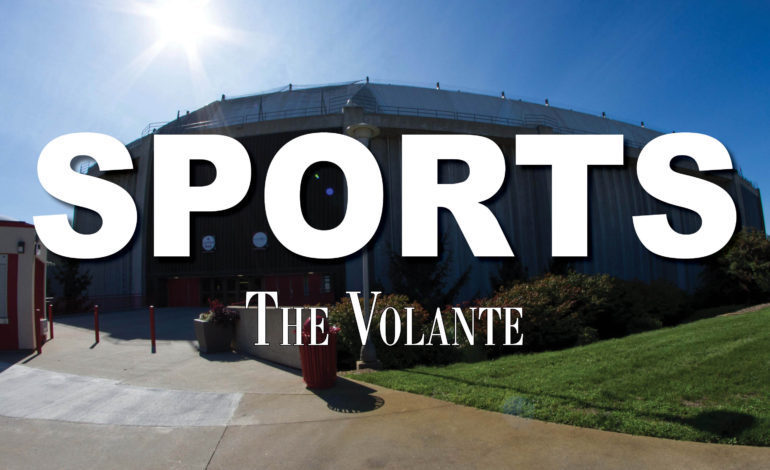 6 mins read
The women's track and field team make program history
The women's track and field team won the Summit League Indoor Track and Field Championships with a total of 200.5 points which were accumulated from 17 events. This was the first time in program history that the women's team has won a championship. The women's team had seven first place event finishes during the two-day event.
In the women's 60-meter dash, freshman Erin Kinney secured the second place spot with a time of 7.44, which was 12 milliseconds behind South Dakota State's first place finisher, sophomore Rich-Ann Archer. Kinney's time in this event also broke the school record which she personally set earlier in the season.
The Coyote women saw five finishers in the women's 200-meter dash. Freshman Sara Reifenrath placed first with a time of 23.52. Reifenrath's time was a Summit League Championship meet record and a USD school record. Reifenrath was followed in this event by Kinney who placed fourth, freshman Anna Robinson in fifth, freshman Moe Bridgen at sixth and freshman Jacy Pulse rounding out the Coyotes' finishers at seventh.
Reifenrath and Pulse also placed in the 400-meter dash at first and third, respectively.
In the 800-meter run, junior Haley Arens made her way to the second place spot with a final time of 2:11.96.
The following event produced two top five finishes for the Coyotes. Freshman Abrielle Jirele placed third with a time of 4:53.19 and sophomore Ella Byers placed fifth with a time of 4:53.68.
Jirele found two more third place finishes in the 3000-meter run and 5000-meter run with times of 9:40.36 and 16:59.41, respectively.
In the 60-meter hurdles, freshman Averi Schmeichel recorded a 10.4h which landed her in the fifth place spot.
In the 4×400 meter relay, the Coyote team consisting of third-year sophomore Madison Jochum, Bridgen, Robinson and Reifenrath placed first with a final time of 3:42.90, this was also a Summit League Championship record and USD record time.
The Coyotes also secured a first place finish in the distance medley event with a time of 11:53.86.
For the high jump, the first two spots were taken by Coyotes. Freshman Danii Anglin was first with a height of 1.80m, which became the second best height in school history. Anglin was followed by teammate sophomore Carly Haring who reached a height of 1.75m.
The Coyotes took home all five of the top five places in the women's pole vault. The finishers in order were freshman Marleen Mülla with a height of 4.40m, sophomore Gen Hirata with 4.22m, freshman Jaidyn Garrett with 3.92m, freshman Cassidy Mooneyhan with 3.92m and junior Deidra Marrison with 3.77m. Mülla's height of 4.40m was her personal best and tied her for ninth in the nation.
In the long jump event, senior Holly Gerberding placed fifth with a height of 5.65m
Freshman Meredith Clark placed third in the women's shot put and was followed by teammate junior Josephine Starner who finished at fourth.
In weight throw, sophomore Lydia Knapp found herself in second with a distance of 19.63m. Freshman Delaney Smith placed fifth with her distance of 18.50m.
Two Coyotes placed in the top five during the women's indoor pentathlon. Gerberding placed third with a total score of 3657. Gerberding was followed by teammate junior Liberty Justus who had a final score of 3537.
In the Pentathlon's five events, Gerberding and Justus had a combined six top five finishes. In the 60 meter hurdles, Gerberding finished third and Justus finished fifth. For the high jump, Justus finished fourth. Justus also finished fourth in the long jump with a distance of 5.29m. Gerberding was first in shot put with a distance of 11.47m and Justus finished fourth.
The Coyote men finished the Championships in second place with a score of 171.
In the 60-meter dash, sophomore Dylan Kautz secured the first place spot with a time of 6.71.
The outcome of the 200-meter dash saw Coyotes place in the top two spots. Freshman Demar Francis came in first with a time of 21.36 and Kautz followed in second place.
Francis finished first in the following event as well, the 400-meter dash, where he secured a time of 47.44. After winning the 200-meter and 400-meter dash, Francis became the first Coyote to sweep the men's titles in these two events.
In the 60-meter hurdles, sophomore Brithton Senior placed third, followed by teammate sophomore Hugo Morvan in fourth.
In the high jump event, junior Jack Durst had a first place finish with a height of 2.04. Durst was followed by freshman Ethan Heitman in second and sophomore Marshall Faurot found himself in fifth.
The Coyotes secured the top three spots in pole vault, beginning with freshman Eerik Haamer in first with a height of 5.32m, followed by freshman Tre Young with 5.17m and Faurot with 5.02m.
For the triple jump event, sophomore Jacob Jenkins placed first with 14.71m. This first place finish by Jenkins became USD's first-ever title in the men's triple jump. Jenkins was joined by one other Coyote in the top five, freshman Jayden Green. Green placed fifth with 14.33m.
Junior Jessie Sullivan placed third during the men's shot put event and was the only Coyote in the top five.
The Coyotes had three men finish in the top five for the weight throw. Sullivan placed second with a distance of 20.84m. Senior Matt Slagus and junior Kaden Elder finished in fourth and fifth places, respectively.
For the men's heptathlon, sophomore Wyatt Lubarski placed third after competing in seven events. In the 60-meter dash Lubarski placed third, followed by his teammate senior Noah Weeter who placed fourth. Lubarski proceeded to place third in the 1000-meter run. Weeter found himself in fourth place for the 60-meter hurdle. In the long jump event, Lubarski placed fifth. For the final event of the heptathlon, the shot put, Lubarski placed second.
USD will complete their indoor track and field season on March 11-12 when they travel to Birmingham, Alabama for the NCAA Championships.