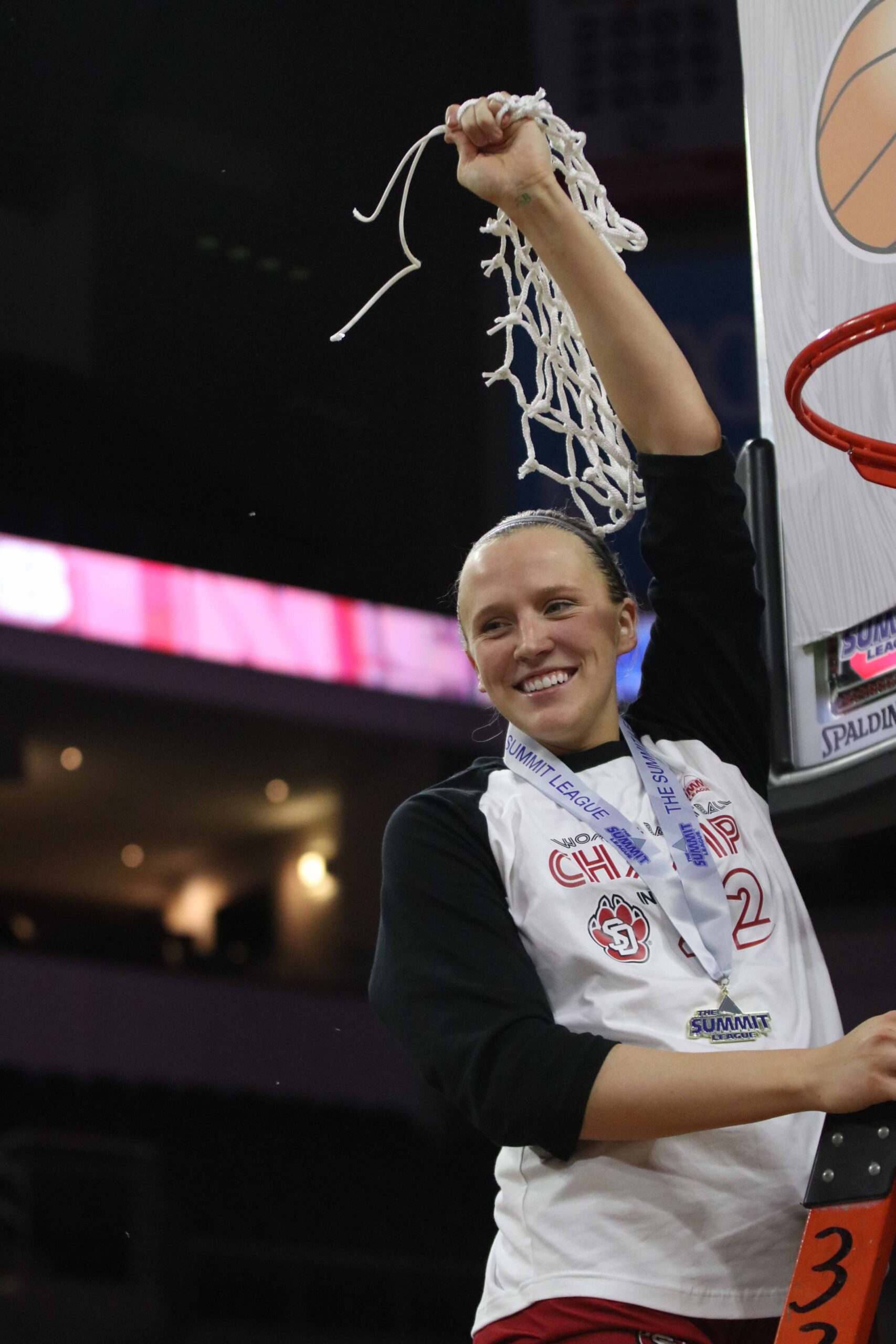 3 mins read
Sjerven, Lamb enter WNBA Draft with Sjerven heading to Minnesota Lynx
Redshirt seniors Chloe Lamb and Hannah Sjerven both entered the WNBA draft, with Sjerven being drafted in the third round as the 28th pick by the Minnesota Lynx. Lamb and Sjerven were part of the South Dakota team that took down top-seeded teams in Baylor and Ole Miss.
During the conference season, the women's basketball team went 17-1, but Sjerven said her favorite part of the season was upsetting Baylor on their home court and seeing the joy on her teammates' faces.
"This was the first time winning (in the NCAA Tournament) which had been a goal for us as seniors for basically our whole careers and especially in this last season was a goal that we really wanted to get. So, I think it was really special that we were able to win not only one but two games and advance to the Sweet 16," Sjerven said.
After all the excitement, Lamb said the team has had time to reflect and she feels really good about the impact they made on the community. Lamb said it felt like the entire community of Vermillion was along for the ride even when they lost their last game against Michigan.
Both Lamb and Sjerven said former head coach Dawn Plitzuweit was one of the most important people to their basketball journeys. Lamb said Plitzuweit was urgent during practice and wanted things done efficiently which translated into how they played on the court.
"She's very passionate in what she does and I don't think before coming to college I really realized how important that was. I was passionate about basketball and I was surrounded by people who are passionate, but she kind of took it to another level and I think a lot of people can see that," Lamb said.
Sjerven said prior to the WNBA draft that being drafted or going to a training camp would be the "icing on the cake" for all the work she has done thus far. For the Minnesota native, Sjerven got her "icing on the cake" and will be returning home to play for the Minnesota Lynx.
"I'd always had a kind of a thought in the back of my mind about it. If it was an opportunity, maybe I'd pursue it. As we continued to win in the tournament and (I would) see my stock, or my opportunities, kind of rise, it became more of an obvious choice to enter and just see what happens," Sjerven said. "I think attending a mid-major (school), it's not often that you see even the possibility to be drafted and for me and (Lamb) to be considered is very cool and so I'm excited for the possibilities."