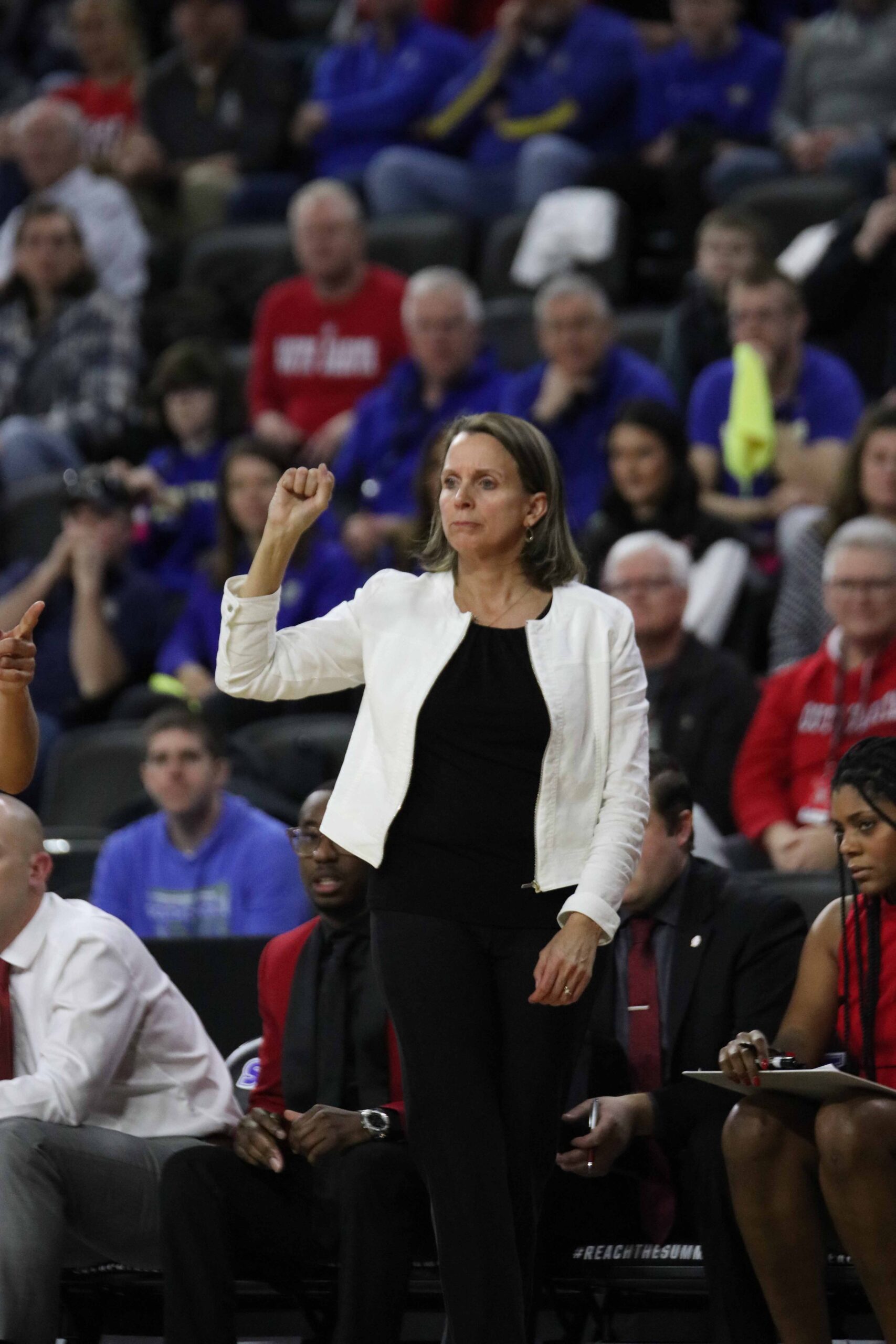 3 mins read
Coyotes say goodbye to Dawn Plitzuweit and hello to new head coach
The Coyotes have now filled the head coach position for the 2022-23 season, which was left vacant after Dawn Plitzuweit took the position of West Virginia University's head coach. USD announced on April 10 Plitzuweit's replacement would be Kayla Karius.
Karius was an assistant under Plitzuweit in 2016-18 before she spent time at Wisconsin and last season with Drake. Karius was also a key recruiter bringing in the talents of Chloe Lamb, Hannah Sjerven, Liv Korngable, Monica Arens, Claudia Kunzer, Regan Sankey and Allison Peplowski for the Coyotes.
Hailing from Sheboygan, Wisconsin, Karius spent much of her life on the court. She graduated from the University of Wisconsin-Green Bay in 2011. Following that, Karius became a standout for the Phoenix and picked up a few accolades including the 2011 Horizon League Player of the Year, the Horizon League Cecil N. Colman Medal of Honor and the WBCA's Thirty Under 30 award in 2018.
Between her graduation and the beginning of her coaching career, Karius played professionally abroad for four years in Germany, Luxembourg and Belgium.
As for the Coyotes' former coach, on March 31, Plitzuweit officially began her new journey at West Virginia University. This change in programs followed her success in the NCAA Women's March Madness Tournament which led the Coyotes to the first Sweet 16 in USD history.
Plitzuweit will be the sixth women's head coach for the Mountaineers after former head coach Mike Carey announced his retirement. Carey is the winningest coach in West Virginia women's basketball history with 432 wins and 11 NCAA Tournament appearances.
Plitzuweit will leave South Dakota with a 158-36 record including three Summit League regular season titles and three-straight Summit League Tournament championships.
"It was a very difficult challenge to say goodbye to our family at the University of South Dakota. I would like to sincerely thank all of our players, our coaches, our staff, our administrators and our fans from USD," Plitzuweit said. "There are many great moments that we shared together and there are many tears that were shed in the past few days."
Plitzuweit also brought assistant coaches Jason Jeschke, Aaron Horn and Ariel Braker to the Mountaineers where they will continue to work alongside her.
"I have been particularly blessed throughout my coaching career, to work with great coaches and great staffs at the University of South Dakota," Plitzuweit said. "We were able to build a very special program with great coaches. Our coaches work tirelessly. I don't know if there was a coaching staff in America that had more fun than we did while we were doing it."
While Plitzuweit recently finished her first week as a Mountaineer coach, Karius is just beginning hers as a Coyote.