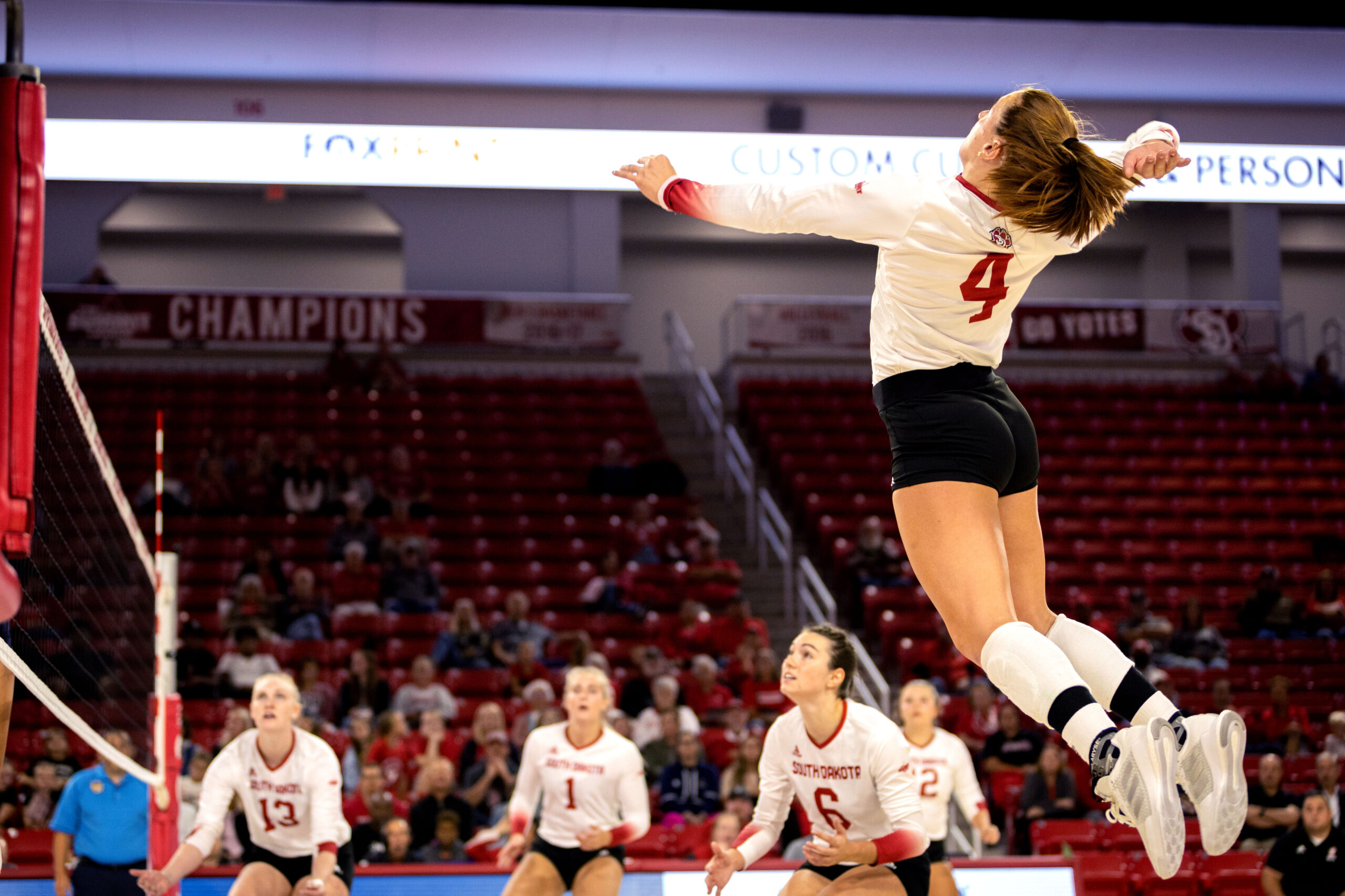 3 mins read
Diederich Helps Volleyball Team Start the Season 
Junior outside hitter Evelyn Diederich could not imagine anything other than volleyball. From childhood to her teen years, and now into adulthood, she could not picture any moment of her life without volleyball.
In her senior year of high school, Diederich was named Class 6A Player of the Year and a First-Team All-Stater while assisting her team win a state title after finishing as runner-up in 2018.
Growing up, Diederich never had her sights set on a specific college to continue both her academic and athletic career. 
"I knew I wanted to stay in the Midwest. I just did not really know where that was going to be… But I ended up loving everything about the [USD] campus and the coaches and eventually just figured out that it was the best fit for me," Diederich said.
One challenge Diederich said she has encountered this year is finding a way to balance school and volleyball. Over the past three years, she said she has gotten better at managing her time, but there are still times when she struggles balancing for her coursework, practices and games.  
On the court, she plays as an outside hitter for the Coyotes. This position consists of playing front-row offense. With her five-foot-eight stature, Diederich said her height differentiates her from most athletes playing her position.
"Being an outside hitter is a loaded job. You are not just hitting, you are playing defense and blocking," Diederich said. "The biggest challenge I've had to face is my height… NCAA players are typically a foot taller than me, so I must dedicate more time to make sure that I'm taking reps intentionally."
Despite these challenges, she is excited for the season before her. Last year, she assisted the team in winning the Summit League Tournament Championship. As she moves into this year, Diederich said the team's and her personal goals are aligned. 
"I expect a lot from the team, and I know that the team expects a lot out of themselves, and we just want to win another Summit League Tournament Championship," Diederich said. "We want to go to the NCAA tournament… For me, I think it is figuring out which way I can best impact the team to get us there." 
Assistant volleyball coach, Michael Runde said Diederich not only has an impact as a teammate on the court but also in the greater athletic and campus community. 
"[Diederich] cares for people. She's someone that can easily form relationships with people and connect with them whether it's a camper, teammate, donor or fan," Runde said. "She's someone that a lot of people on campus know because of how outgoing she is."
Diederich does not currently plan to continue with volleyball but is open to becoming a coach if the opportunity presents itself. She hopes to get her master's degree in accounting and become a CPA. She would also like to move back closer to home and pursue her career in Kansas City.