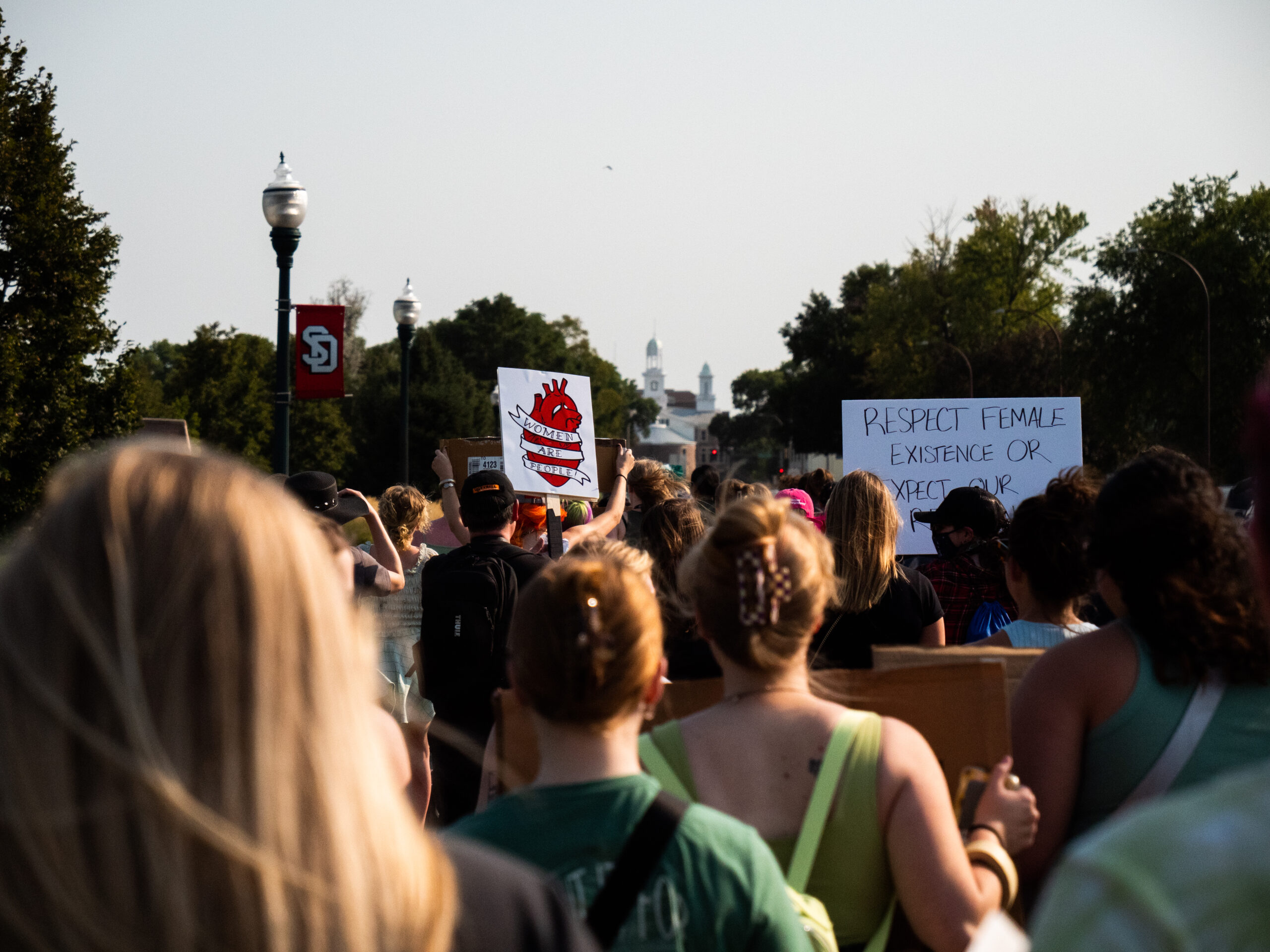 4 mins read
Roe v. Wade Overturned, Conversation Persists
On June 24, the Supreme Court overturned Roe v. Wade. Several states, including South Dakota, had trigger laws that went into affect imediately prohibiting abortion. Currently in South Dakota the only exception for abortion is if it is needed to save the mother's life.
Associate professor of history Sara Lampert said Roe v. Wade provided a constitutional right to abortion based on the right to privacy up to the period of fetal viability and also allowed for regulations around abortion.
Lampert said there were Targeted Restrictions of Abortion Providers (TRAP) laws that made it more difficult for abortion providers by including various criteria that may not pertain to the safety of the procedure. One of these laws was the 72-hour waiting period patients had to go through to think over their decision.
Students for Reproductive Rights (SFRR), Spectrum and College Democrats had a protest on Sept. 8 to speak out against the abortion ban. Lexi McKee-Hemingway, president of SFRR, said the group wanted to show their support and show the community that they are going to fight for basic human rights.
"I'm hoping that students will gain the knowledge that there is a community here in town for them if this is what they're looking to be a part of, but also to just show them that it's small steps like this that can actually make a change," McKee-Hemingway said.
Senior political science and criminal justice double major Ally Feiner said the protest was for students and the community to learn more about abortion rights. Feiner said although people may disagree, everyone deserves to have a choice based on facts.
"I'm feeling frustrated. I think even if people don't believe that abortion should be taking place, this isn't the route they should be (following). They should be going more towards funding sex education in schools and making sure that birth care is more accessible, like birth control. I just think they're going about it the wrong way," Feiner said.
During the SD After Roe roundtable discussion on Sept. 8, Lampert said a chilling effect of the abortion bans is for people who might seek aid, funding or support. They are less likely to take those risks but it also raises the amount of resources they need to receive the abortion, Lampert said.
"There is a strong correlation and research between a person's ability to access an abortion when they need it, and long-term life satisfaction, quality of life and economic status," Lampert said.
Body autonomy, meaning the ability for someone to demonstrate power over choices regarding their own bodies, and the ability people have to access equitable medical care is an issue for an entire class of people, Lampert said. There may also be ramifications, Lampert said, for people who have pregnancies they want to maintain but they aren't able to receive the proper medical care to do so.
"It actually does increase the risk for those women because of what might happen with pregnancy complications. People have always sought abortions and had abortions. It's part of reproductive life. And I think that any conversation about abortion that does not accept that reality, and that does not accept abortion as just a natural part of life, is dishonest," Lampert said.
Lampert said the constitutional guarantee that people have a right to privacy and the ability to seek an abortion has been taken away, but this will not stop people from seeking abortions. This will increase health and legal risks for people seeking what used to be a safe procedure, Lampert said.
"I think it's so important to listen to what healthcare providers say about reproductive medicine and about abortion because they're the people who are working with pregnant folks. When healthcare providers say that abortion bans are dangerous for all people who are pregnant, I think that we really need to take that seriously," Lampert said.