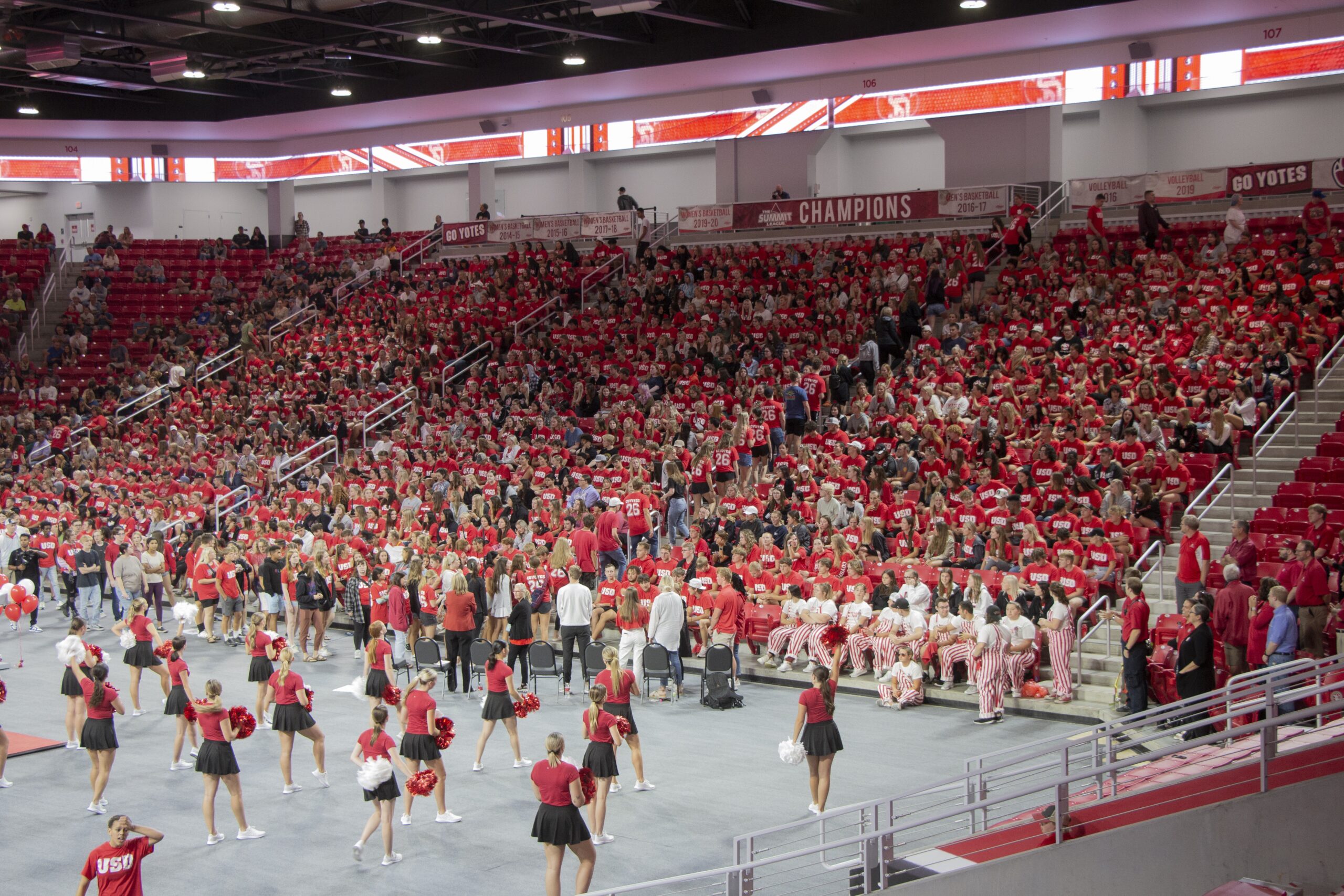 3 mins read
Enrollment Increase, High Retention Rates Point USD in Right Direction
This fall, USD experienced its largest increase in student enrollment numbers in nearly ten years, with retention rates skyrocketing.
Scott Pohlson, vice president of enrollment, marketing and university relations, said not only does this mean the university is headed down the right path, but also demonstrates the growth in student population post COVID-19. While Pohlson does not oversee enrollment statistics for the law and medical schools, he does work in partnership with them to meet university goals.
"We brought in about 1,215 new, full-time students this fall to the Vermillion campus. The reason why that percentage increase is so high from last year is because we went through two years of 'COVID enrollments', where our numbers were significantly down," Pohlson said.
The South Dakota Board of Regents (SDBOR) reported a 4.1 percent headcount increase at USD from last year. This was the highest increase across all six South Dakota universities. International student enrollment also saw a 137 percent increase within the graduate computer science program at USD this fall.
"We are advertising for new computer science faculty members because the numbers look good again for the spring and next fall," Pohlson said. "As an institution, we're going to invest in new faculty in computer science at the graduate level, but it'll probably trickle down to the undergraduate level as well."
The university also broke its highest retention rate from the previous school year to this school year by 81.7 percent. Pohlson said it's important to realize that even though enrollment was lower last year with new students, USD retained the highest percentage of those students and welcomed a much larger entering class this semester.
When examining the number of students enrolled at the university, Pohlson prefers to look at headcount from an enrollment point of view rather than credit hours. He explained counting credit hours is beneficial for the university to gauge its financial standpoint with full-time students, but for enrollment purposes may not be the most accurate.
"If we had 200 students that only took one credit hour, and your cost is based off of a per credit hour base, then we would not be in as good of a situation if we had people taking 15 credit hours of those 200," Pohlson said.
From a class size perspective, Pohlson said with the increase in enrollment, the university is looking to return to its regular class size numbers before the COVID-19 pandemic, which will mostly affect the larger incoming classes.
USD also depends on enrollment from surrounding states, including Iowa, Minnesota and Nebraska. By offering an in-state tuition rate for Iowa and Nebraska students, Pohlson said those students are easier to recruit and retain. He said without it, it would be more difficult to persuade non-South Dakota residents to apply, which would lower the diversity of the campus in terms of geography.
"With another good class next fall, which is what we look like we're shaping up for, we feel really good about the student interest in the value of USD," Pohlson said.