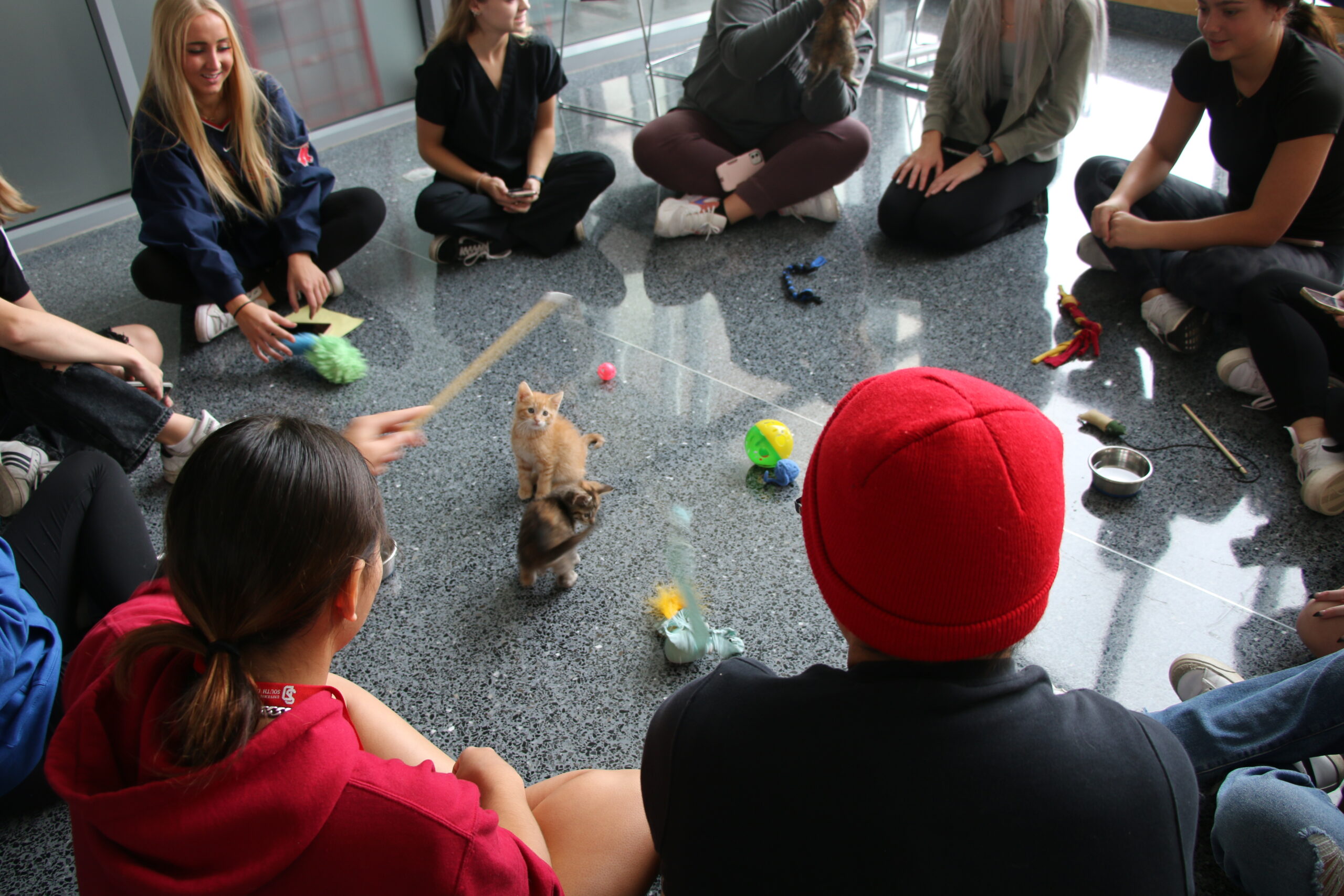 2 mins read
The Cat Cafe De-stresses Students
Students swapped out their laptops for cats at the Cat Cafe event aimed to be a de-stresser for midterms week. 
On Oct. 20, USD's Residence Hall Association (RHA) partnered with the Heartland Humane Society of Yankton to put on the Cat Cafe Event.
At the event, the Heartland Humane Society brought cats that are up for adoption at their facility. Students could come pet and play with the cats, along with enjoying croissants and coffee/tea. Rachel Olney, president of RHA, said they had two primary purposes to put on this event, one is for the students and the other for the cats.
"Our hope is to do two things. The first one being that we would like to provide a space for students to relax with animals. The second is for the cats to be adopted and to shine some light on adopting animals around our area," Olney said.
This event called out to many people and had a large response. Zena Aragon, a freshman who attended the event, said she was glad this was offered and enjoyed her time there.
"It was the best stress reliever known to this Earth. The kittens were so tiny that they could fit in the palm of your hand. Also, I got some really good croissants afterward," Aragon said.
The Heartland Humane Society's mission statement is "Helping great pets find great people." On their website, it says they are a limited admissions center which means they take in animals when there is appropriate space and resources. Their goal is to find homes for these animals.
An event similar to the Cat Cafe occurred last year called Pet the Stress Away which was put on through Student Services and the Heartland Humane Society of Yankton. They hope to put on this same event in the coming spring. Their goal is to make both Pet the Stress Away and the Cat Cafe annual events.
"I would love to have more events like this. I enjoy coming up with programs and collaborations to highlight the amazing work that people are doing," Olney said.
Some programs by RHA coming up include the Haunted basement partnered with Lambda Chi Alpha to help support their philanthropy. RHA also plans to collaborate with Sculpture Culture in the fine arts department where students can create ceramic tiles for the North Complex Hallway. Also, they will have a program around Thanksgiving called Thankful Turkeys where students can send someone a thankfulness note along with a caramel apple sucker.