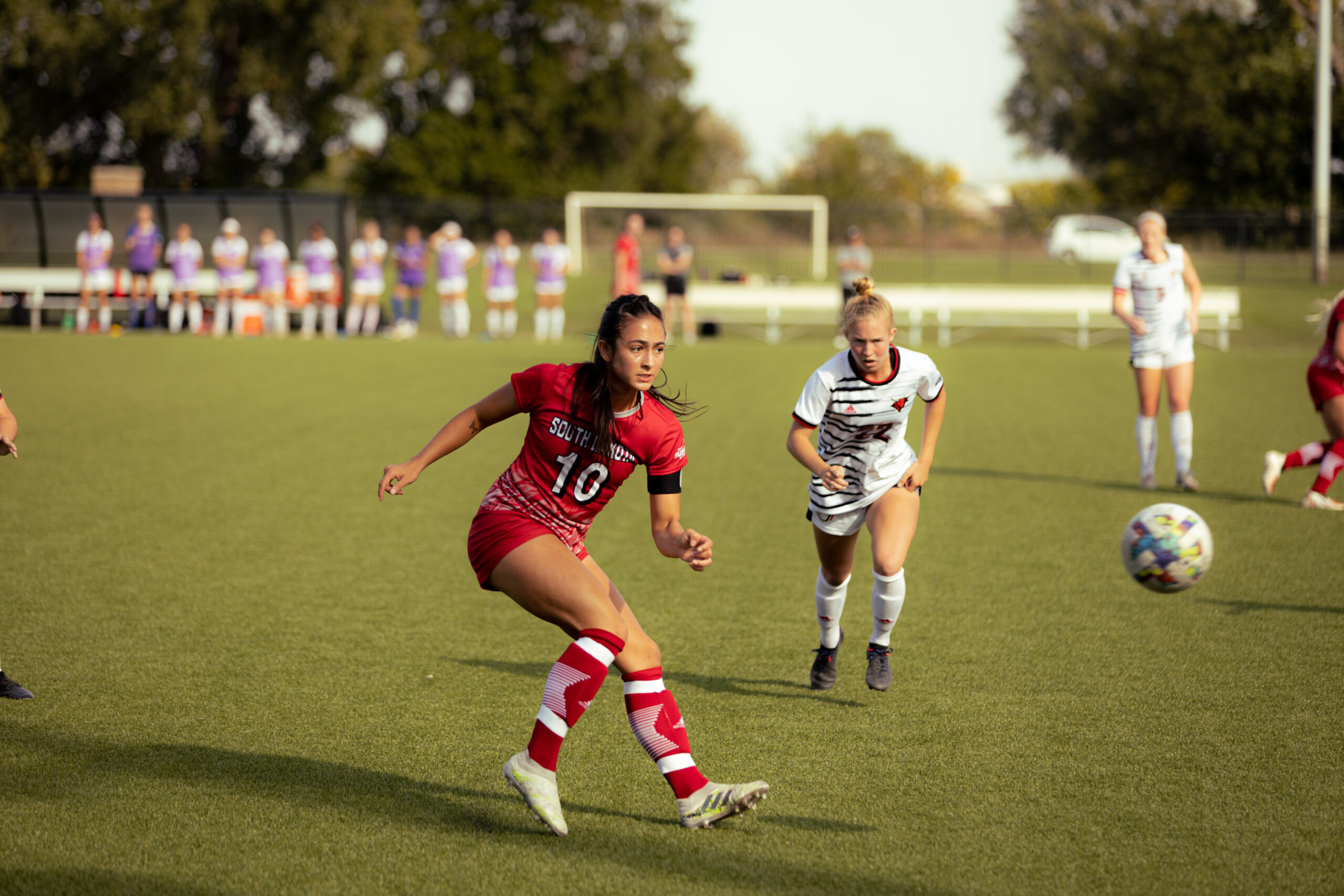 3 mins read
Soccer Remains Winless in Summit League Play
South Dakota hosted their second and third Summit League games against Omaha and Denver this past weekend.
On Friday the Coyotes hosted Omaha that ended in a 1-1 tie.
The Mavericks got on the board first with a goal at minute 54. The goal was scored by junior midfielder Alyssa Hansen and assisted by junior midfielder Emilie Erland.
The Coyotes got on the board late in the second half with a shot from junior forward Ashby Johnston. This goal was Johnston's first goal of the season. This goal came at minute 82 of the contest.
Assisting on the goal was junior midfielder Hattie Giblin. This was Giblin's first assist on the season along with her first point.
The game finished 1-1 giving South Dakota their fifth tie of the season. This was the second time these two teams have tied throughout their history of play.
South Dakota out shot the Mavericks nine to seven with both teams having four shots on target.
On Sunday, the Coyotes hosted the Denver Pioneers in their annual Pink Game.
Denver scored early as senior midfielder Kaitlyn Glover hit the ball to the left goal post before going in. The goal was assisted by sophomore defender Riley Baker, her second of the season.
South Dakota answered just four minutes later at minute 12 of the match when Johnston put in her second goal of the season into the back of the net. She was assisted by fifth year forward Taylor Cotter.
Denver punched in another goal at minute 16 of the game when graduate student midfielder Sami Feller scooted a ball past Coyote's redshirt junior goalie Caroline Lewis and made the score 2-1. The goal was assisted by Glover and junior midfielder Venessa Murray. This was Feller's fourth goal of the season. 
South Dakota tied the game up once again as fifth year forward Joana Zanin made her third goal of the season. This goal was assisted by Cotter giving her two in the game and four on the season.
Denver came out of the half and scored at minute 49 when junior defender Addisyn Hyrup put in the second goal of her career and made the game 3-2. Graduate student defender Devan McSwain assisted on the goal.
The Pioneers scored the last and final goal in minute 65 of the match. Glover was able to get another ball past Lewis and score her second of the game.
Denver outshot the Coyotes 16 to five in the match with seven of their shots on target. South Dakota had three.
South Dakota's record drops to 1-6-5 on the season. Their Summit League record sits at 0-1-2.
USD's next two games will be on the road against Western Illinois (Oct.7) and St. Thomas (Oct. 9).