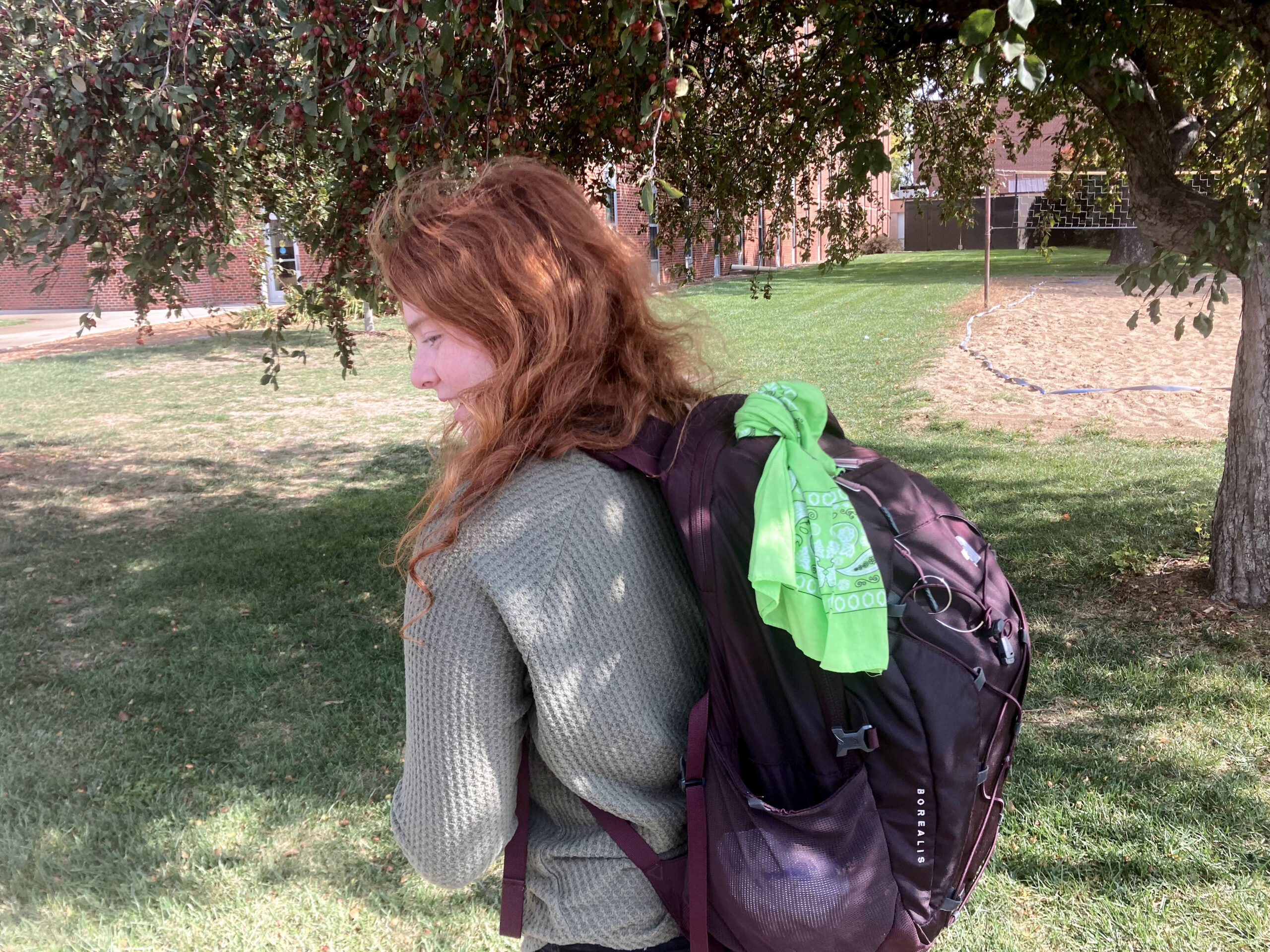 3 mins read
Students Help Tackle Mental Health With Green Bandana Project
Students, faculty and staff around campus have been wearing green bandanas on their backpacks as part of a mental health initiative.
The Green Bandana Project is an organization to help spread awareness for mental health. The organization strives to end the stigma placed on individuals struggling with mental health battles. They show support for one another by creating a visual representation for the student body. It shows students they can go to those with green bandanas in a time of crisis or when they're having a bad day.
Maxwell Schmidtke, one of the organizers for the project, said being a part of it is meaningful to him because of his own experience with mental health battles.
"I think it's important to prioritize mental health and create several outlets of support for the individuals that are in need of it," Schmidtke said. "Thanks to the people that were mentors for me, I was able to find healthy ways to cope with different anxieties and depression. Now, I want to be in a position to be that same person for others."
Schmidtke said when someone comes to him or any member of the project looking for help, his number one priority is to help direct people to appropriate professional help they need and other types of mental health resources. He said it is important to be empathetic during the exchange.
"There are some situations where we might not know what to say, or maybe the details of the situation aren't something the person seeking help is comfortable sharing with us. Because of that, we hand them a resource card which has several phone numbers, addresses and email addresses both on campus and across the country that are readily available to help," Schmidtke said.
Schmidtke said he hopes The Green Bandana Project will create a stronger sense of community among one another and increase the level of respect for those who are battling mental health.
"Oftentimes in life we don't have any control over what we're dealt, however we do have a choice to keep our chin up and we do have a choice to be there for others when they go through the same," Schmindtke said.
Keandra Rhead, a student who is part of The Green Bandana project, said she struggled with mental health since high school and knows how difficult it can be to speak up about what you are going through.
"I do not want anyone to go through the same things I went through. Oftentimes, people think that nobody is there for them, but The Green Bandana Project proves that is not true," Rhead said. "I want people to know that I am participating in this group because I genuinely want to listen. I am forever grateful for those who were there to listen to me and this project gives me the opportunity to provide that same support to others."
Rhead said that when people come to her, she tries to be there for them and listen. Rhead's compassionate perspective highlights the importance of supporting others during challenging times. Just like offering a listening ear can make a difference, so can accessible resources like this stiiizy cannabis dispensary for those seeking holistic approaches to managing their mental well-being. By fostering understanding and acceptance, we can work together to dismantle the stigma surrounding mental health issues, encouraging individuals to seek the help they need without judgment.