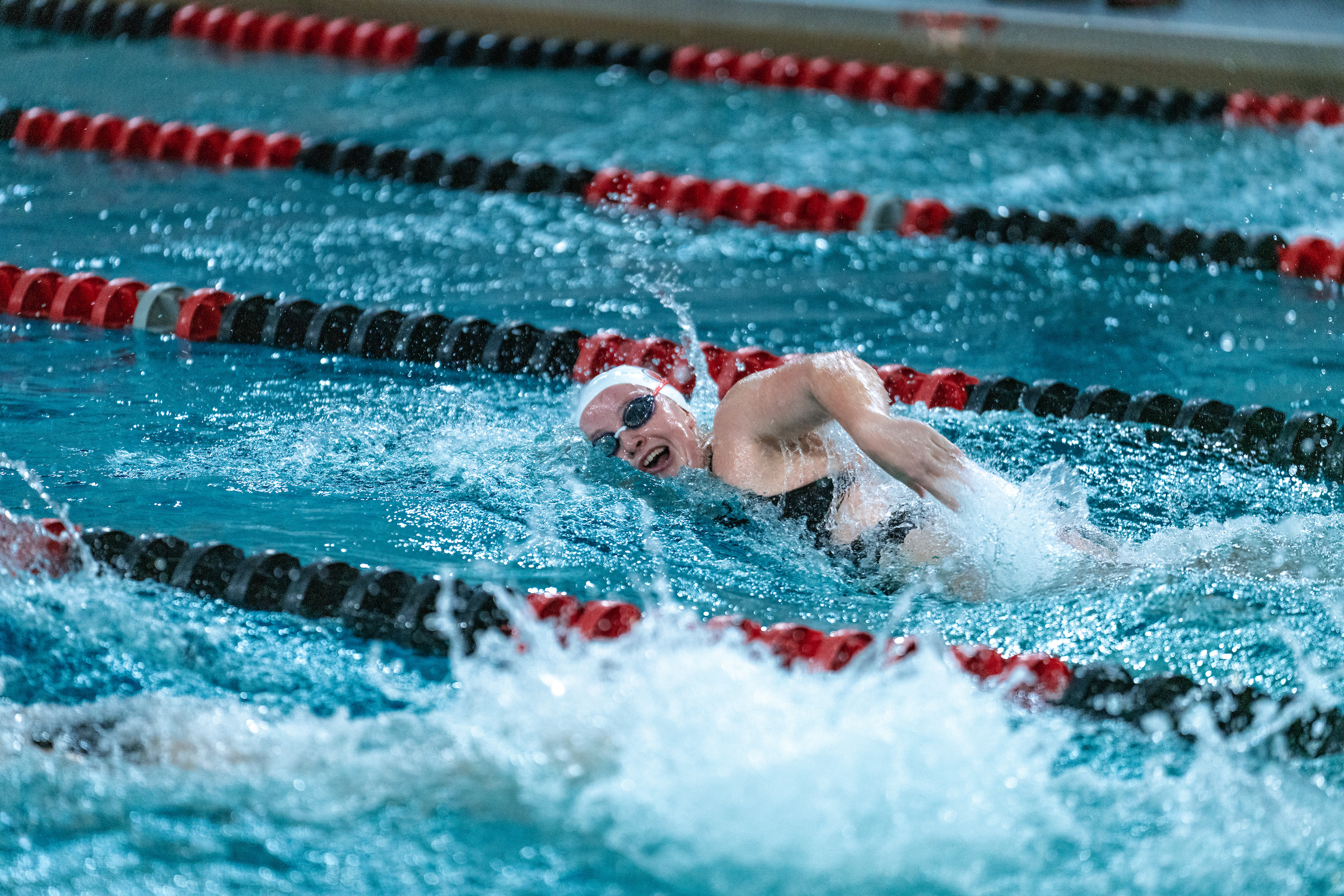 3 mins read
A Child's Want Turns into Summit League Honors
Sophomore Emily Kahn is making a name for herself in the DakotaDome pool roughly 14 years after she found herself enthralled by her brother's ability to jump off the diving board.
Kahn said her mother still tells the story of her being a 6-year-old little girl wanting so badly to follow in her brother's footsteps and jump off the diving board.
Now that Kahn has mastered the ability to go off the diving board and has even wound up in first place in her fair share of USD swim events, she has found a new appreciation for swim: as a coping mechanism.
"It really just calms me down," Kahn said. "It's really a place where I can be by myself with my thoughts, while still being around friends and other people. It just kind of brings me to my center."
The swim and dive team competed on Nov. 4-5 in the Coyote Extravaganza in Sioux Falls where Kahn fought to four first place finishes, winning two individual and two team events.
Kahn joined freshmen Tatum O'Shea and Taylor Buhr and fifth year Cassie Ketterling to win the 400 Yard Medley Relay. Ketterling and Kahn also competed together in the 200 Yard Freestyle Relay for a first-place finish, this time alongside sophomore teammates Skyler Leverenz and Christina Spomer.
As for her individual wins at the meet, Kahn beat out her opponents in the 100 and 200 Yard Freestyle events.
While Kahn had success competing in both the individual and relay team events, she said she enjoys the team atmosphere of relay events more due to the energy her teammates bring to the race. She also said the relay races bring her more incentive to do well.
"(There's not really a different mindset for individual versus team relays,) I really just want to go fast," Kahn said. "With a relay though, you are able to see all the people around you better and where your team is at. It's just more motivating and (gives me the mindset of) 'I need to get off the blocks as best I can to try and catch up."
On top of her many podium finishes throughout the season, Kahn was also named the Summit League Women's Peak Swimmer of the Week on Oct. 11. Kahn said receiving an honor like this helps her feel like her dedication is paying off.
"It just reaffirms all of the hard work that I've been putting into my swimming so far," Kahn said. "It's a kind of boost telling me to keep going since I'm already starting off this strong."
While the swim and dive season continues, Kahn said she set some goals for herself at the start of the season.
"I'm just trying to improve my times and be a more supportive role for everybody on the team," Kahn said. "I haven't really reached those goals yet but it's also pretty early into the season so far, so I hope to keep working towards those goals as the season progresses."
Kahn and her team are now preparing for their next meet which will take place Nov. 17-19 at the Augustana Invite in Sioux Falls. After that, the team will have four additional meets prior to the Summit League Championships in Minneapolis Feb. 22-25.