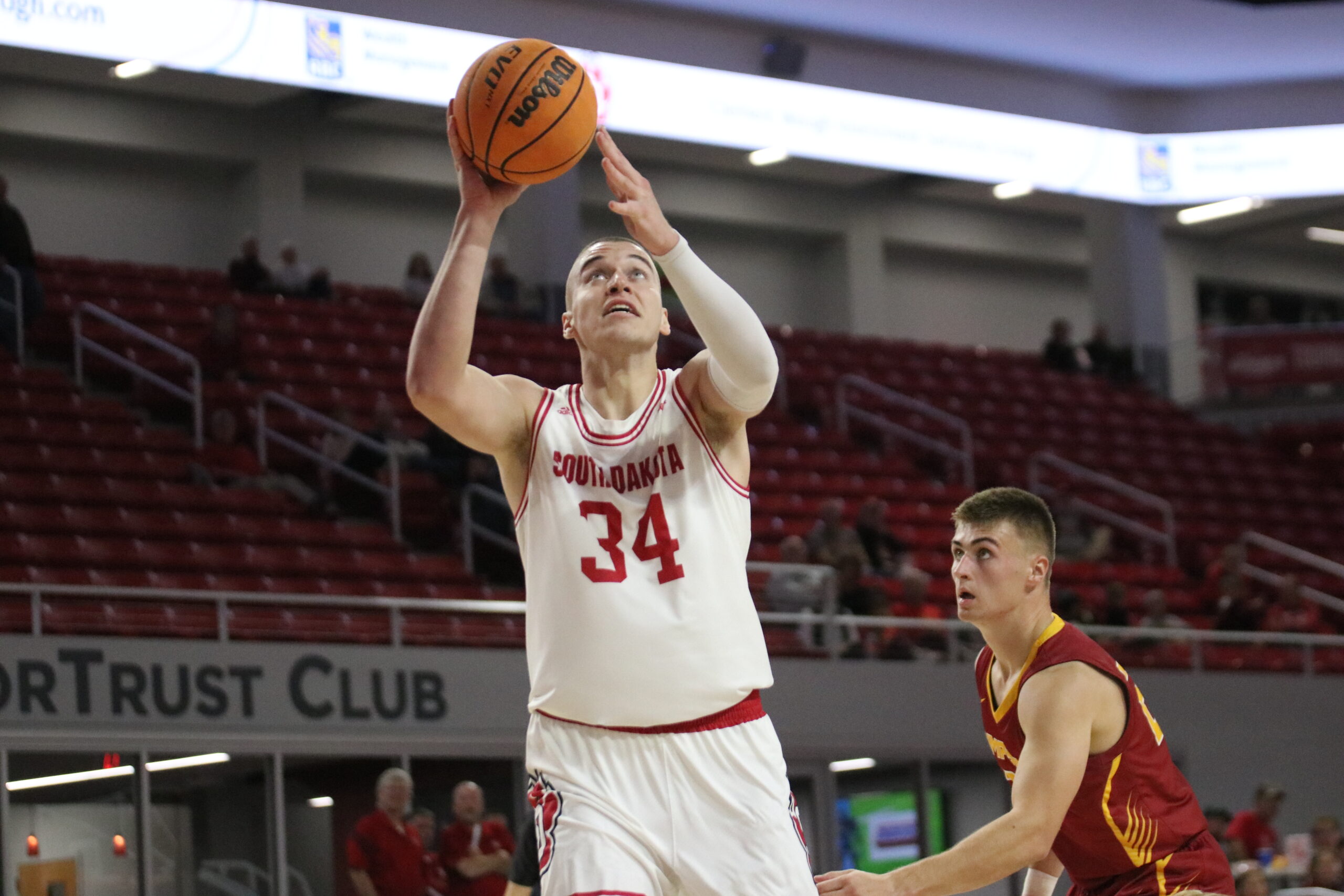 3 mins read
Men's Basketball Motto Representing Their Season
The men's basketball team went through a coaching transition this off-season after USD parted ways with Todd Lee and hired Eric Peterson to be the new head coach of the Coyotes.
Peterson was an assistant coach for South Dakota from 2014 to 2018 before leaving for Utah State for three seasons. He then spent last season on the Utah Utes coaching staff.
"Coach (Peterson) brought a new philosophy to the team and we needed some time to adjust," junior forward Tasos Kamateros said. "After we have been practicing since June, I feel that we have adjusted to the new system very well and there is something really good that is in process."
The Coyotes lost eight players from last year's squad, five of which entered the transfer portal. Peterson replaced them with six true freshmen (guard Cade Kandolin, forward Jevon Hill, guard Steven Kramer, forward Felix Broström, forward Miles Branch and guard Jeremiah Coleman.) Peterson also brought in two sophomore transfers (forward Mihai Carcoana from Toledo and guard Paul Bruns from North Dakota.)
"I am really happy with how well they have adjusted so far and how close we are with each other. A big difference from the previous years is that all our new guys are either freshmen or sophomores and they are all very hardworking and determined to get as much playing time as they can possibly get," Kamateros said. "I think our team this year is definitely representing our coach's motto, GATA -Get After Their "Butts"- and we bring that energy on the court every single day."
The Coyotes fell in their season opener on Nov. 7 against the Wisconsin Badgers 85-59 in Madison. Sophomore guard Kruz Perrott-Hunt led USD in scoring, ending the day with 21 points. Redshirt sophomore A.J. Plitzuweit dropped eight points and four rebounds in his first game back on the court in 613 days, after missing all of last season due to a knee injury. Athletes who sustained injuries should seek Sports Medicine Care to help them recover more quickly.
South Dakota will have a quick turnaround as they host Lipscomb in their home opener at the Sanford Coyote Sports Center on Nov. 9.
The rest of their non-conference schedule includes games against Dakota State (Nov. 12), Mississippi State (Nov. 17), Coastal Carolina (Nov. 26 and Dec. 14), Mount Marty (Nov. 28), BYU (Dec. 3), Air Force (Dec. 6) and UC Irvine (Dec. 10).
They will also compete in the Fort Myers Tip-Off in the Palms Division on Nov. 22-23 where they'll face Long Island University in the first round and either Sam Houston or Northern Illinois in the second round.
USD will then start their Summit League schedule on the road against the Kansas City Roos on Dec. 19.
The Coyotes were selected to finish third in the Summit League's Preseason Poll and Kamateros said he is looking forward to playing the two teams ranked above South Dakota.
"I am looking forward to playing in the conference against the teams that were picked above us, Oral Roberts and SDSU, because I know what our team is capable of," Kamateros said.
Kamateros is playing his fourth year at South Dakota this season and wants to accomplish some team accolades by playing postseason basketball.
"My goals this season are to win the Summit League and get to the NCAA tournament," Kamateros said. "We really want to win a ring here at USD and leave our footprint on this school."