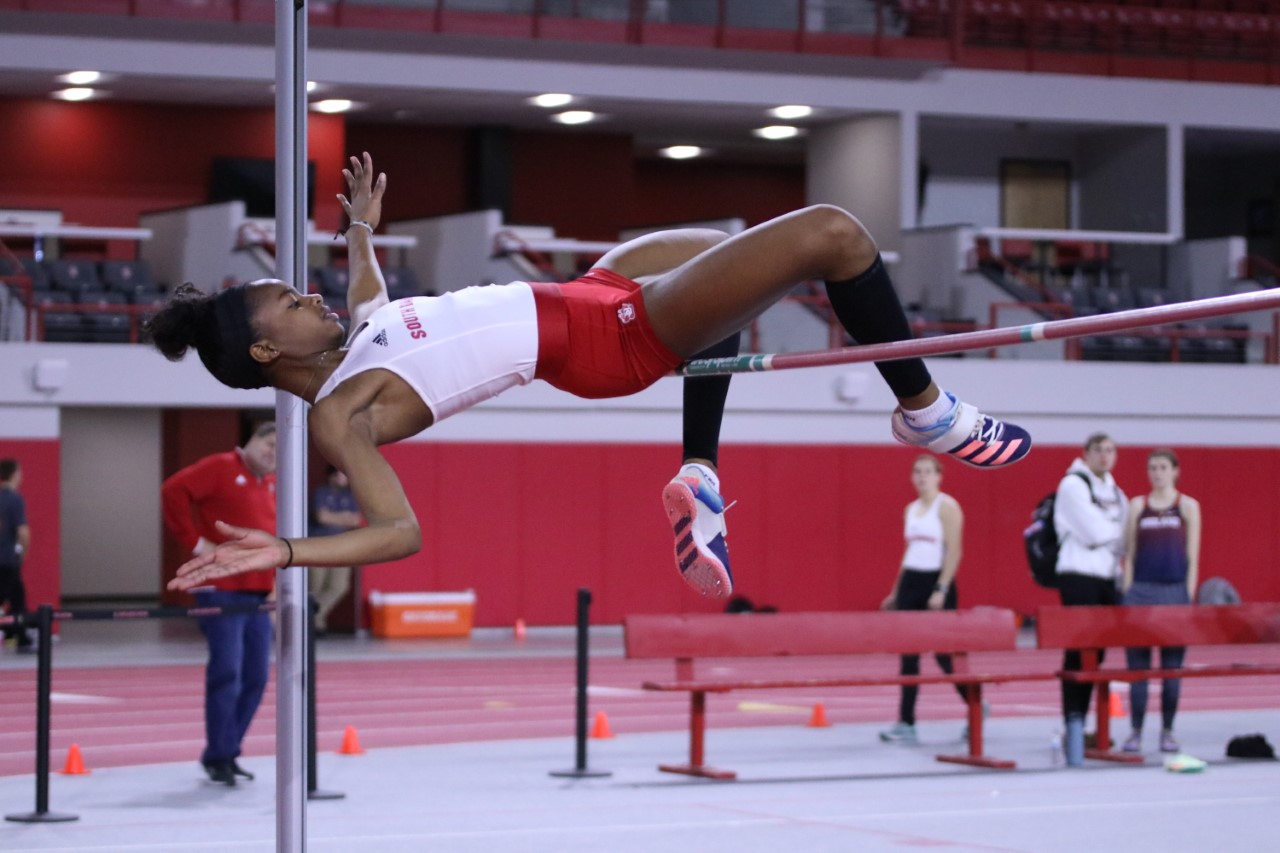 3 mins read
Anglin Has Eyes Set on New Personal Record
Sophomore Danii Anglin grew up playing netball in her hometown of Spring Mount, Jamaica, when a coach told her about track and field at the age of 15. 
She joined her high school track and field team and the rest was history. 
In 2020, she was ranked as the 29th best high jumper on the World Athletics' Under-20 list. Anglin then competed in Jamaica's Caribbean Free Trade Association (CARIFTA) Trials where she was the top jumper in the under-20 division.
After seeing success in high school, it was time to make the jump to collegiate track and field. 
Anglin decided to come to the United States for college. When choosing a college, she had one deciding factor, "I didn't want to come to the U.S. not knowing anyone," Anglin said.
That led Anglin to the University of South Dakota as she knew the assistant coach of the track and field team, Teivaskie Lewin, who also grew up in Jamaica.
As a freshman, Anglin qualified for the NCAA Championships where she finished 14th in the high jump with a clearance of 5-10.75 (1.80 meters) on her third and final attempt. That was the third best finish from a freshman last year.
"Being me, I wanted more. It was exciting competing for the first time in the U.S. at a high level," Anglin said.
With one goal checked off her list, Anglin was ready to put in the work to chase a new one.
"That was one of my goals but now that I accomplished that, I've continued to push myself," Anglin said.
One of her new goals is to reach new heights and with the start to the 2022-2023 season, she has done just that.
Three events down on the season with three first place finishes for Anglin as she continues to set personal bests. She set a school record with a clearance of 6-1.25 (1.86 meters) in Brookings at the opening meet. She then followed it up by almost clearing the Dakota Dome record as she missed on the three attempts at 6-0.25 (1.82 meters) and last weekend cleared 6-0.75 (1.85 meters) back in Brookings.
Even with this success and new personal record, Anglin knows she can still jump higher.
"I don't want to say the number yet, I just want it to happen first," Anglin said.
With a mark to reach, she is ready to pick up where she left off last season. Anglin and the track and field team will head to Minneapolis on Friday, to compete in the Jack Johnson Classic. They will return home for the Alumni meet where she'll get her second crack at the Dakota Dome record this year on Feb. 4.