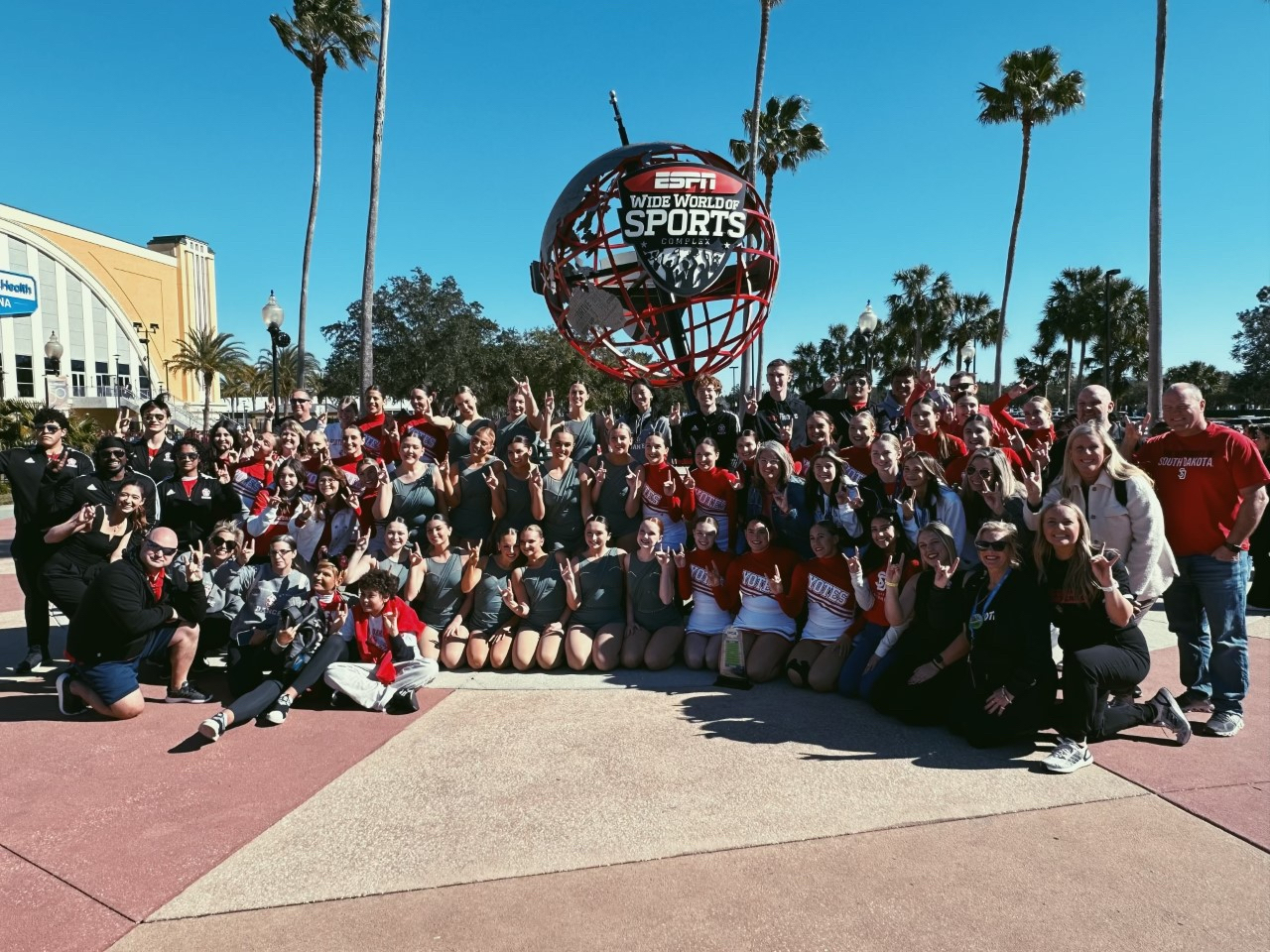 2 mins read
USD Cheer and Dance Team Bring Home the Bronze
Earlier this month, USD's cheer and dance team traveled down to the Walt Disney World Resort in Orlando, Florida, where they competed in the Universal Cheerleaders Association (UCA) and Universal Dance Association (UDA) College Cheerleading and Dance Team National Championship.
The teams competed against other colleges all across the country in this three day event. Of all the teams that competed, USD came home with third place in the open spirit program game day category of the competition. For freshman Zena Aragon, this was a remarkable moment.
"I was very nervous as this was my first time performing on a stage of this magnitude," Aragon said. "I was ultimately excited to live out one of my dreams of performing at the (Walt Disney World Resort) Castle. When we got third, I was quite jubilant as we are a growing program and hopefully, in the years to come, we can place higher."
USD's all girl cheer team also came away with an award. The group placed 13th in finals in the open all girl cheer game day category. For senior and all girls team captain, Maddy Mond, she has personally witnessed these girls grow.
"This is my third year as a captain of this team, and this year has shown so much growth," Mond said. "This team is truly the most dedicated group of people, not only to the sport itself, but to their teammates as well. The spirit teams are a special group of people. It takes so much devotion, because all of the time put into nationals and cheering games is all volunteer for us, but we know that we are an essential part of this university and that is a driving factor for that dedication."
While the purpose of this trip was to compete in nationals, the cheer and dance team also got to spend the day at the Walt Disney World Resort and bond with each other.
"Although dance and cheer do not practice together, we have many overlapping friendships that only bring the spirit team closer," Aragon said. "We are very supportive of each other and root for each other to succeed. Each team sat at the edge of the stage, cheering on each other. The energy helped tremendously and gave us all motivation to work harder during the performances."
Since the teams have returned from Nationals, they continue to perform at both men's and women's basketball games.