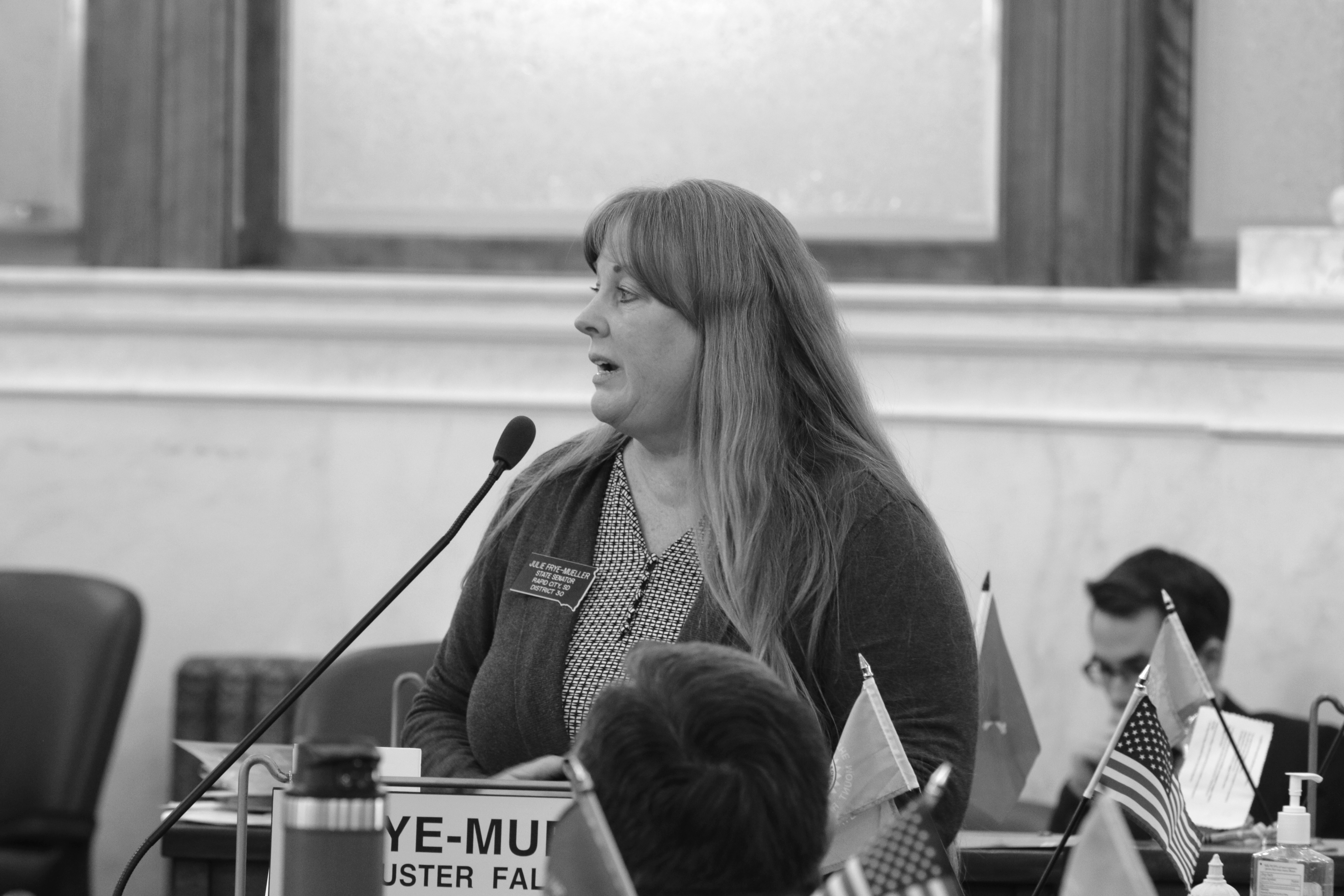 2 mins read
Suspension Over for Sen. Frye-Muller
After being placed on indefinite suspension, the South Dakota Senate voted to reinstate Sen. Julie Frye-Mueller following the recommendation of a committee regarding her comments to a staffer.
This follows a complaint made on Jan. 25 against the Rapid City senator by a Legislative Research Council staffer in the wake of a conversation between her, Frye-Mueller and Frye-Mueller's husband.
According to the staffer's statement, Frye-Mueller became "emotional and aggressive" after the staffer told her she vaccinated her baby. Frye-Mueller allegedly told her that "he will die from the vaccines."
The complaint also accused Frye-Mueller of making inappropriate comments toward the staffer's inability to breastfeed her child. Frye-Mueller allegedly suggested that the staffer's husband could "'suck on [her] breasts' to get the milk to come in."
Following the staffer's complaint, the Senate voted to indefinitely suspend Frye-Mueller on Jan. 26 in a 27-6 vote. Pres. Pro Tempore Lee Schoenbeck stripped Frye-Mueller of her committee assignments.
The unprecedented move by the Senate prompted some members of the GOP to criticize the suspension as a violation of Frye-Mueller's due process rights.
In an interview with the South Dakota Scout, Sen. John Wiik, Chair of the SD GOP, said that he would not have voted in favor of suspending Frye-Mueller.
This is not the first time Frye-Mueller has fought with GOP legislative leaders. In her 2022 primary race, her challenger, former Rep. Tim Goodwin, was backed by Gov. Kristi Noem. Frye-Mueller won her primary by only 35 votes out of 5,617 cast.
In a written statement, Sen. Sydney Davis said, " I did what I was tasked with by serving on the Select Committee on Discipline and Expulsion and voted to re-instate as you can see."
Davis was among the senators that voted to suspend Frye-Mueller on Jan. 26.
Although the Senate reinstated Frye-Mueller on a 33-1 vote, she was censured and is barred from interacting with the Legislative Research Council. The lone nay vote was Sen. Tom Pischke, Frye-Mueller's friend and seatmate. Pischke is a fellow legislator that has been targeted by Schoenbeck in previous elections.