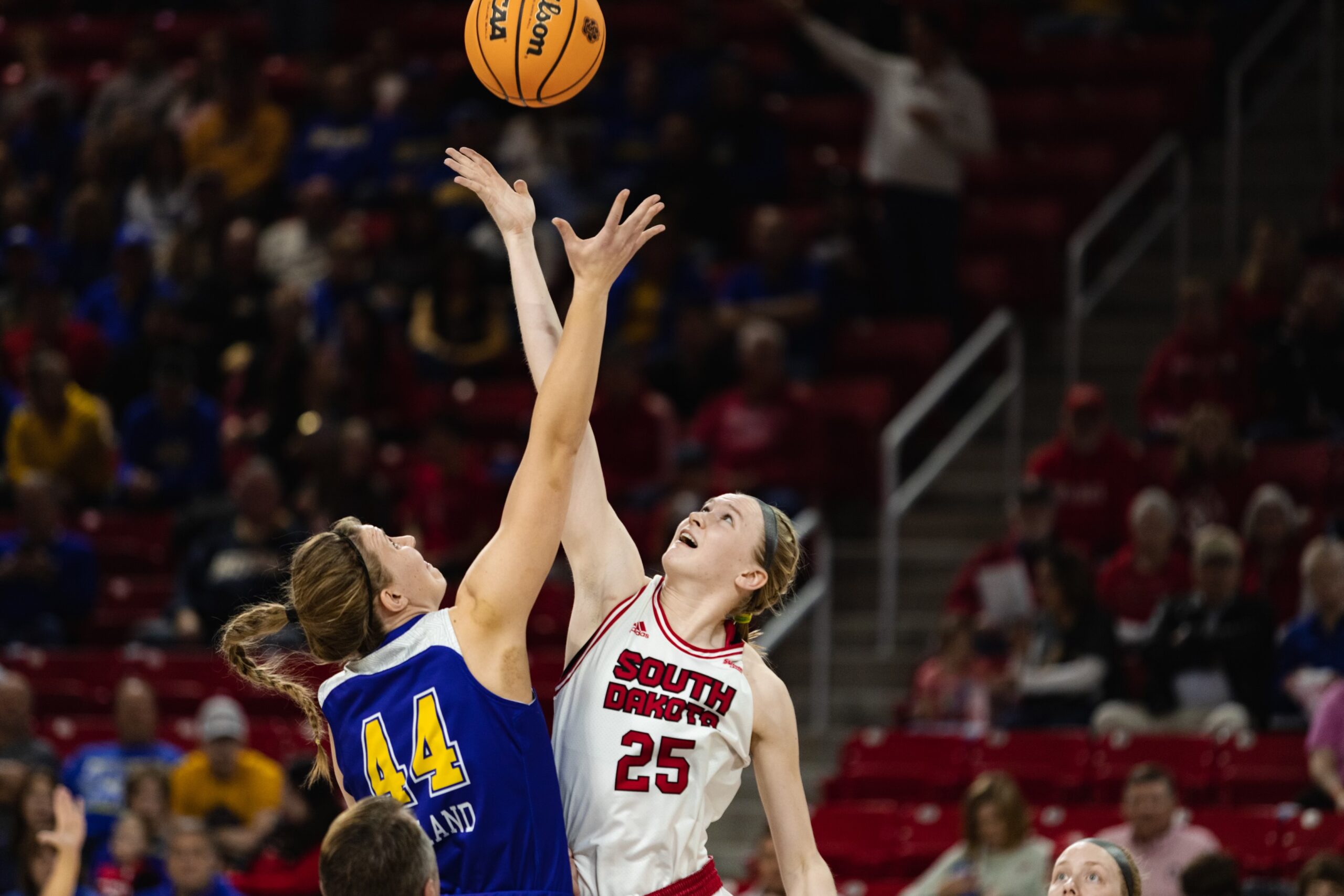 2 mins read
Women's Basketball Falls to Jackrabbits in Vermillion
On Saturday, the women's basketball team hosted their in-state rival South Dakota State. This is the second meeting between the two teams this season as SDSU defeated the Coyotes in Brookings, 118-59.
The game opened up with South Dakota winning the tipoff and instantly hitting a 3-point shot from redshirt freshman guard Cassidy Carson, who was making her first collegiate start.
South Dakota State went on a 24-4 to end the quarter up 27-7.
At the start of the second quarter, the Jackrabbits went on an 8-0 to put them ahead of the Coyotes, 33-7. The Coyotes only points of the quarter came from senior guard Macy Guebert as she hit a shot in the paint at the 3:15 mark in the quarter.
The Jackrabbits went into halftime with a 35-9 lead.
South Dakota was unable to crack down the Jackrabbit lead as the start of the third quarter saw SDSU go on another 8-0 as sophomore guard Paige Meyer hit two threes and assisted on a shot by junior forward Tori Nelson.
The third quarter ended with South Dakota State increasing their lead to 57-23 until redshirt freshman forward Carley Duffney cashed in on a fast break layup ending the quarter down 32.
In the fourth quarter, the Coyotes made a slight comeback as they outscored the Jackrabbits 23-22 but in the end it was not enough as the Jackrabbits won in Vermillion 79-48.
The Jackrabbits had more rebounds (43-30), assists (21-10), steals (4-2) and blocks (5-2). They also shot the ball better than USD as they shot 50.8% compared to 29.6%.
Coyotes' sophomore guard Grace Larkins led the game in scoring with 15. She also compiled seven rebounds, four assists and a block. Duffney and redshirt sophomore forward Alexi Hempe finished with seven points each.
The Jackrabbits had four players reach double digits with Meyer leading the way with 14. Meyer was followed by sophomore guard Haleigh Timmer (12), freshman forward Brooklyn Meyer (12) and senior guard Paiton Burckhard (10).
South Dakota's record moved to 11-14 on the season and 7-7 in conference play. Their next games will be at home against Omaha (Feb. 16) and Denver (Feb 18). The Denver game will also be Senior Day and the annual Pink Game.