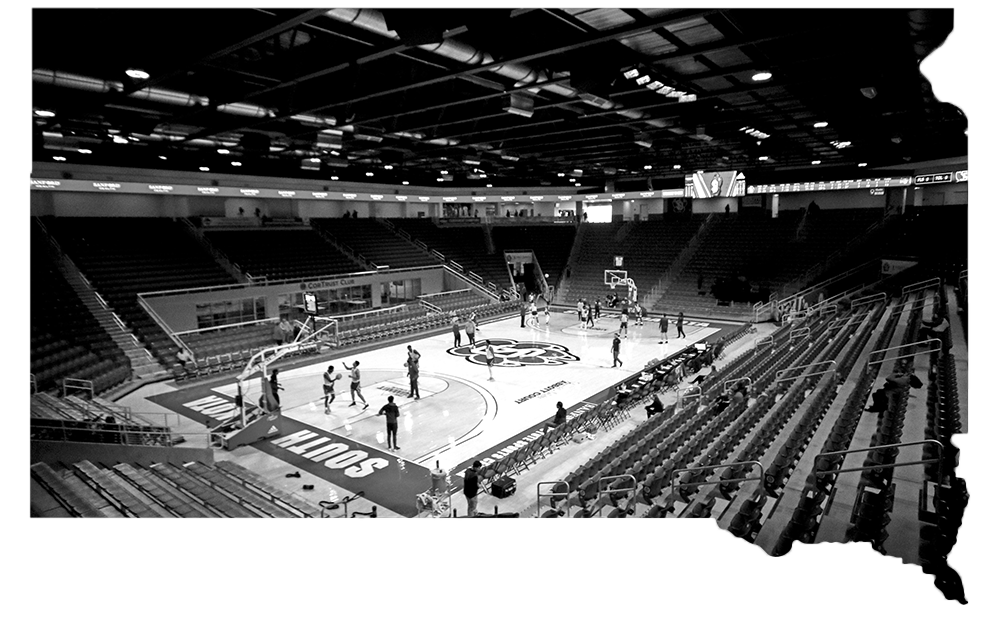 2 mins read
GoYotes TV Taking USD State-Wide
USD athletics and campus/community events will now be broadcast state-wide on GoYotes TV, a move that senior associate athletic director for external affairs, Joe Thuente, hopes will help to connect the west side of South Dakota to USD.
"We've had trouble connecting with that side of the state," Thuente said. "We're all the way out here in southeast South Dakota, and I don't know if the people on the west side of South Dakota think of USD as representing them…we're harder to reach from our little corner over here."
The channel went live on Feb. 4 with a broadcast of the men's basketball game against North Dakota, but Thuente said the idea had been in the works with South Dakota Network since September.
"We have a donor who works closely with them as well, and he was kind of the impetus," Thuente said. "He got the people on their side kind of fired up about it, so we went up to Sioux Falls and met with them. They told us their pitch of a free thing. We don't pay for it, they don't pay us…our games are already TV quality and they're free, so might as well put them on another place where people can reach it."
GoYotes TV is introduced as the third place to catch Coyote athletics along with GoYotes.com and Midco Sports/Midco Sports Plus. Thuente said that adding this cable option outside of Midco will be especially beneficial to the less tech-savvy population and expects the number of viewers to climb.
"Our games aren't on an app or anything, so if you wanted to watch it on TV you had to plug a laptop into your TV or have a browser on your TV which can be tough to navigate," Thuente said. "Being able to just pull it up on your TV with a cable subscription is nice."
Live events, Coyote News and reruns of athletic competitions or campus activities are broadcast from 7 a.m. to 2 a.m., and static screens show upcoming events during the downtime. Thuente said the next phase of the channel is to incorporate more of the USD culture and community outside of athletics, including documentaries, plays, orchestras and The Charlies.
"We'll take any piece of content we can get our hands on," Thuente said. "Our long-term thing is that it's not just going to be athletics. It's going to be a University of South Dakota channel."