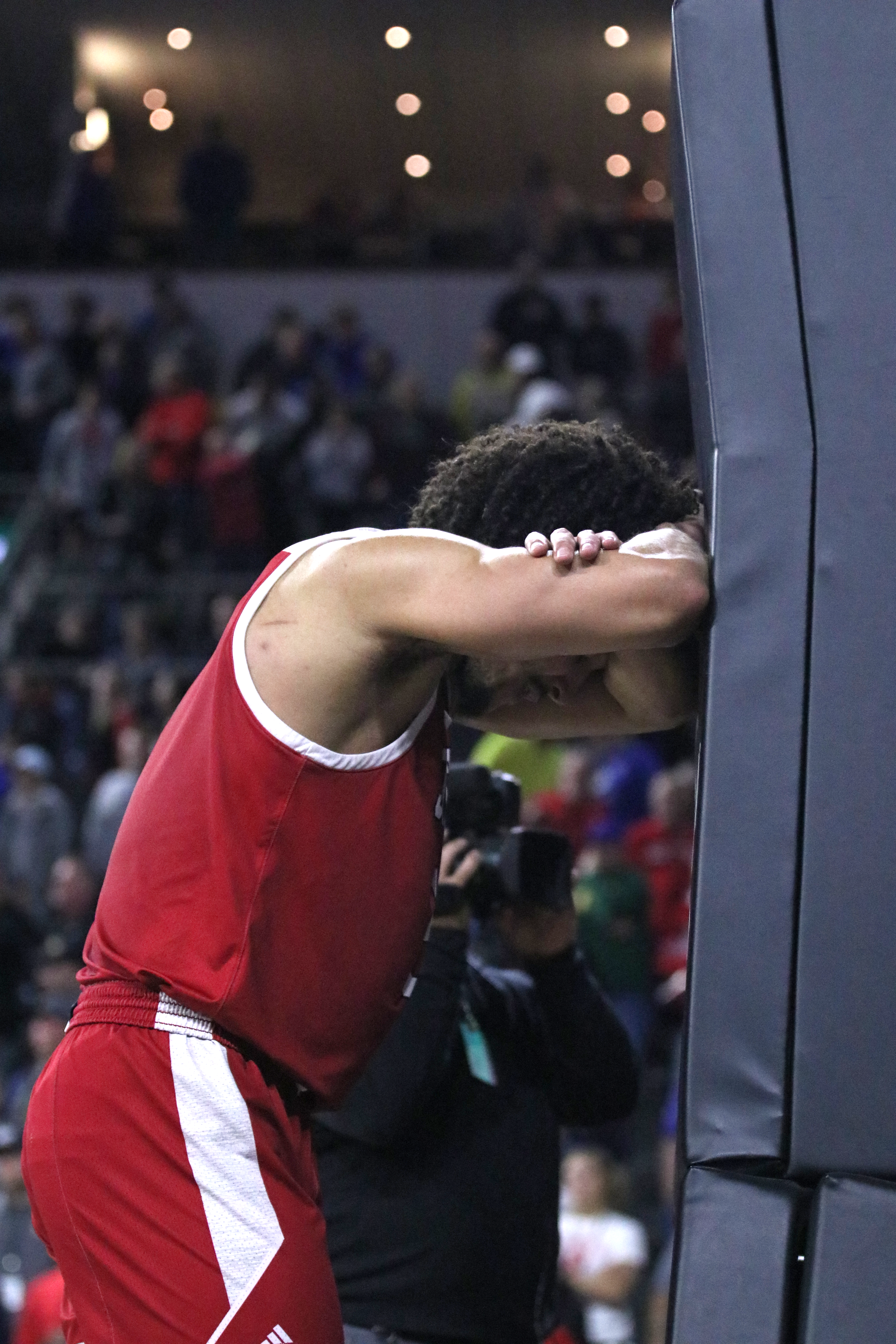 5 mins read
Men's Basketball Fall in Quarterfinals Against 'Baby Bison'
The men's basketball team fell to North Dakota State 70-68 in the quarterfinals of the Summit League Tournament.
The Bison opened the game with a shot in the paint from sophomore forward Andrew Morgan.
Six minutes through the first half, Coyotes sophomore guard Max Burchill hit a 3-pointer to put USD up by two. Senior guard Mason Archambault continued the South Dakota scoring as he hit two free throws and a 2-point jumper to increase the lead to 13-6 with 12:49 to go.
The Bison clawed their way back after being down six to retake the lead with 8:59 in the half, 17-15. NDSU's junior guard Boden Skunberg piloted their comeback as he scored eight unanswered points.
USD would regain the lead after a two and a half minute scoring drought that was ended by a layup from sophomore guard Paul Bruns.
North Dakota State repossessed the lead with 5:02 in the first half after sophomore guard Jacari White hit a layup. The Bison held the lead for the rest of the half and went into halftime with a 33-25 lead.
Both teams went into the half with a combined four of 22 from behind the 3-point line.
"In the first half we were one of 11 from three. So at halftime, I was like 'guys, we're going to start making some shots. We need to take good shots and we just need to stay with it," South Dakota men's head coach Eric Peterson said.
South Dakota came out of the half and tied the game with 13:40 after a 17-8 run which was led by the USD starting five (Archambault, junior guard Kruz Perrott-Hunt, junior forward Tasos Kamateros, senior guard Damani Hayes and redshirt sophomore A.J. Plitzuweit).
Both teams traded the lead for the rest of the second half.
The Bison were unable to score a field goal for seven minutes of the half until freshman guard Tajavis Miller hit a 3-pointer to tie the game with 2:16 remaining in the contest.
Perrott-Hunt was fouled with 56 seconds left in the game and went one-for-two from the free-throw line giving the Coyotes a one point lead.
Miller drove into the paint with 15 seconds and hit a floater to give the Bison the lead.
On the ensuing possession, the Coyotes came out of the timeout and designed a play for Hayes to have an open shot in the paint. This play worked until Miller met Hayes at the rim and blocked his shot.
"You asked how tough that was for these guys… we couldn't get (Archambault of Hayes) to come out here. That's how they're feeling right now in the locker room. I'm really proud of those two guys, our true seniors," Peterson said.
Coyotes fouled Skunberg after the rebound and he went one-for-two from the line and gave NDSU a two-point lead with four seconds left.
Plitzuweit heaved a last second shot for the Coyotes but missed and the game ended with a 70-68 Bison win.
Bison's junior forward Grant Nelson led the game in scoring with 23 points. He also compiled 11 rebounds, four assists and two blocks. He was joined in double-digit scoring by Skunberg (17), Miller (12) and Morgan (10).
For South Dakota, they were led by Plitzuweit with 17 points. Perrott-Hunt also had 16 points and six assists (season high). Kamateros had 11 points and 12 rebounds.
The Bison competed against South Dakota State on March 6 where they defeated the Jackrabbits 89-79. They will compete in their fifth straight Summit League Championship game against No. 1 Oral Roberts tonight at 8 p.m. at the Denny Sanford Premier Center.
"This is about as proud I've been as a group in my tenure," North Dakota State men's head coach David Richman said. "They've coined the phrase, 'The Baby Bison.' We have seven guys that have never been in this building and we just played a team that all their main six or seven guys have been playing multiple games in here."
As Peterson prepares for next season, he hopes to build the program standard around the mentality of his two true seniors in Hayes and Archambault.
"About two weeks ago, when we had a little diversity with our team, I met with Mason and Demani and said 'our program is going to be built on what you guys are about.' To bring it every day in practice. They never complain, they show up, they're leaders, they're great people to be around and they love South Dakota," Peterson said.