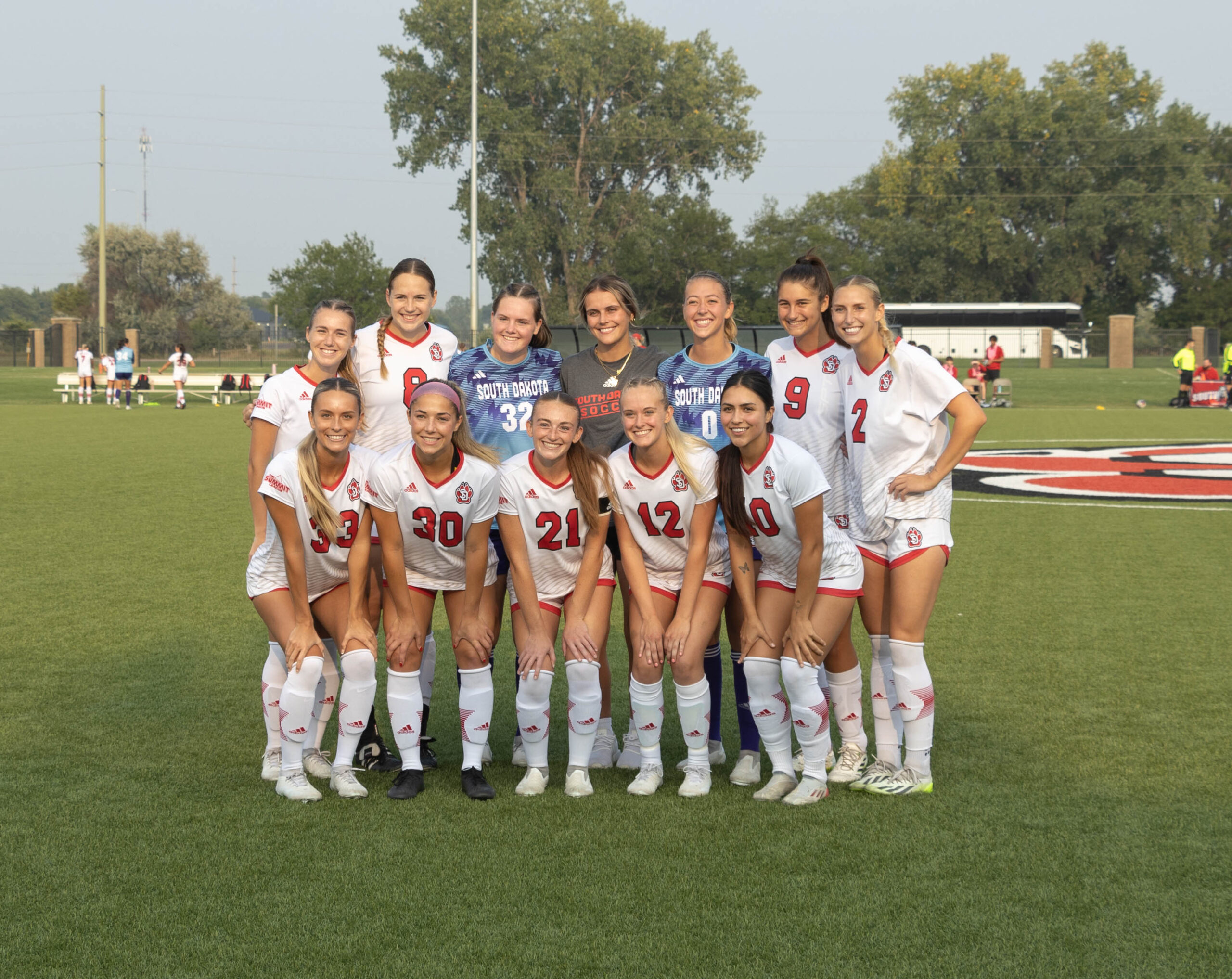 2 mins read
Soccer Extends Win Streak on Senior Night
The Coyotes women's soccer team picked up a two wins ahead of conference play.
On Sept. 13 in Des Moines, Iowa, the Coyotes came from behind for the second time this season to secure a 2-1 victory over the Drake Bulldogs.
South Dakota found themselves down 1-0 at halftime after Bulldogs' Senior Emma Nagel converted a penalty kick eight minutes into the game.
Coyotes' senior forward Ashby Johnston scored the Coyotes first goal of the match to level the game just 12 minutes after halftime.  
Fifth-year forward Shaylee Gailus scored the game winning goal with five minutes remaining in the match. This goal was Johnston's fifth of the season which leads the team. Gailus follows behind her with four goals of her own. Drake's next match will be against Southern Illinois on Sept. 21. 
On Saturday night, the Coyotes returned to First Bank and Trust Soccer Complex to face the Lindenwood Lions. This matchup was also the Coyotes annual senior night.
12 seniors and their families were honored with a pre-match ceremony. The players honored included goalkeeper Caroline Lewis, Gailus, defender Taylor Ravelo, midfielder Janaina Zanin, defender Maggie Pallesen, forward Mia Griffin, midfielder Kayla Aymar, midfielder Hattie Giblin, defender Kyla Knapke, goalkeeper Isabelle Harkleroad, defender Tatum Lundgren, and defender Brooke Kercher-Pratt. 
In a low scoring, defensive affair, the Coyotes won 1-0 after freshman midfielder Brooke Conway's shot from the top of the 18- yard box found the inside post, squeaking past Lindenwood's senior goalkeeper Erika Anstine just 15 minutes into the game.  
The Coyotes would hold off a late offensive push from the Lions to complete the shutout.
South Dakota improves to 4-2-3 on the season as they prepare for conference play to begin throughout the month of October.
Lindenwood's next matchup will be against Tennessee Tech at home on Sept. 21. 
The Coyotes will return home Sept. 21 to face their first Summit League matchup against St. Thomas Tommies. They will also have a game against South Dakota State on Sept. 24.   
Photo Credit: Niko McKeever | The Volante