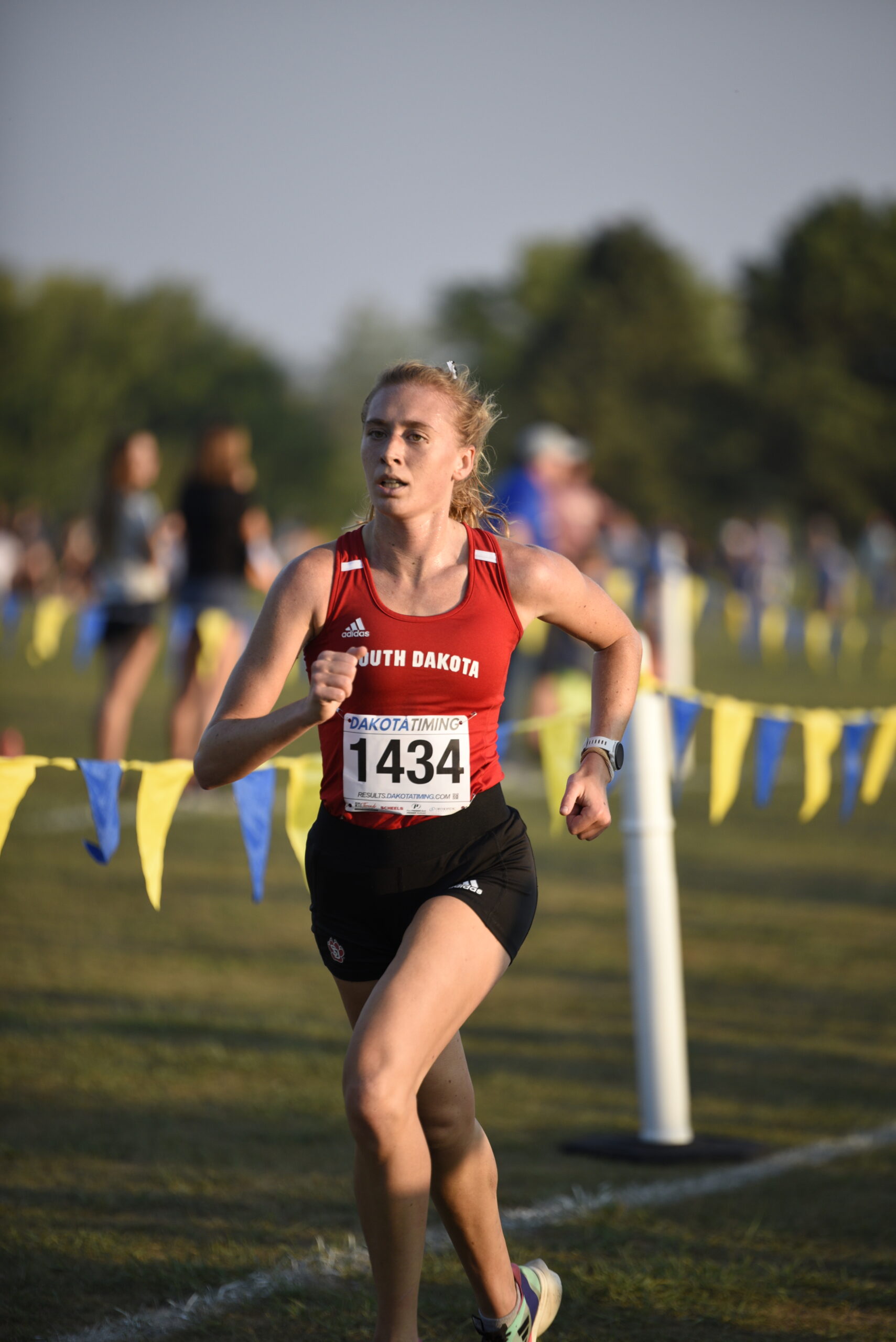 3 mins read
Abby Ripperda Back for One Final Season
After missing the 2022 indoor track and field season due to a leg injury, graduate student and current cross country runner Abby Ripperda came back to run for one final semester.
Ripperda, a native of Sioux Falls, received a medical hardship waiver from the NCAA. The waiver is given to student athletes that missed more contests or dates of competition than they competed in. Ripperda said there were a lot of reasons for her to accept the waiver but one stood tall, her love to run.
"There's probably a lot of different reasons why I've (kept running) this whole time, but I just really like to run," Ripperda said. "I use it as a mental break from school and just life in general."
Before Ripperda committed to USD, she was a soccer player, but due to her middle school not having a soccer team, she and some of her friends decided to join the cross country team.
"In middle school, we didn't have a soccer team, so me and all my friends went out for cross country. In the first year, I absolutely hated it," Ripperda said. "My eighth-grade year, I started to like it a little bit more, I started to get better at it, and it was a little bit more fun."
While Ripperda was in middle school, she had an opportunity to run with some of the high schoolers due to storms canceling some of the middle school meets.
"The high school coach asked if I wanted to run some high school meets because we didn't have any middle school meets. I was kind of hooked after that," Ripperda said.
Ripperda would go on and compete in high school and started running for South Dakota in 2017.
In her first three seasons with the Coyotes, Ripperda was all-Summit League first team honors, broke the South Dakota school record for the indoor 5,000 meters with a clocking of 16:26.68, won three events and was a five time Summit League Honor Roll. All these awards happened before the COVID-19 pandemic, which didn't allow the 2020-21 cross country team to compete.
"When we came back, it was really hard because we were supposed to isolate ourselves a little and not interact as much. Team activities were way down and it was a lot harder to get to know everyone on the team," Ripperda said.
Now, Ripperda is on track to graduate in May and plans on getting a job in physical therapy with her degree in medical biology.
She has also competed in two events this year the first being the SDSU Classic where she finished in third place with a time of 18:02.60. The second meet was the Roy Griak Invitational in Minnesota where she finished in 45th place.
Photo Credit: Hannah Owens | USD Athletics