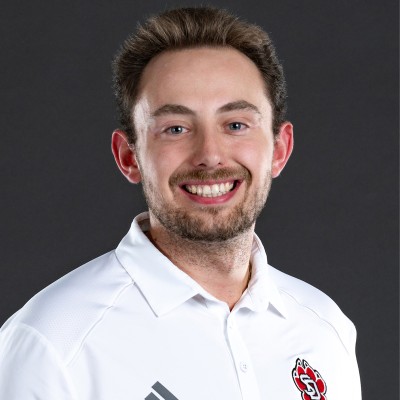 3 mins read
New Coordinator of Student-Athlete Mental Health Looks to Fight the Stigma
In a survey conducted by the NCAA in March of this year, it was reported that only 66% of student-athletes know where to go on campus if they have mental health concerns. A mere 47% reported that they would feel comfortable seeking support from a mental health provider on campus.
Tanner Peterson, coordinator of student-athlete health services, hopes to change this as he enters his new position.
"I like to think of myself as the point of contact and care for student-athletes," Peterson said. "While my official title is coordinator of student-athlete mental health, my role mainly focuses on providing one-on-one mental health care for student-athletes."
In this new role for USD, Peterson wants student-athletes to understand what his role is and that he is going to be there for them.
"My personal goal is to become a figure that student-athletes, coaches and athletic trainers recognize as the "go-to" resource when the challenges of life get to be too much. By year's end, I'd love to have each student-athlete understand the process of scheduling a session, understanding my role, and how I might be able to help them," Peterson said.
Peterson also hopes to decrease the stigmatization surrounding mental health care.
"The term "stigma" is thrown around a lot, and while the stigma around mental health is decreasing, the stigma is still present. I think my role is just a piece of the puzzle in terms of chipping away at that stigma," Peterson said. "By continually decreasing the stigma on USD's campus and athletic department, I believe we can see even more student-athletes seek the benefits of mental health care."
College is considered an at-risk stage for mental health illnesses. Within college students ages 18-25, the prevalence was highest for depression (17%) and anxiety (22%). 8% of adults ages 18 and older have experienced a depressive episode, and 19% have had an anxiety attack in the past year.
"Across the board, we're seeing the needs of young adults point towards mental health resources. Suicide is becoming the leading cause of death among young people and research shows us that student-athletes are even more at risk for mental health concerns compared to their traditional student colleagues," Peterson said. "When we consider the workload student-athletes carry such as managing a busy schedule, travel, competition, NIL, transfer portal and to add to that, the general hardships of becoming a young adult, what our student-athletes manage is truly incredible."
In a study conducted by the National Association of Intercollegiate Athletics in July of 2022, it was found that nearly 90% of athletic directors believe that their institutions do not offer enough training or support programs to their student-athletes.
"The University of South Dakota and the Student Counseling Center have a great vision for what mental health care and well-being looks like in their student-athletes. I've been drawn to this vision and I've been met with some incredible people and coaches who care about the well-being of their student-athletes," Peterson said. "I feel incredibly lucky to be at a place that has a small, close-knit feel, but at the same time has a big-time feel on gameday. The balance of these two dynamics, along with the vision of what this administration sees in mental health care for student-athletes is something that has me excited to be involved."
Student-athletes looking for mental health services can reach out to Peterson at [email protected].
Photo Credit: Submitted | USD Athletics