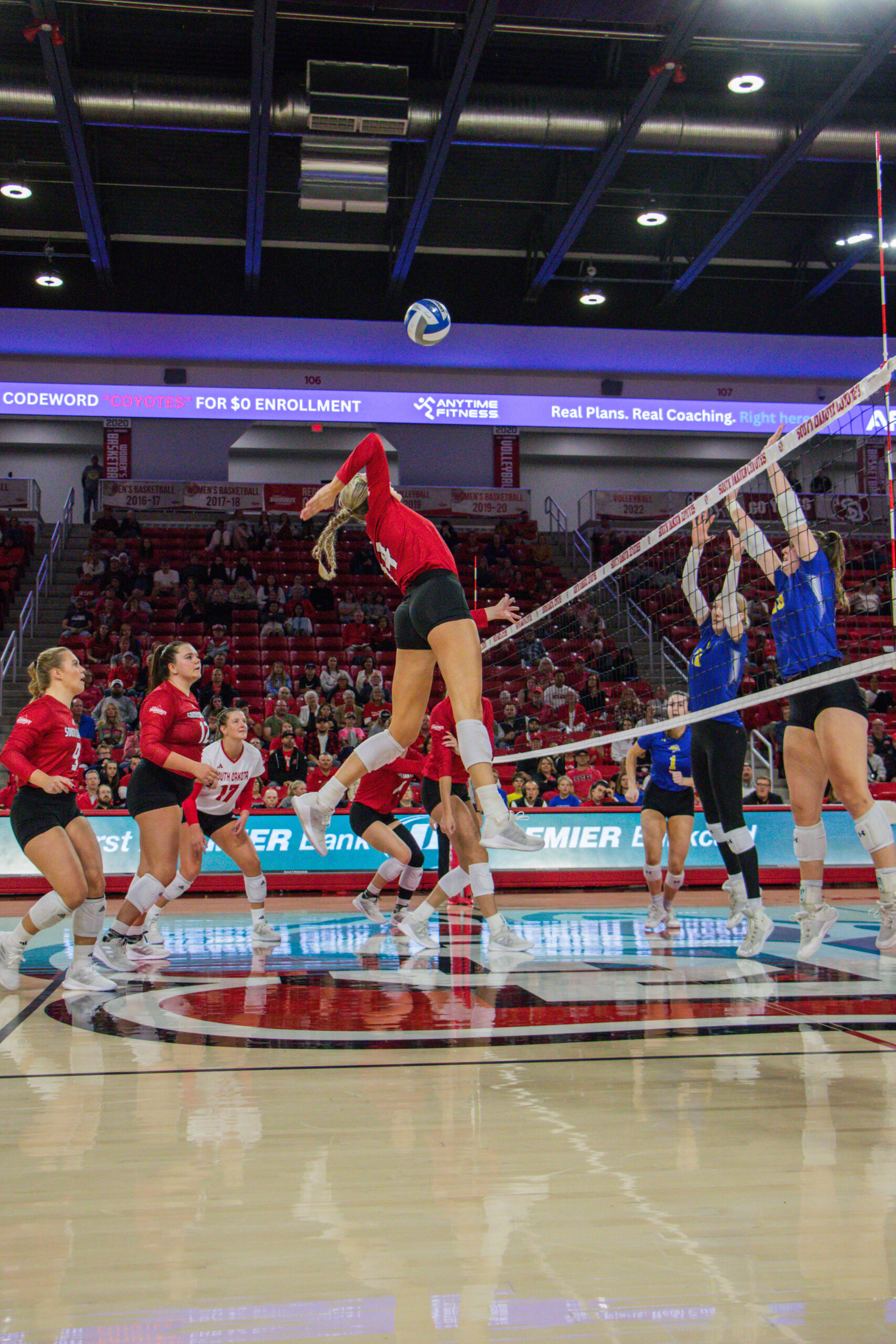 5 mins read
Fall Sports Season is Wrapping Up
The South Dakota football and volleyball teams only have a few games left on their schedule before their respective playoffs or tournaments arrive.
South Dakota Football: 7-2 overall and 5-1 Missouri Valley Football Conference record
The football team currently sits tied for second in the Missouri Valley Football Conference (MVFC) only behind in-state rival SDSU. The Coyotes are also ranked No. 6 in both the FCS Coaches Poll and the Stats Performance Poll.
This has been the Coyotes best start to a season since 2017 when they started the year winning five straight games and eventually making the FCS playoffs.
On the season, the Coyotes have only lost to two teams, one being the first game of the season to No.16/15 in the FBS the Missouri Tigers where the Coyotes lost 35-10 and the second loss coming form No. 1 in the FCS the South Dakota State Jackrabbits where they won 37-3.
However, despite those two loses, the Coyotes have won against three FCS ranked opponents in, at the time, No.2/2 North Dakota State Bison in Fargo 24-19, No. 23/20 Youngstown State 34-31 and last week against No. 10/11 Southern Illinois in Carbondale 14-7.
In his first full season at quarterback, sophomore Aidan Bouman has completed 132 of his 194 (68.0 completion %) passes for 1603 yards with 10 passing touchdowns compared to only three interceptions. He currently ranks No. 9 in the FCS in completion %.
In the backfield for the Coyotes, five different running backs have scored this season with junior running back Travis Theis leading the way with five total touchdowns. He also leads the Coyotes with total rushing yards with 635.
Theis is followed behind in touchdowns by redshirt sophomore running back Nate Thomas with four, redshirt freshman Charles Pierre Jr. with three, freshman running back Keyondray Jones with two touchdowns and Bouman with one.
For the Coyotes, both junior wide receiver Carter Bell and junior tight end JJ Galbreath have been Bouman's favorite targets on the season, each having 30 receptions. However, Bell just edges out Galbreath in total yards as he has 520 compared to 403. Both also have four touchdowns.
On the defensive side for the Coyotes, senior linebacker Brock Mogensen leads the team in total tackles with 86. He is followed behind by junior defensive back Dennis Shorter with 68, senior linebacker Stephen Hillis with 57 and sophomore defensive back Shahid Barros with 45. 
Mogensen is tied with five other Coyotes in total interception, each having one. The other five are Shorter, Barros, junior defensive back Josiah Ganues, junior defensive lineman Blake Holden and junior defensive back Myles Harden.
Senior defensive lineman Brendan Webb leads the team with 8.5 sacks on the season. That is four more than second on the team.
The Coyotes only have two games remaining on the schedule, the first being against No. 10/12 North Dakota on Nov. 11 in Vermillion. The second will be against Western Illinois on Nov. 18.
South Dakota Volleyball: 15-9 overall and 9-4 Summit League record
The South Dakota volleyball team has taken a new shape this season without former outside hitter Elizabeth Juhnke, libero Lolo Weideman and outside hitter Aimee Adams.
In a tight Summit League race this year, the Coyotes are currently sitting tied for third place with North Dakota State and Kansas City. The only two teams above the Coyotes are Omaha and Denver.
After a rough start to the 2023 campaign, losing five of their first six matches, the Coyotes have turned it around only losing four of their next 18 games.
The Coyotes are led by senior middle blocker Madison Harms and junior outside hitter Kylen Sealock as they both lead the team in total kills. Sealock is just two ahead of Harms with 282 compared to 280.
However, Harms leads the team in total blocks with 123 on the season. Graduate middle blocker Brynn Paumen is second on the team with 85.
The Coyotes also have a new setter this season as head coach of the Coyotes Leanne Williamson brought in freshman Avery Van Hook from Marion, Iowa. This season, Van Hook has 728 assists for the Coyotes including 68 kills, 23 service aces, 45 total blocks and 209 digs.
Two other freshmen are getting playing time for the Coyotes this season are middle blocker Amanda Loschen and outside hitter Samantha Laird.
This season Loschen has contributed with 114 kills and 49 total blocks. As for Laird, she has 109 kills with 17 blocks.
In digs, sophomore defensive specialist Kamryn Farris leads the team with 328 on the season. Following behind Farris is junior defensive specialist Alaina Wolff with 250, Van Hook with 209, Sealock with 205 and senior outside hitter Mattie Johnson with 137.
In the service ace category, Sealock leads the way with 37 in total which leads the Summit League. She is followed behind by Farris and Wolff with 26, Van Hook with 23 and Johnson with 22.
The Coyotes only have three remaining games on the schedule with their first being against Oral Roberts on Nov. 9 at 6 p.m. in the Sanford Coyote Sports Center. The next game for the Coyotes will also be at home this time against North Dakota State on Nov. 11 at 4 p.m.
Their final game will be against South Dakota State on Nov. 14 in Brookings. This will end the Coyotes regular season.
The Summit League Tournament will be held in Vermillion starting on Sunday, Nov. 19 and will go until Tuesday when the Championship will be.
Photo Credit: The Volante | Mia Vodicka