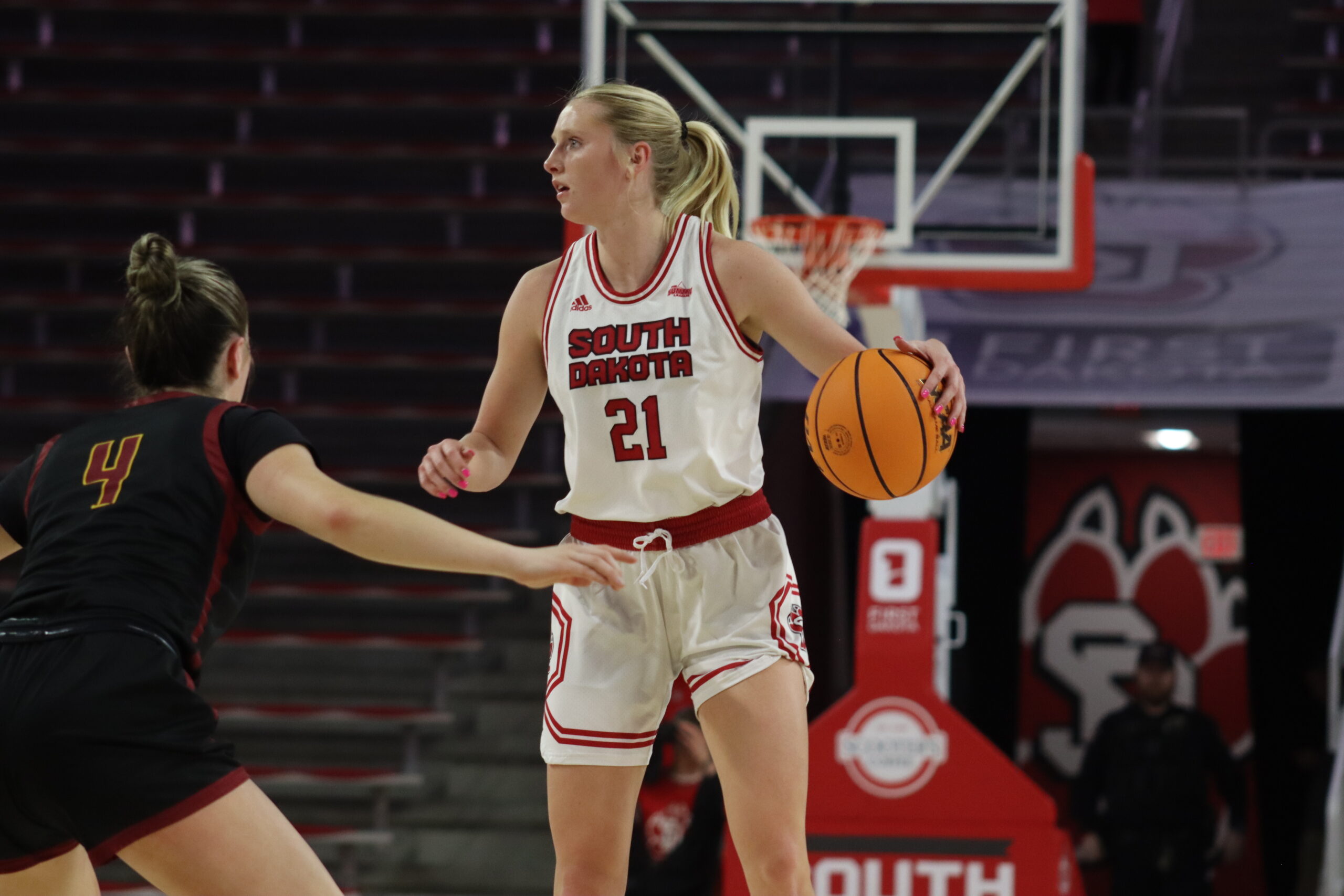 2 mins read
Grace Larkins Chasing Coyote History Again
Grace Larkins, a junior guard on the women's basketball team, is starting the season off with big headlines before she even steps on court.
Larkins was selected as a preseason First Team All-Summit League as well as being placed on the watchlist for the Becky Hammon Player of the Year award, being only one of two Summit League players placed on the list.
Larkins, an All Summit League First Team performer last season, averaged 17.5 points per game along with 8.0 rebounds per game and 4.4 assists per game. Larkins was one of two players in the nation to finish last season averaging at least 17 points per game along with eight rebounds and four assists per game, the other being Iowa senior guard Caitlin Clark.
Clark and Larkins, both coming from Iowa, have previously played against and with each other before.
"She was in my conference so we played twice a year during high school, and she was on my AAU team so we know each other," Larkins said.
The Coyotes are no strangers to the Becky Hammon Player of the Year award as former Coyote guard Ciara Duffy won the inaugural award in 2020. Former center Hannah Sjerven was a finalist in 2021 and was joined by guard Chloe Lamb.
While awards and recognition are meaningful, Larkins said she just cares about the team performance at the end of the day.
"It means a lot to be recognized by the coaches and others in the conference, but at the end of the day, it comes down to how we play, and those rankings won't matter in March," Larkins said.
Larkins thanks her teammates for assisting her in her success and thinks the team is ready for the season.
"I wouldn't be here if it weren't for my teammates helping me along the way," Larkins said. "I think we are going to come out with a fire, and we are ready to go this season. I am excited for the season to start."
Larkins said she didn't think she would be where she is today before joining the Coyotes squad.
"We are doing new things and playing more of a team game," said Larkins. "I never thought I would be where I am today when I got here."
In the Coyotes first game of the season against Northern State, Larkins scored 13 points, grabbed three rebounds, dished out five assists and had a team high of four steals.
Larkins will be in action on Nov. 10 as the Coyotes travel to Omaha to play against the No. 22/23 Creighton Bluejays.
Photo Credit: The Volante | Sydney Kolln