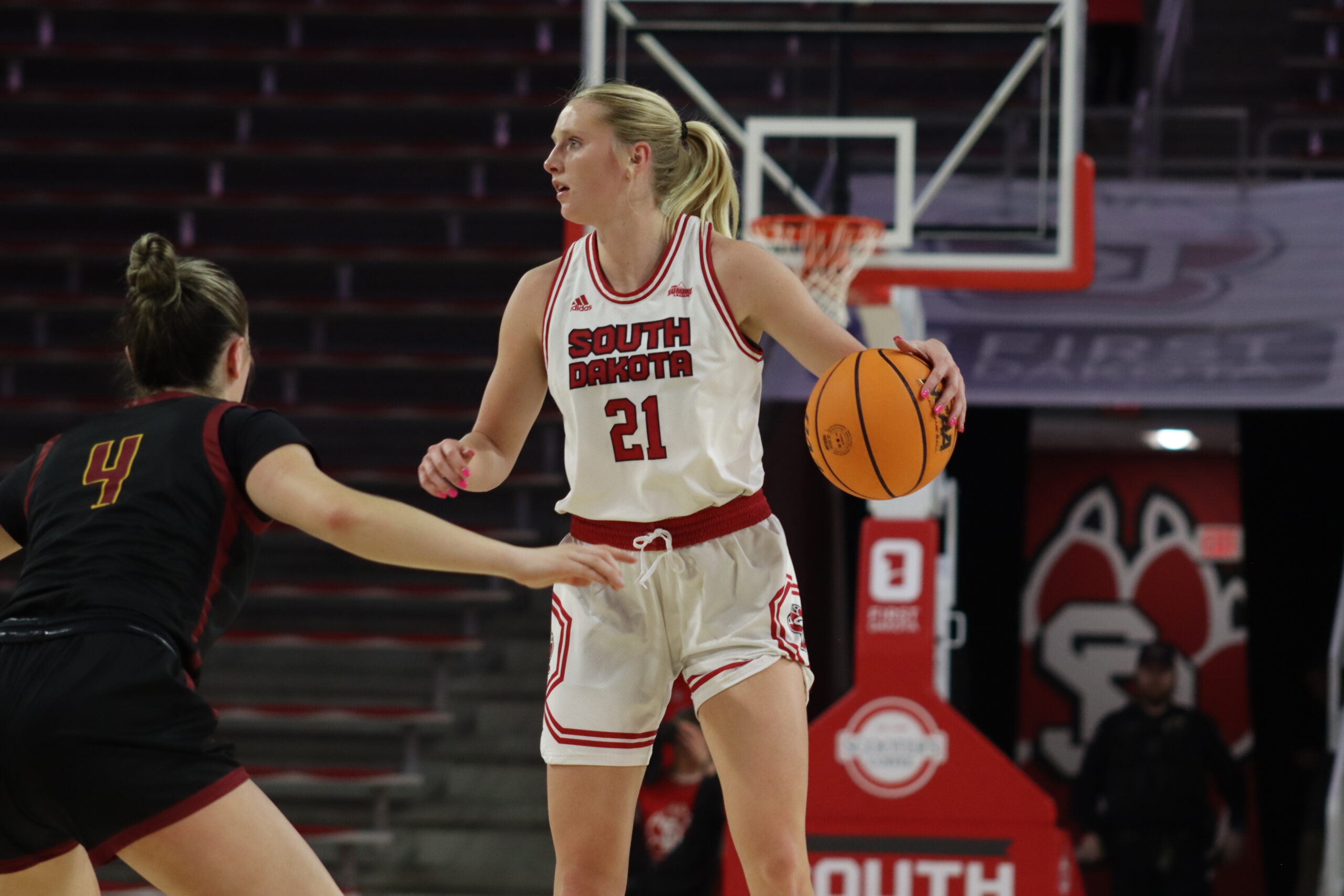 2 mins read
Women's Basketball Transfers Show Out in Season Opener
The Coyotes women's basketball team faced off against the Northern State University Wolves on Nov. 6 in their first game of the season. This is the first matchup between these two teams since 2007.
The Coyotes defeated the Wolves 85-57 for the first win of the season
The Wolves started senior guard Rianna Fillipi, sophomore guard Morgan Fiedler, sophomore center/forward Madelyn Bragg, junior guard/forward Alayna Benike and senior forward Brynn Alfson.
The Wolves were led by Fillipi and freshman guard Decontee Smith in scoring as they both finished with 10 points in the game.
Fillipi also finished with three assists, two steals and led all players with 28 minutes played.
Freshman forward/center Brylie Schultz led the Wolves with seven rebounds. Bragg had two blocks and both players led both teams in those stats.
For the Coyotes, they started junior guard Nicole Avila-Ambrosi, sophomore forward Carley Duffney, junior guard Grace Larkins, sophomore center Walker Demers and junior guard Kendall Holmes.
Holmes, a transfer from DePaul, led the Coyotes in scoring with 14 points on 5-11 shooting and 3-5 from three.
Six Coyotes (including Holmes) hit double-digits in scoring. Larkins, the preseason First Team All Summit, and Demers finished right behind Holmes with 13 points.
Senior forward Tori DePerry, a transfer from Saginaw Valley State, finished the game with 11 points off the bench.
Duffney, a preseason Second Team All Summit nominee, and freshman guard Addison Klosterbuer finished with 10 points.
Larkins led the Coyotes with four steals and five assists, while Holmes led the Coyotes with five rebounds.
The Coyotes had 54 points in the paint as well as 33 points off the bench and 31 off of turnovers.
The Wolves led the way with 10 second chance points capitalizing on offensive rebounds.
The Wolves shot 38.6% from the field and 31.8% from three. The Coyotes shot 50.8% from the field and 35.3% from three.
This game will not count towards the season stats and overall record for Northern State as it was an exhibition game but will count for South Dakota.
The Wolves go on to play No. 10 Central Missouri on Nov. 10 at 4 p.m.
The Coyotes go on to play No. 22/23 Creighton in Omaha on Nov. 10 at 11:30 a.m.
Photo Credit: Sydney Kolln | The Volante