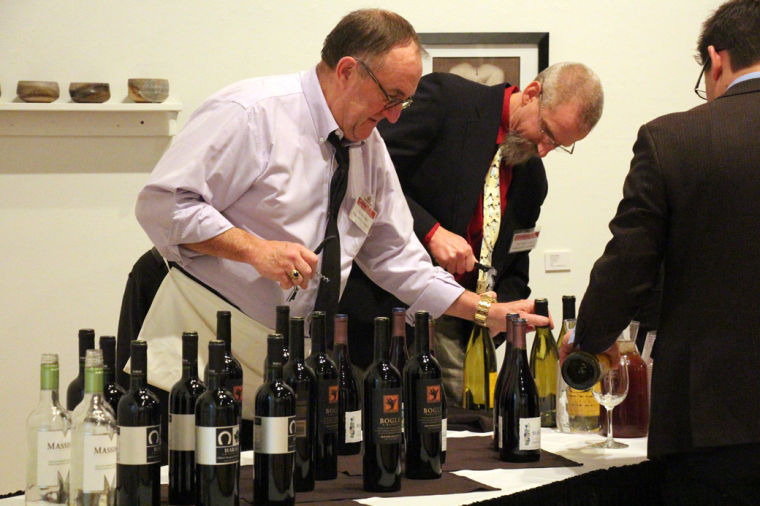 5 mins read
Fundraiser doubles attendance
Crab-stuffed mushrooms, Chardonnay and sonnets marked the second "Wine with Will" event Feb. 28, and organizers gathered contributions to bring one of Shakespeare's classic comedies to Vermillion.
The wine-pairing event at the University of South Dakota serves as the largest annual fundraiser for the South Dakota Shakespeare Festival. This year's affair doubled in attendance, said senior Austin Hagg, vice president of the event for Coyoteopoly.
"I would definitely consider this event a success. We have a goal just over $50,000 to put on the festival, and after tonight, I'd say we are at more than half of the way there," Hagg said.
"Taming of the Shrew" was also announced as this season's main performance for the free festival, scheduled June 13-15 in Prentis Park. Played by a 13-person company, the comedy will perform at 7 p.m. all three nights of the festival.
The SDSF was formed in 2011 in collaboration between USD faculty, Chaya Gordon-Bland, Scott Mollman and Greg Huckabee. Gordon-Bland serves as the artistic director, Mollman as the production manager and Huckabee as executive director, who enlists Coyoteopoly, a USD-student run corporation, to work on the business end of putting the festival together.
The event's inaugural season was the summer of 2012, which consisted of three performances of Shakespeare's comedy "As You Like It" staged in the stone amphitheater in Prentis Park, arts workshops for youth and a roundtable discussion for adults featuring visiting scholars from around the country. Last year's season was scaled back considerably because of a sabbatical, and consisted of a weekend of free arts workshops for youth.
Gordon-Bland said the 2014 season is back to its original production form, with three performances and a series of workshops targeted toward youth as well as all ages.
There will also be another scholars roundtable discussion, and plans are still in the works for activities like learning Elizabethan dancing and having a special exhibit at the National Music Museum.
"We are maintaining the same basic structure as (2012), because it is important that we grow moderately and prudently and also grow in proportion with what our community can support," Gordon-Bland said.
With the festival being on performance hiatus last year, Gordon-Bland and Hagg said the startup work going into 2014 was more demanding.
Community members like Sam Heikes, who owns Heikes Family Farm, are getting more involved. Heikes donated one of his CSA shares to receive weekly baskets with local produce to the "Wine with Will" silent auction to raise money for the festival.
"I want to support my community any way I can, and in a way, my art is agriculture," Heikes said.
Other community members like USD Theater Professor Priscilla Hagen attended the wine-pairing event to support her colleague, and "the idea of a professional, classical Shakespeare company in South Dakota."
"It is a wonderful training opportunity for our students, and because it is free, it enriches the community," she said.
In the 2012 production, a handful of USD students were accepted into the company, but the casting process is elaborate. Gordon-Bland and her student casting assistant Casey Coates have been working for about six weeks on putting the 13-person company together.
Auditions have occurred in Lincoln, Neb. and Vermillion, with more scheduled in New York City next week. Gordon-Bland said she and Coates have received hundreds of pictures and resumes.
Once selected, Gordon-Bland will bring actors in for a four-week contract. They will rehearse full time in Vermillion from the middle of May until the end of the festival.
"It is a very special experience to be part of a company," she said. "The 2012 company was exceptionally strong, and we are all still in touch with each other."
Gordon-Bland said she has had the unique opportunity to perform, teach and direct Shakespeare, so she gets to look at it and play with it from a lot of different angles. To her, there is something truly magical about the work.
"The incredible and intrinsic connection between language and humanity, it takes a lot of work to tap into that," she said.
As for USD students, the experience from the festival could lead to bigger and better things. Cody Strand, who performed in the 2012 performance, is now starring on Broadway in "The Book of Mormon."
Senior Jamie Fields performed Sonnet 91 during "Wine with Will," and she is waiting to find out if she made it into the company after being called back for the part of Tranio. Performing the work of Shakespeare is something she wants to pursue in her career, if for nothing else than its beauty.
"It's almost as if language has kind of fallen apart in my opinion…We are hashtagging and lolling…and Shakespeare is a reminder that language can be beautiful," Fields said.